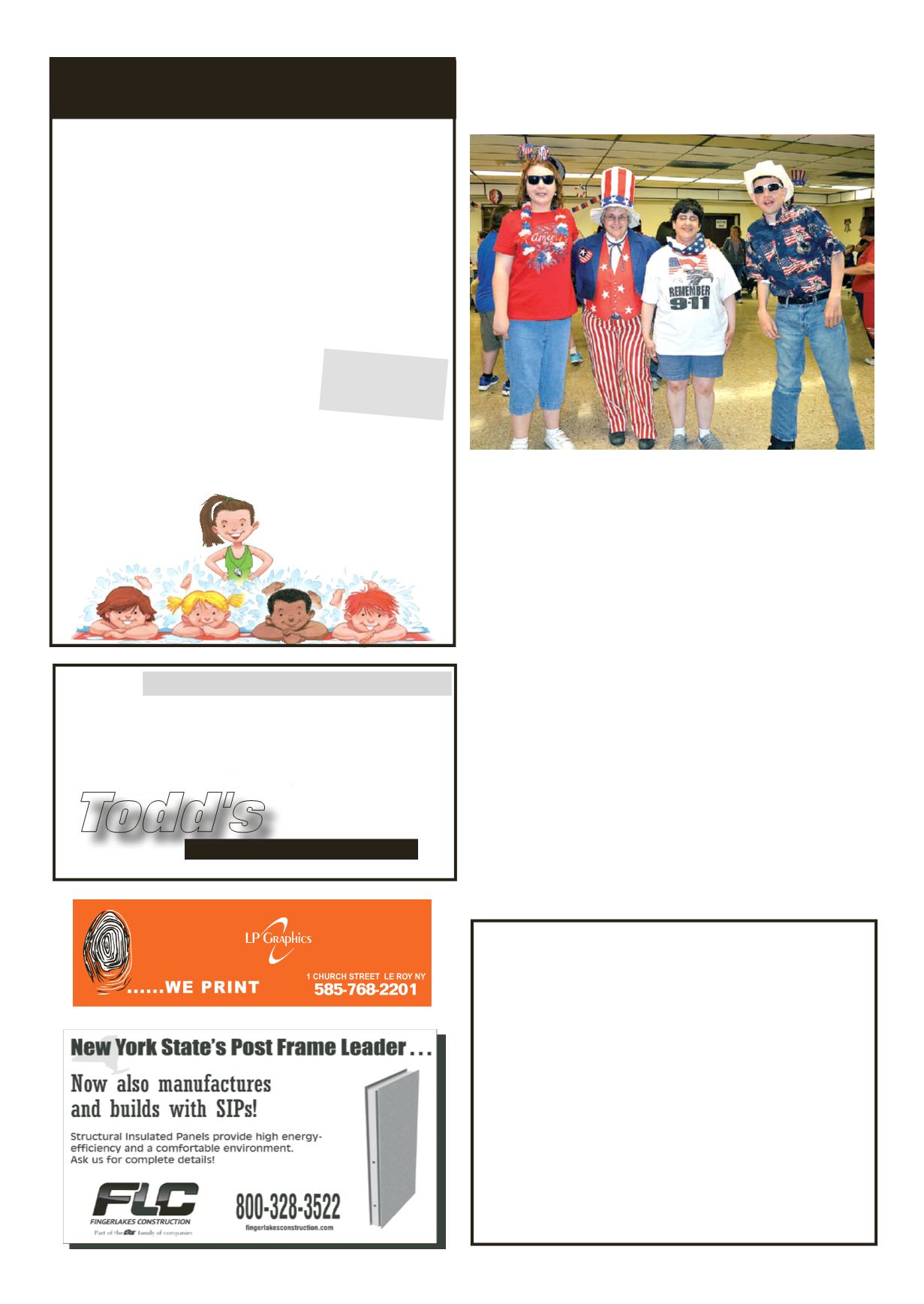 LEROYPENNYSAVER&NEWS - JUNE 14, 2015
NewHomes •Additions •Garages •PoleBarns
ToddCarli • Phone 703-0964
Todd's
Decks •Windows •Doors
Kitchens •Baths
CeramicTile
Basement Finishing
CustomShelves/Built-Ins
Siding •Remodeling
Roofing • SnowPlowing
FULLY INSURED
BOILERMECHANIC
• Minimum of 5 years experience
BoilerMechanic
On Thursday, May 21st at the
Byron Fire Hall, 70 plus attend-
eescame together tocelebrate the
RedWhite&Blueat thePatriotic
Americanflagsandstarsof red,
whiteandblueadorned theByron
Fire Hall on a beautiful May
evening. As usual, folks danced
to their favorite songs and en-
joyed theusual snacks.UncleJoe
snappedphotosbetweenfilling-in
A highlight of the eveningwas
whenouryoungByronVolunteer
FireFightersparaded to thedance
floor leading the group in the
YMCA dance. Birthdays were
recognizedprior toourcustomary
circle dances; the chicken dance
The last twodancesof2015are:
the Halloween Dance on Thurs-
day,October15thfollowedby the
Christmas Dance on Thursday,
All dances are 6:30 pm to 8:30
pm at theByronFireHall onRt.
262near theRt. 237 intersection.
The dances are sponsored by
Byron Ladies Auxiliary, and are
open to all folks with develop-
mentaldisabilitiesages13andup
living inGeneseeCounty, family
andcaregiversarealsowelcome.
Adequatesupervision is required.
Anyone wanting to volunteer or
needmore informationmay call
Pat Iamon at 245-2918 or Laura
CelebratingThe
Red,White&Blue
(l to r) Nicole, Laura, Angie & Collin Proudly Pose In Red,
White&Blue.
Held at
TownHall
48MainStreet
OpeningDay: Thursday, June 25th
Swim Lessons: Mondays,Wednesdays, Fridays 9:30-10:15AM
OpenSwim: Monday-Sunday 1-7:30PM
Adult Swim: Monday-Friday 12-1PM andMonday-Thursday
$75.00 per family (3ormore-proof of relationshipmay be required)
$3.00per daywithout membership
PoolMembershipTags for Sale
andSwim LessonRegistration:
Saturday, June20 10AM-1PM
LeRoyResidents given first priority for lessons
Classes filled on a first come/ first serve basis
Swim LessonFee: $40 per person (not includedwithmembership)
lpgraphics.net