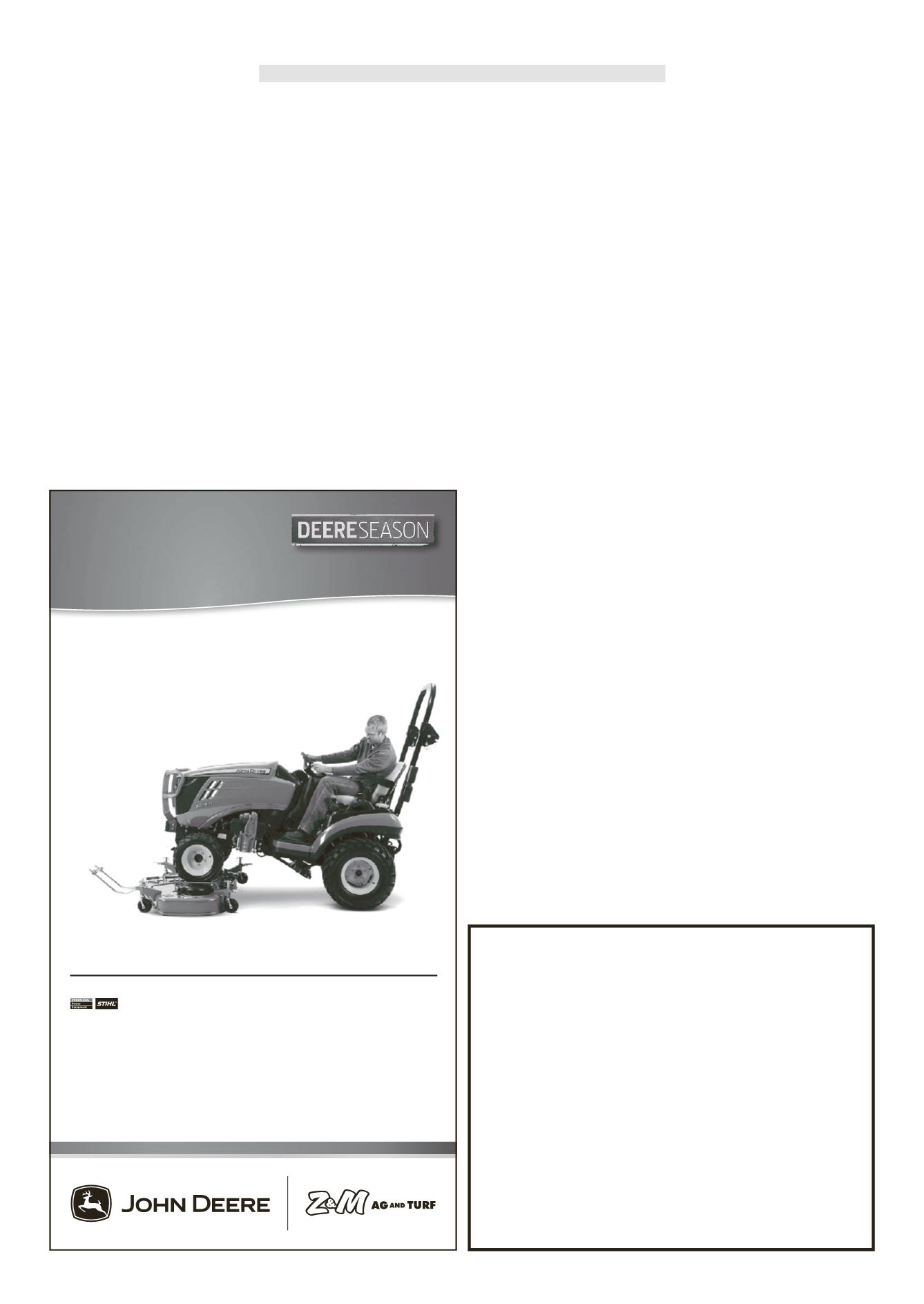 LEROYPENNYSAVER&NEWS - JUNE 14, 2015
• $15.00 - $20.00 per hour
• Customer service experiencea plus
• Seasonal layoff if desired
• Benefits available including401k
TRUCKDRIVER
Offervaliduntil8/4/15.Subjecttoapproved installmentcreditwithJohnDeereFinancial.Fixedrateof0%for72months.$500off implementbonus is
inadditiontofinancingoptionsandrequiresthepurchaseoftwoJohnDeereorFrontier implements. In lieuoffinanceoffer,get$1,250offof1Family
Tractors.Somerestrictionsapply,soseeyourdealerfordetailsandotherfinancingoptions.
ALEXANDER,NY....
CLYMER,NY .........
EDINBORO,PA.......
FALCONER,NY.......
OAKFIELD,NY.......
SPRINGVILLE,NY..
zahmandmatson.com
1FamilySub-CompactTractors
•AutoConnect™Drive-OverMowerDecks
•Quik-Park™Loadersavailable
Z&MAgandTurf
Z&MAgandTurf.
SAVEbigonreliableJohnDeereequipment
tokeepyouryardbeautiful.
0
%
APR
72
$
500OFF
+
OR
$
1,250OFF
AROUNDTOWN
byStephenR. Barbeau
Supervisor,Town ofLeRoy
(585)768-6910 x 231
Periodically, folks inquire as
to what types of things I might
spend my time on, as Town
Supervisor, outside of the more
public traditional "office time"of
responding tophonecalls/emails,
workingonbudget numbers, and
preparing forboardmeetings.So,
assome itemsarecoming tocon-
clusion and others are being re-
ported upon often, I thought you
mayfind it interesting ifIoutlined
some ofmy "behind the scenes"
projects I have been involved in
since thefirst of the year.
First, I have been spending
much time with Town Attorney
Reid Whiting and fiscal advi-
sor (and Councilwoman) Kelly
Lathan preparing/signing doc-
uments for various agencies to
garner state approval and federal
funding for Water District #10,
working hard on behalf of the
residents in the southwest part of
town. I am happy to report that
we just received approval and
quickly. Reid and I also spent
much time together working on
bringing to closure the sale of
the former Town Dump on the
east side of town to theGenesee
Foundation.This isnowcomplet-
Next,CountyLegislatorShelly
Stein, Town/Village Historian
Lynne Belluscio, and I spent a
fair number of hours preparing/
submitting an America's Best
Communitiesgrantonourbehalf,
with the hopes of securing some
funding for the expansion of
natural gas to theproposed com-
mercial park area. As you now
know,wewere selected tomove
to the quarterfinal round and our
group has expanded to include
community (LeRoy andBergen)
andCounty (GCEDC) personnel
Samantha Vagg, representing
theLeRoyBusinessCouncil, and
I spent a fair amount of timepre-
paring theagendafor,andmaking
sureall relevantpartieswere rep-
resented at, the recent forum on
the futureofambulanceservice in
our town.Furtherdiscussionsand
meetingsareoccurringasa result
of feedback from that forum.
I have attended special meet-
ings with representatives of the
Farmers' Market, Independent
Living of Genesee Region, our
insurance representatives forboth
employee health and workers'
compensation insurances,Macpe-
leah Cemetery Association, Vil-
lageofficialson theeffectiveness
of the new county radio system,
our (Teamsters) union health
insurance audit, bank officials
regarding the signing of two
BANS (bond anticipation notes
forwaterdistricts),CodeEnforce-
mentOfficer JeffSteinbrenneron
various updates/reviews, FEMA
officials (storm reimbursement),
and Highway Superintendent
JohnArneth on projects, budget,
Someof theeveninghours this
long winter were spent attend-
ing a Fire District meeting with
Deputy Supervisor Tom Stella
(workers' compensation issues),
ameetingwith the Finger Lakes
Regional Trail Initiative (our
former LehighValleyRR bed in
the northwest part of town), and
avery informativeLandUseLaw
Also, each month, I attend
GeneseeAssociationofMunic-
ipalities (GAM) meetings. This
is aCountymeeting that brings
together other towns' officials
to hear featured speakers and
share best practices. This year,
thus far, pertinent topics have
beenemployeehealth insurance
programs, cable TV franchise
contracts, sales tax and the
tax "freeze", emergency pre-
paredness, and public project
funding through USDA-Rural
As you can see, a lot occurs
beyond theofficeandboardmeet-
ing hours with a lot of different
people and organizations.While
very busy, this great variety is
what keeps the job so interesting
and allows me the opportunity
to bring many different ideas/
initiatives to your attention.
HappyFlagDay and, nextweek,
Happy Fathers' Day to all fa-
thers, grandfathers, step-fathers,
and foster fathers, and see you