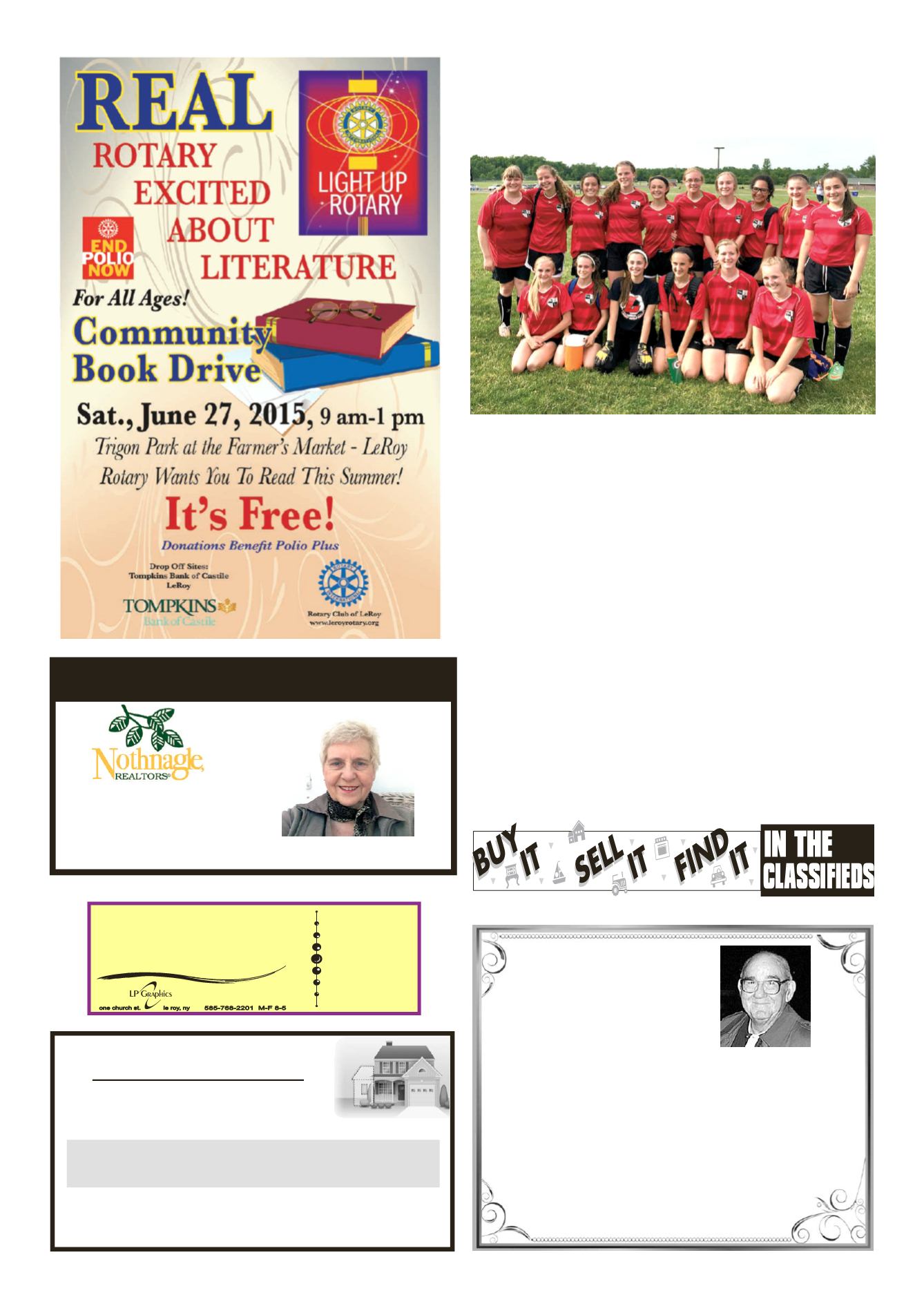 LEROYPENNYSAVER&NEWS - JUNE 14, 2015
"CompleteCarpentry Service"
M
ILLER
B
ROTHERS
B
UILDERS
CustomHomes •Remodeling•Additions
Roofing• Siding
DANIEL
MICHAEL
team competed in the Spencer-
port Canal Cup Tournament and
netted theChampionshiponJune
7.TheKnightsfinished theweek-
endwitha4-1 recorddefeatinga
toughRushHenrietta team in the
The lone Saturday loss came
on a tough 0-0 tie against the
same RH Club that went to a
Penalty Kick Shoot-out where
nerves played a factor. Looking
for pay-back after the loss and
down one early in the final game,
Le Roy scored two goals in the
first half on the strong forward
andmidfield play of LauraNeu-
mann, Libby Loftus, Sara Cot-
tone,LindseyConiber andMaya
LeRoyYouthSoccer
NetsAChampionship
Physical midfield play of
Sophia Jermy, Lucianna Russo,
Sydney Vanderhoff and Erica
Rauscher repeatedly thwarted
the attack. Solid defensive play
led by sweeper AvaHorgan and
stopper Ashley Osterman with
defendersEmmaLawrence,Em-
ilyEckdahl, KassidySteffenilla,
CaitlinNapperandkeeper Isabell
Suriano turned back every other
Over the entire weekend, the
defense had three shut-outs and
only allowed two goals, while
the offense netted eight on very
strong team play. BC Transport
is the team sponsor and Rotork
Controls Inc.was the tournament
Our sincere heartfelt thanks to all of the relatives, friends
andmembers of the LeRoy and surrounding communities
for helping our family through this difficult time
in the loss of our father JamesHenry, Sr.
The numerous acts of kindness and lovingwords regarding our
beloved father have touched us dearly and are greatly appreciated.
Thank
You
one church st. le roy, ny
one church st. le roy, ny
LicensedReal Estate Salesperson, REALTOR
Office: 585-409-2140
Cell: 585-768-6368 • Fax: 585-343-8502
Relocating?Whether it be locallyor out of state, giveme a call and let's