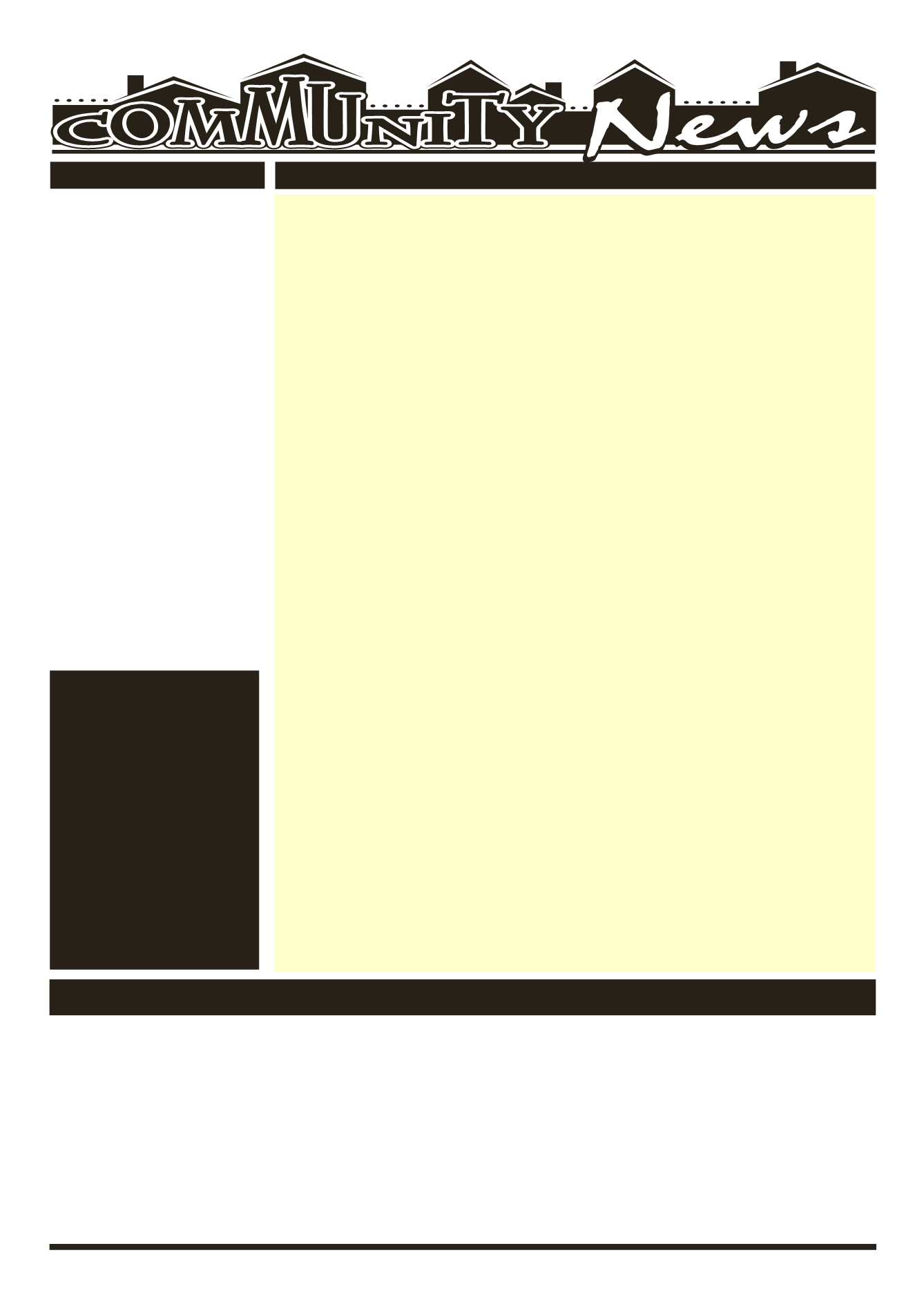 LEROYPENNYSAVER&NEWS - JUNE 14, 2015
Le Roy
Pennysaver
All GeneseeCounty residents, 60andolder, can takepart in thisweek'sactivitiesat theBataviaSenior Center, 2BankSt., Batavia. Formore information, call 343-1611.
WEEKLYEVENTS
OBITUARIES
ArthritisExercise
is set tobeginat 9:30a.m.;
Bridge
is scheduled to start at 11:30a.m.
NewsletterAssembly
is scheduled tobeginat 8:45a.m.;
Cribbage
is scheduled tobeginat 1:00p.m.
QuiltersGroup
is scheduled tomeet at 9:00a.m.;
Euchregame
is scheduled tobeginat 1:00p.m.
TaiChi
isset tobeginat9:30a.m.with
GentleFitness
Cribbage&Bridge
LineDancingandArtClass
is scheduled tobeginat 10:00a.m.;
Euchre
is set tobeginat 12:00p.m.
SUNDAY, JUNE14
Konnect Youth Group at Living Waters Church,
Sundays from 6:30 to 8:30 pm for ages 12-18. "Bring Down all theWalls!
ConnectwithGodandConnectwithothers." Formore information, checkus
outonlineat: livingwatersleroy.org/konnect-youth-ministry/
MONDAY, JUNE15
TOPS (Take Off Pounds Sensibly)
meets Monday evenings at the LeRoy
Presbyterian Church, corner of Clay &Main Streets. Doors open at 6:00 pm
andmeeting is from 6:30-7:15 pm. Visitors are always welcome. Call 585-
768-7103 formore information.
TUESDAY, JUNE16
Preschool Storytime:
Every Tuesday at 11 am featuring stories, craft and
songsatPavilionPublicLibrary, 5WoodrowDr., Pavilion. For info: 584-8843.
LCCP'sGRACE'SKITCHEN:
AFREEdinner everyTuesdayevening, 5-7:00pm
at theMasonic Community Center on12Bank St. Plentyof parking. Takeout
&deliveryareavailable. Formore info. contact SelbyDavis at 585-738-8882
GRACE'SCLOSET:Aclothinggiveawayprogram
MethodistChurch,10TrigonPark,LeRoy,9:30amto11:30ameveryThursday.
Wehaveclothingforallages.Weneedbeddingofallkindsespeciallyblankets.
Donations canbedroppedoffat thehousenext to the church. Pleaseput all
bags INSIDE on thebackporch. NO ELECTRONICS, COMPUTERS,DISHES, etc.
StartingJune9th,wewillbeopenTuesdays5-6:30pm.
Townof LeRoy PlanningBoardMeeting
(as necessary) 7:30 pm at the
TownHall, 48MainSt. For further info. call 768-6910, Ext. 223.
WEDNESDAY, JUNE17
The Genesee Valley Civil War Roundtable
presents David M. Smeltz on
"TheYearof Jubilee".Themeetingwill takeplaceat7pmatLeRoyUnitedMeth-
odist Church, 3rddoor on right endof long sidewalk, 10TrigonPark, LeRoy,NY.
Discussionperiodwill followprogram.Newmembersarewelcome.
TheLeRoy-StaffordSeniorCitizensdinner
meetson the thirdWednesday
of eachmonth fromMarch through December. This months dinner is June
17that 6:00pm in theKnights of ColumbusHall onWestMainStreet behind
Save-A-Lot. Bring agenerous dish topass or if youprefer you canpay $4.00
foraverynicebuffet. Thismonth isourannualpicnicsomeatandan icecream
dessertwillbeprovided. Bringyouownplacesettingandpreferredbeverage.
Coffeeandteaareprovided.Dinner isservedat6:00pmandaprogram follows.
Adult Craft Program at theWoodwardMemorial Library
Enjoyaneveningofpainting rocks to look likecacti thencreateyourownplant
pot,gardenornaments,oruniqueplant labels. Registrationrequired! Call768-
8300or registeronlineatwww.woodwardmemoriallibrary.org.
THURSDAY, JUNE18
GeneseeVeterans Support Network
(GVSN) supports the development
ofVeterans focusedAAmeetings everyThursday, 6-7pmat the First Baptist
Church, 306 E. Main St., Batavia. Meetings led by MikeW. & are open to
non-veterans as well. Handicap accessible. For additional information call
FRIDAY, JUNE19
Penuel ChristianFellowship,
OneStep toFreedomaddictionsministry, a
ChristCenteredAddictionsprogram, aweeklymeetingeveryFridayat7pm.
Call theChurch formore informationat768-6901or594-9575.
The First Presbyterian Church of LeRoywill hold a Garage Sale
6884WestMainRd. LeRoy, on Friday& Saturday, June 19& 20, 8:30 -4:00
pm. Manynice itemswill be for sale.
SATURDAY, JUNE20
Free Food outreach brought to you by Foodlink
in theMill Street parking
lot. Every3rdSaturdayof themonth. 11-1pm. CallPenuel ChristianFellowshipat
585-768-6901withanyquestions.
UPCOMINGEVENTS
LCCP'sMommy&MePlaygroup: Every2nd&4th Friday,
Le Roy Physical Therapy (in the back gym). Anymoms and their birth-kin-
dergarten children arewelcome to come enjoy socialization, lunch, coffee,
structuredgames& freeplay.
Stafford United Methodist Church's annual free giveaway
uled for June 19th & 20th, is being postponed due to construction inside
ourbuilding. Itwill be rescheduledas soonas thisproject isfinished. Please
watch thePennysaver for thenewdates.
CornellCooperativeExtension'sNWNYTeam
PastureWalk
atthe farmofJohnandSueMikel,Friday,June26 from11am–2pmat6321
EastBethany-LeRoyRoad, Stafford. Lunchwill beprovidedand is sponsored
by Select Sires andmilkwill be donated by Upstate Farms. Registration is
required by June 19 to get an accurate count for lunch. To register contact
CathyWallace at 585.343.3040 x 138 or
Foodlink FreeMobile FoodPantry:
MorganvilleUnited Church of Christ
is partneringwith Foodlink of Rochester to host a freemobile food pantry,
Tuesday, June30, 4:00-6:00pmatMorganvilleUnitedChurchof Christ, 8466
MorganvilleRoad (offRt237, 1milenorthof Stafford). Theexact food items
andquantityavailablearenotknown,butfreshproducewillbeavailable. Must
be18yearsof age, no income requirementor ID required. Mustprovideown
bags/vehicle to transport items toyourhome. Foodprovidedonafirst come,
first servebasiswhile supplies last.
27thAnnual Oatka Festival,
July 18th& 19th, 2015. SAVETHE DATE! www.
oatkafestival.org, facebook.com/oatkafest,Twitter.com/OatkaFestival
CommunityCalendar Submissions shouldbe sent to:
LEROY–EllaMarieFritz, 93, of Knoxville,
Tenn., and formerlyof LeRoy, passedaway
BERGEN—RonaldHowardSchramm,Sr.,
58, of Bergen, the plant operations super-
visor at Bonduelle USA, Inc. in Brockport,
died Friday (June 5, 2015) at his home in
Bergen.Memorialsmaybemade to James
P. Wilmot Cancer Center, 601 Elmwood
Ave., Rochester, NY 14642 or Churchville
Lions Club, PO Box 364, Churchville, NY
14428 or Homecare &Hospice, 26 Liberty
LEROY—CatherineM. (Fernaays)Stone,
85, of Exchange Street, passed away
Saturdaymorning (June 6, 2015) at the Le
RoyVillageGreenNursingHome. In lieuof
flowers, memorials are suggested to either
theLeRoy–StaffordSeniorCitizens, 7965
Black St. Rd., Le Roy, NY or the Le Roy
FoodPantry,48MainSt.,LeRoy,NY14482.
LEROY—Gerald M. Eleczko, 63, of LeRoy
passed away Tuesday (June 9, 2015) at
UnitedMemorial Medical Center. In lieu of
flowersmemorialsmaybemade toGenesee
CancerAssistance16BankStreet Batavia,