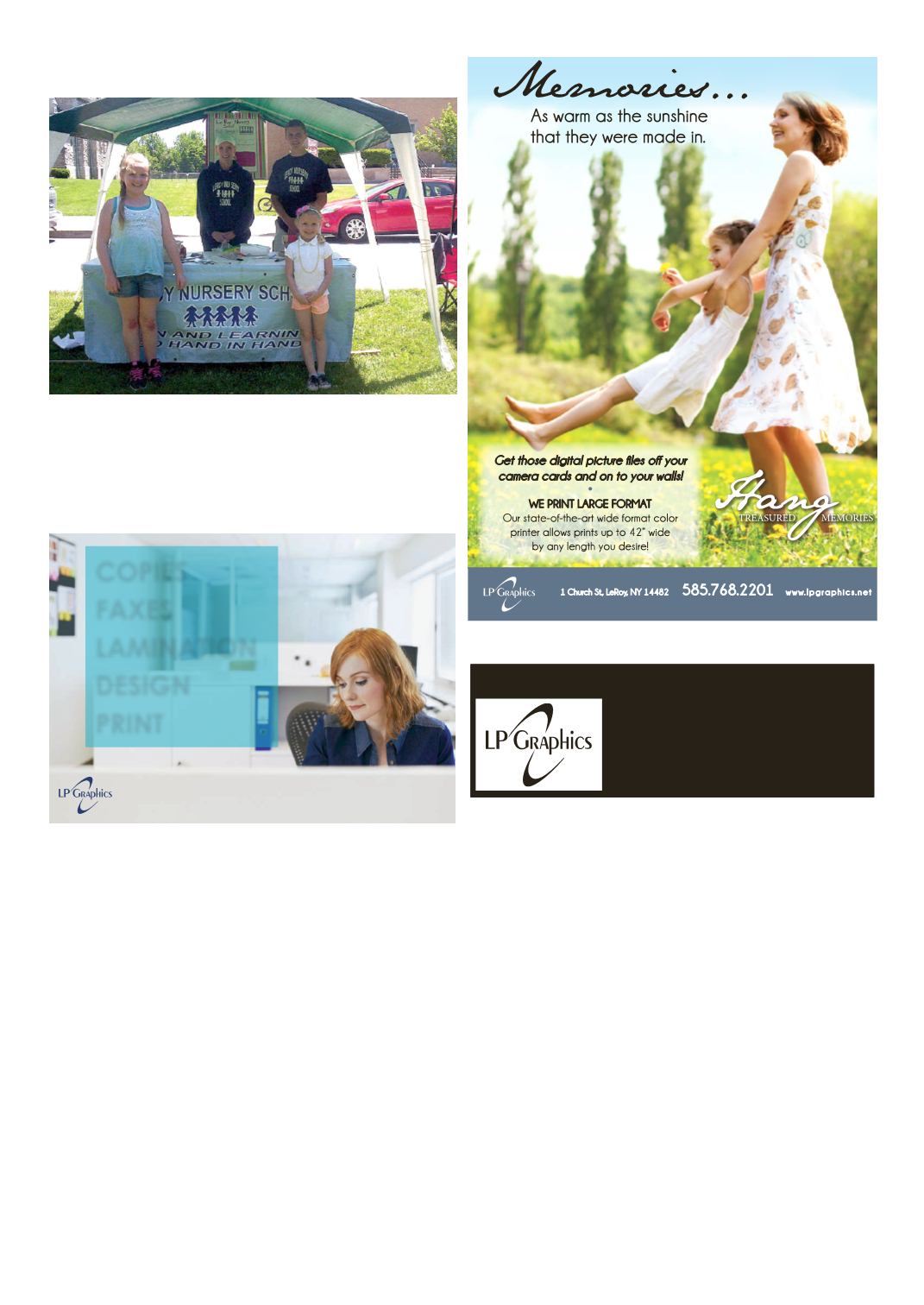 LEROYPENNYSAVER&NEWS - JUNE 14, 2015
1ChurchSt., LeRoy, NY14482
585-768-2201
FAX 585-768-6334
WeDo
06/07/2015 -A29-year-oldBrockportmanwaschargedwithDWI
followinga reportofanerraticdriverheadingsouthonRoute19 from
theBergenarea. RyanN. Jordanof807VikingWay,Brockportwas
stoppedonBankStreetafterallegedlybeingobserved failing tokeep
right onLakeStreet in theVillage at about 6:30pmonFriday, June
5th. After a brief investigation, Jordan was found to be allegedly
intoxicatedandwascharged. Inaddition to theDWI charge, Jordan
wasalsochargedwithDWI-.08%ormore, and failure tokeep right.
Jordan is to appear in the Town of LeRoyCourt on June 15th at
A 51-year-oldRochesterwomanwas chargedwithDWI follow-
ing a traffic stop on Saturdaymorning, June 6th at about 12:48 am
MarieArcarisi of8LeManzDrive,Rochesterwas stoppedonLake
Street after allegedly being observed failing to keep right on Lake
Street in theVillage.After abrief investigation,Arcarisiwas found
tobeallegedly intoxicatedandwas charged. Inaddition to theDWI
charge, Arcarisi was also charged with DWI-.08% or more, and
Arcarisi is to appear in theTownof LeRoyCourt on July20th at
LeRoyNurserySchoolparticipated incommunityfunctions.Last
Saturday the LCCP had their 3rd annual Spring Celebration.
LeRoy Nursery School's booth was planting seeds. To go with
planting the seeds for learning. Alumni came back to help as
theyhave throughout the year doing community service. Emily
Graham andpicturedhereTommyDunn,AnnaLong andLily
Renz.Also inpictureTeacherAssistantAndreaRenz.
SpringCelebration
1ChurchSt., LeRoy, NY14482
585.768.2201
COPIES
FAXES
LAMINATION
DESIGN
PRINT
06/07/15 - The Village of LeRoy Police Department arrested a
22-year-old LeRoy man for trespass. AndrewWolf of 103 Lake
Street, LeRoy was arrested for allegedly trespassing at a local es-
tablishment in theVillage on June 7th at about 2:25 am. Wolf had
been previously advised inMay that he was no longer welcome at
the establishment. Wolfwas chargedwithTrespass, a violation and
was issuedanappearance ticket and is scheduled toappear inLeRoy
TownCourt on 7-20-15 to answer the charges.
06/07/2015 - A 16 year old out of Brighton, NYwas arrested by
the LeRoy Police Department on June 7, 2015 on an outstanding
BenchWarrant. Patrols spotted the 16 year old in the area of Lake
Street in theVillage.After seeingpatrols thesubject allegedlyfledon
foot. The subject was arrested a short time later with the assistance
of K-9 Destro, uniformed Genesee County Deputies and the New
The 16 year old was arraigned in front of Hon. JudgeWelsh in
the LeRoy Town Court. The subject was remanded to the Genesee
County Jail in lieuof $2000.00 cashor $4000.00bond. The subject
is to return to theLeRoyTownCourt on June 18, 2015 to answer to