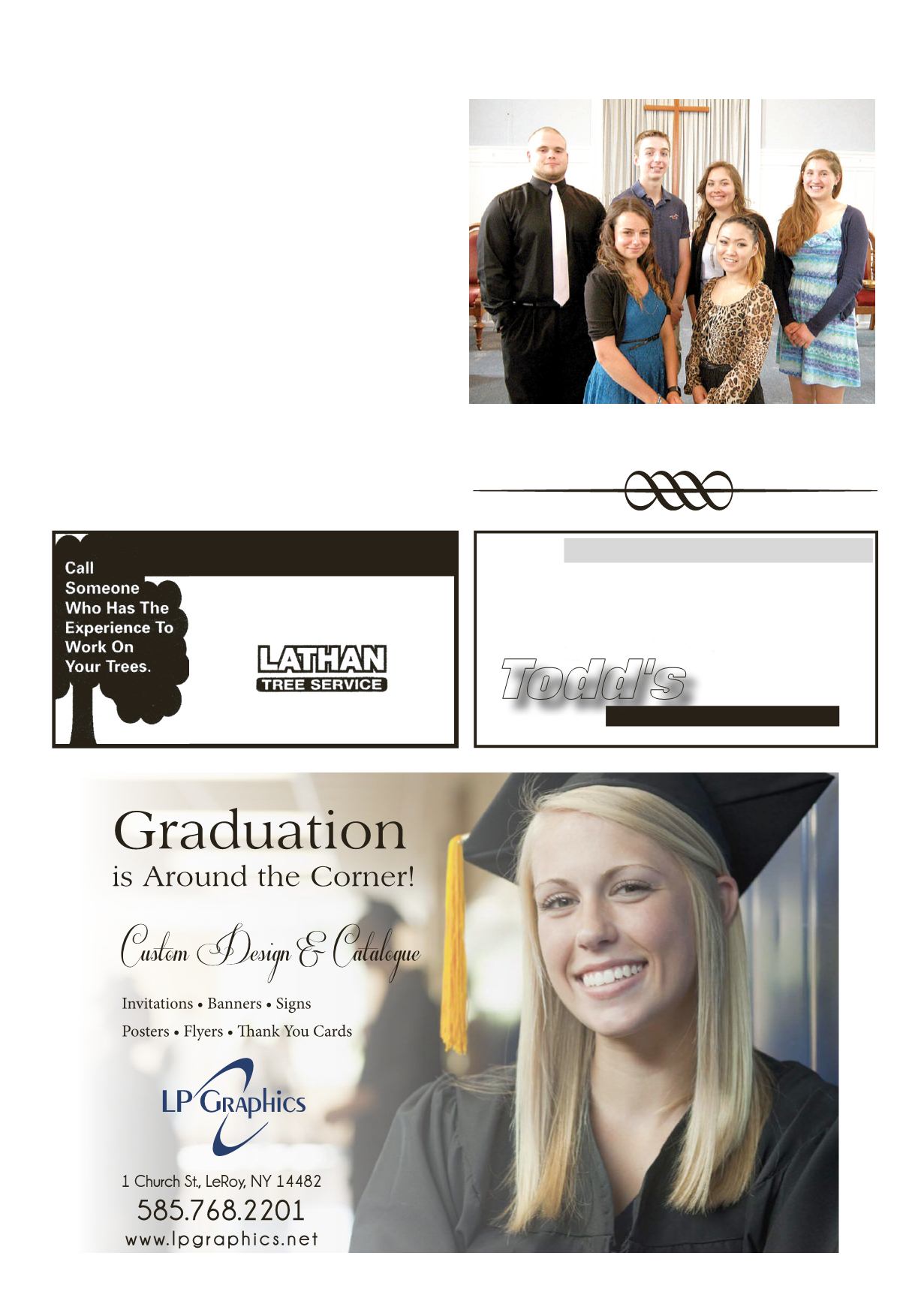 LEROYPENNYSAVER&NEWS - JUNE 7, 2015
NewHomes •Additions •Garages •PoleBarns
ToddCarli • Phone 703-0964
Todd's
Decks •Windows •Doors
Kitchens •Baths
CeramicTile
Basement Finishing
CustomShelves/Built-Ins
Siding •Remodeling
Roofing • SnowPlowing
FULLY INSURED
First Baptist Church of LeRoy,
on behalf of the congregation,
announced thefollowing2015re-
cipientsof theJamesandCharma
Michael Shepard Jr. fromLiv-
ing Waters Church is attending
University of Rochester, Eliz-
abeth Bolton from The First
PresbyterianChurchofLeRoy is
attendingSUNYGeneseo,Alicia
Wardell fromOurLadyofMercy
Parish isattendingMonroeCom-
munity College, Hannah Miller
fromLivingWaters Churchwill
be attending Genesee Commu-
nity College, Jacob McAvoy
from Living Waters Church is
attending Brockport State Uni-
versity,EmilyPaszko fromFaith
CommunityChurchof LeRoy is
attendingGroveCityCollegeand
AnnaWarner fromOur Lady of
Mercy Parish will be attending
The studentswere selectedbe-
causeof theiracademic interests,
service to their community and
commitment toJesusChrist. This
scholarship isgiven inmemoryof
JamesCovell andhiswife,Char-
ma,missionariesandmembersof
the First Baptist Church. They
weremartyred in thePhilippines
duringWorldWar II. Bothwere
dedicated to education and serv-
ingGod. TheCovell'sgave their
lives so that others might know
the love of Jesus and the power
The students and their families
were invited to the Church ser-
viceonMay31stwhere theywere
presented theirawardandattend-
ed a reception in the social hall.
2015CovellMemorial ScholarshipRecipients
FrontRow:ElizabethBolton,AliciaWardell,BackRow:Michael
Shepard Jr., JacobMcAvoy,HannaHMiller, EmilyPaszko.
CALLUSFIRST
•TreeRemoval •TreeTrimming
•StumpRemoval •Lot Clearing •Firewood
•TreePlanting •FreeEstimates •Fully Insured
CALL585-768-2278