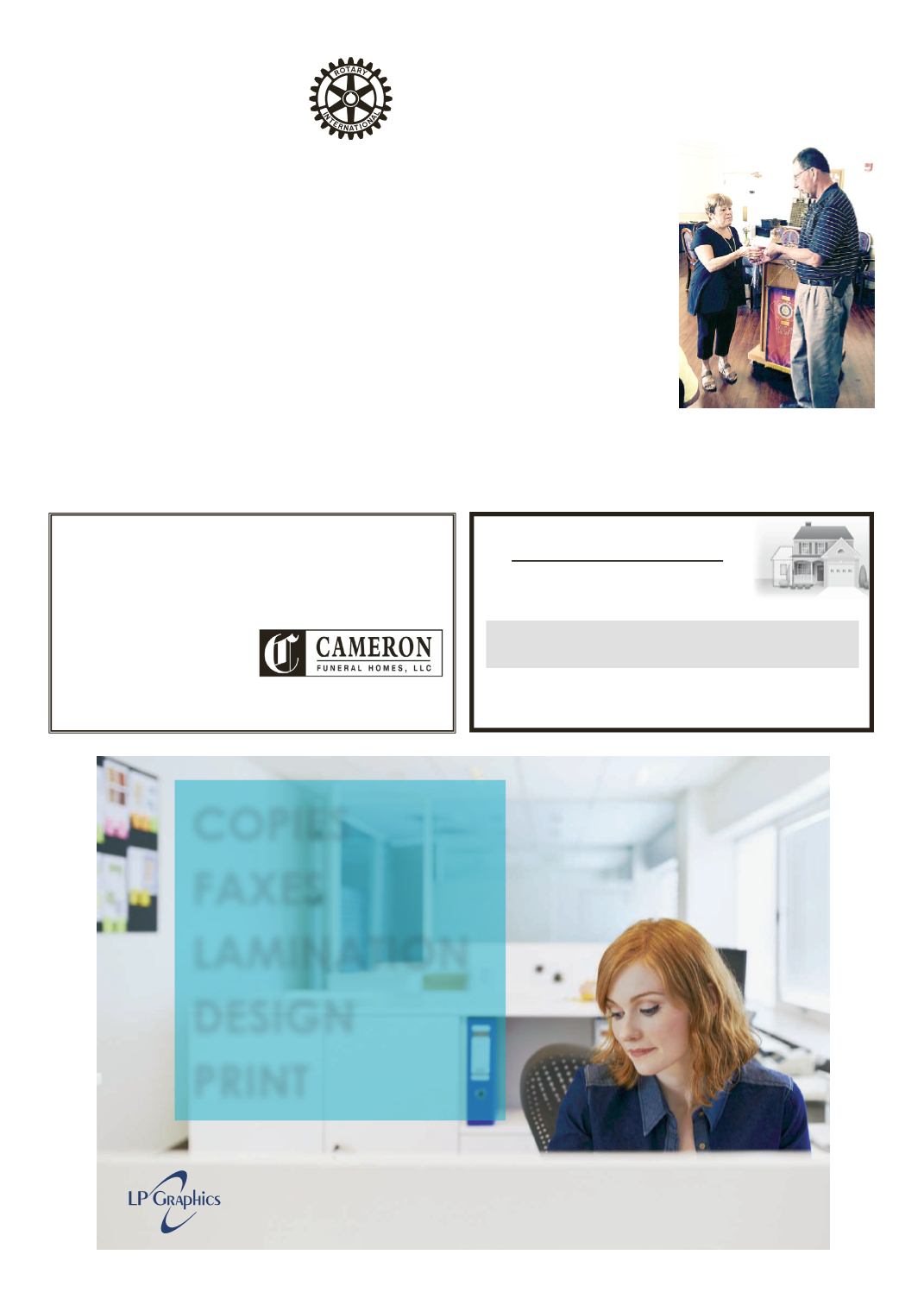 LEROYPENNYSAVER&NEWS - JUNE 7, 2015
HelpingFamiliesCelebrateaLifeLived
"Our FamilyServingYours Since 1907"
Trusted•Honest •Proven
Cameron, Brady&Steuber
FuneralHome
111Wolcott Street
LeRoy,NY14482
(585) 768-6800 •
Likeus onFacebook
"CompleteCarpentry Service"
M
ILLER
B
ROTHERS
B
UILDERS
CustomHomes •Remodeling•Additions
Roofing• Siding
DANIEL
MICHAEL
rain as President Randy rang
the meeting to order on the last
representing Sunshine Nursery
School, Amy James and Nancy
Ryan from Donate Life New
York State. Area 14 Assistant
GovernorMarlee Diehl and her
husband Bill (he's President of
the Albion Club) dropped in
because theycan'tget enoughof
the funwehaveat ourmeetings.
And rounding out our guest
list was none other than Gary
Churchill of the Batavia Club!
Martha Bailey announced that
book donations are desperately
needed forRotaryExcitedAbout
Learning (REAL) book give
away on June 27. Anybody can
drop any used books (please no
encyclopedias)atTompkinsBank
Ben Deragon and Jerry Mc-
Cullough were both called for
missed meetings and Jerry was
also recognized for 15 years as a
Rotarian. The fining sessionwas
full of valuable information such
as that June Dusen's wedding
anniversary number, secret code
betweenMarleeDiehl andTracy
Ford, theamazingnumeric simil-
iarities betweenPresident Randy
and Scott McCumiskey (Ben
Deragon andChristineGephardt
hadhelp from thepeanutgallery).
Kim Cox got zero help with
LeRotary
Notes
number of Rotary Clubs in the
world and had to pay. And Bob
"Sully" Sullivan played a quick
game of "buy it or sell it" to get
Ourprogram todaywasDonate
LifeNYSwhichencouragespeo-
ple to consider enrolling in the
Donor Registry for organs, eyes
and tissue.Wewere surprised to
learn that many of our United
States have as many as 80% of
their population enrolled. New
York has considerably less...
You must be 18 years of age
to register. Currently, you can
register bymail or at anyDMV.
To learnmore, call800-810-5494
1ChurchSt., LeRoy, NY14482
585.768.2201
raphics.net
COPIES
FAXES
LAMINATION
DESIGN
PRINT
and while you are online how
about giving Rotary of LeRoy a