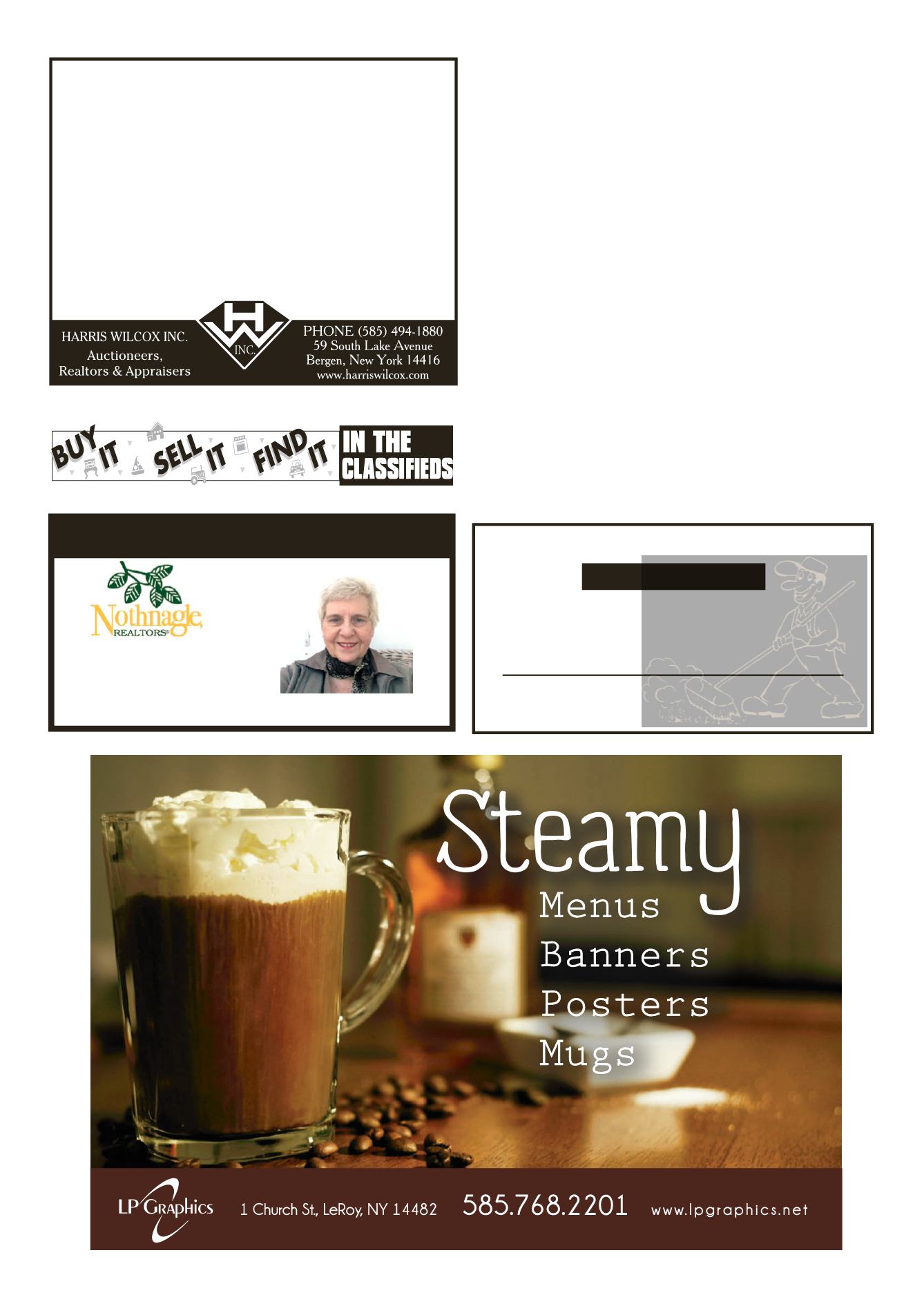 LEROYPENNYSAVER&NEWS - JUNE 7, 2015
THURS., JUNE 11, 2015 • 5:00P.M
LEROY, NY
Auction to be held at 77Clay Street (Rt. 19), LeRoy, NY. Sell-
ingwill be a 3 bedroom 1 bath 1560 sq.ft. colonial style home.
Features includegasfireplace,naturalwoodworkandhardwood
floors.Assessedat $85,500, sellsat $30,000or above. $5,000
deposit required tobid. 3% tocooperatingBrokerswho register
clients prior to the open houses. OPENHOUSES: Sat. June 6
fromNoon-1pm andTues. June 9 from 4-5pm. For details call
PenneVincent at 303-2325or Shelly Falcone at 683-0995.
Estateof RussellA. Shepard
CleaningService
•Carpet &UpholsteryCleaning
•Spot Cleaning&Odor Removal
•Tile&WoodFloor Cleaning&Waxing
•Complete Janitorial Services
Abill, S.1292, toallow theuse
of rifles for big game hunting in
Genesee County has passed the
StateSenateby avoteof 52 to4.
StateSenatorMikeRanzenhofer
is thebill'sauthor and sponsor in
"In several areas of NewYork
State, sportsmen are allowed to
hunt deer with rifles, and this
change in law would allow the
useof rifles inGeneseeCounty,"
saidRanzenhofer. "I ampleased
to report that the bill has passed
the State Senate, and I am hope-
ful that the State Assembly will
pass it before session ends next
Last fall, the Genesee County
Legislature and the Genesee
CountyFederationof Sportsman
Club requested the special leg-
islation to be introduced at the
beginningof the2015Legislative
Existingenvironmentalconser-
vation lawonlyauthorizes theuse
of pistols, shotguns, crossbows,
muzzle loading firearms or long
bows when hunting deer from
thefirstSaturdayafterNovember
15 through the first Sunday after
The bill has been sent to the
State Assembly. Assemblyman
Stephen Hawley is sponsoring
thebill in theStateAssembly. If
enacted into law, the bill would
StateSenatePassesBill
PermittingRifles forDeerHunting
Legislation forGeneseeCountyheads toStateAssembly
LicensedReal Estate Salesperson, REALTOR
Office: 585-409-2140
Cell: 585-768-6368 • Fax: 585-343-8502
Relocating?Whether it be locallyor out of state, giveme a call and let's