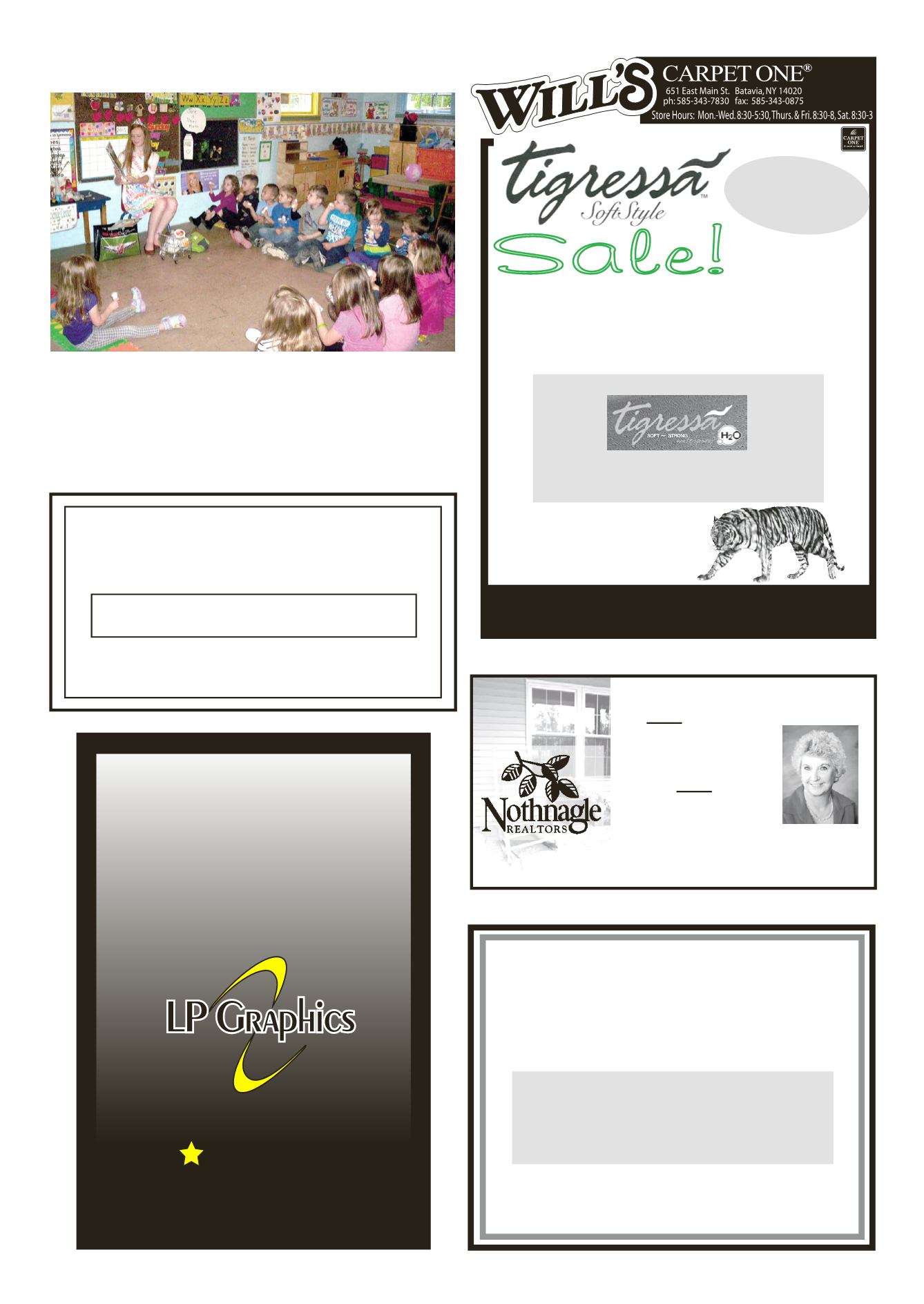 LEROYPENNYSAVER&NEWS - JUNE 7, 2015
• FreeEstimates
• FinancingAvailableTo
QualifiedCustomers
Batavia
585-343-6750
NOW is theBEST time
toBUYwith the interest rates
at their lowest!
Don't wait
toBUY -
call
LindaBeaumont
for all your real
estateneeds.
LindaBeaumont
Home (585) 768-6315
LicensedReal Estate
Salesperson
Multi-MillionDollar Producer
TheONE store for your perfect floor.
FLOOR
&HOME
HURRY!
SALEENDS
JUNE 25th!!
Installedw/6#pad
• 15 year texture retention
NEW
Waterproof LuxuryCarpeting
LeRoyNurserySchoolhadavisit fromEmilyMikel theGenesee
County Dairy Princess. She lives in Stafford and raises dairy
cows. Every year she shows her cows at the County Fair. She
talked to the children about the importance of drinking milk
and the different foodsmadewithmilk. Pictured here they are
making butter and listening to a story about cows.A great way
to celebrate JunebeingDairyMonth!
DairyPrincessEmilyMikel
foodlink's
FREE PROGRAM
June 9th
at 4:00pm
MasonicCommunityCenter
Plumbing • Heating
Installation&Repair Service
For All Residential &Commercial Work
1CHURCHST, • LEROY, NY • lpgraphics.net
WEHANDLEALLASPECTSOFPRINTING...
PROGRAMS
LETTERHEADS
BILLHEADS
FLYERS
BROCHURES
POSTERS
CARBONLESSFORMS
ENVELOPES
RAFFLETICKETS
NEWSLETTERS
RESUMES
TYPESETTING
RUBBERSTAMPS
ENGRAVEDSIGNS
NAMETAGS
COPIES
LAMINATION
COMMUNITYFAX
NEWSANDPICTURES
ADVERTISING
BUSINESSCARDS
HOURS: Monday thruFriday 8:00 to 5:00