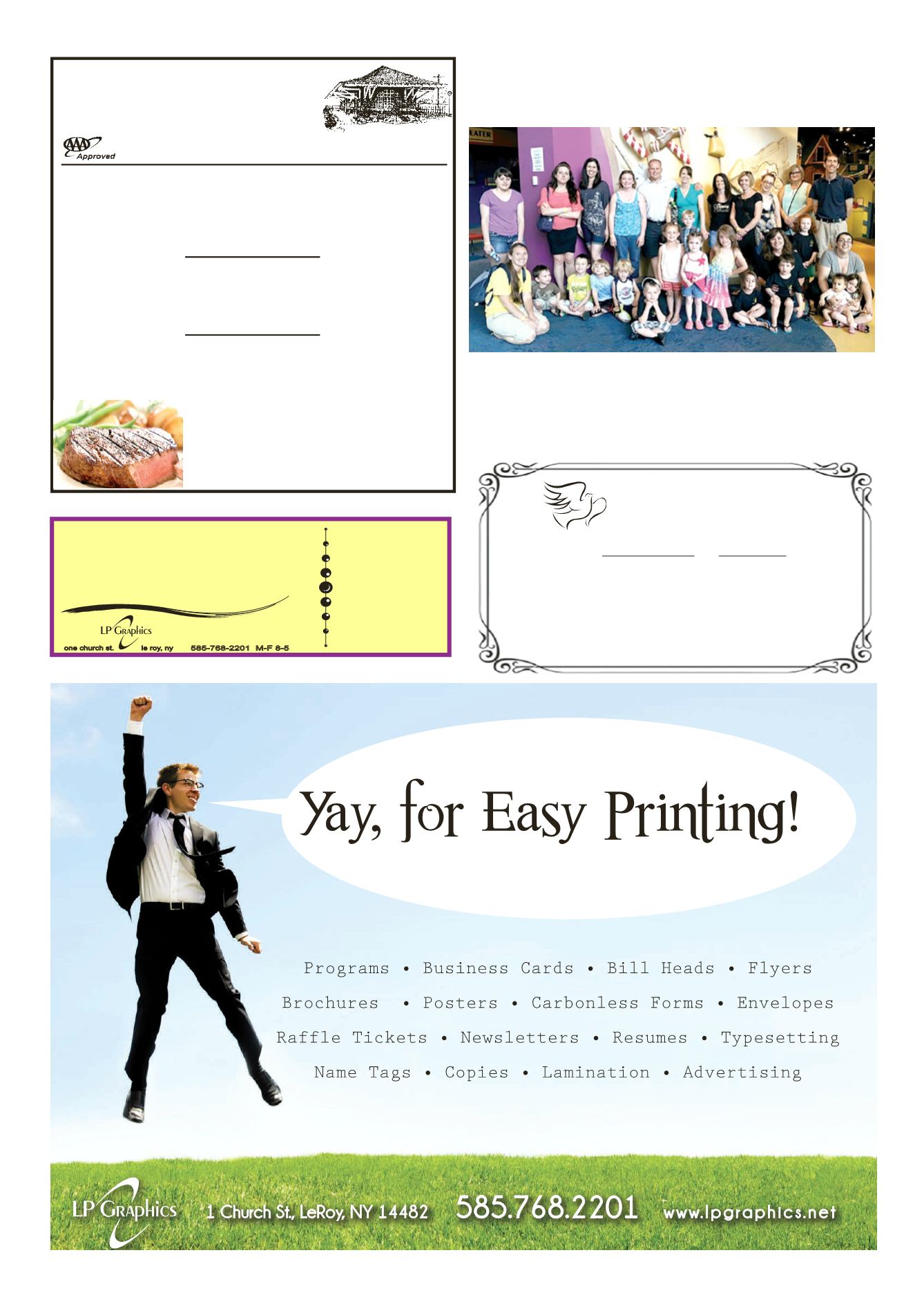 LEROYPENNYSAVER&NEWS - JUNE 7, 2015
Director /Owner
FuneralDirector
F
ALCONE
F
AMILY
Funeral&Cremation Service, Inc.
Director/Owner
"ALOCALFAMILY
CARINGFORLOCALFAMILIES"
D&RDepot
63LakeSt. (Rt. 19), LeRoy• 768-6270
Let'sMeetAtThe ...
OpenForBreakfast, Lunch&Dinner - 7DaysAWeek 7 am-9pm
SUNDAY, JUNE 7thDINNERSPECIAL
SEAFOODPAELLADINNER
Includes soup or salad, and banana crème pie
for dessert - $18.99
SUNDAY, JUNE 14thDINNERSPECIAL
BRACIOLLE
with pasta (in a homemade red sauce )
Includes soup or salad, and a cannoli for dessert - $17.99
SUNDAY, JUNE 21st FATHER'SDAY
This is the perfect time to treat dad to one of our certified
AngusBeef steaks! Freshly cut to order, tender, juicy.
onFather'sDaywewill be open
serving breakfast until 11 am,
lunch or dinner from 11 am - 9 pm
Breakfast reservations are a good idea.
Sunshine Nursery School's Pre-K students and parents took a
school bus to Strong National Museum of Play! They learned
about the food groups andmaking healthy choices at theWeg-
man's Healthy Eating Program. The children also enjoyed a
lunch together followedbymuseum exploration fun!
SNSAt StrongNational
Museumof Play!
one church st. le roy, ny
one church st. le roy, ny