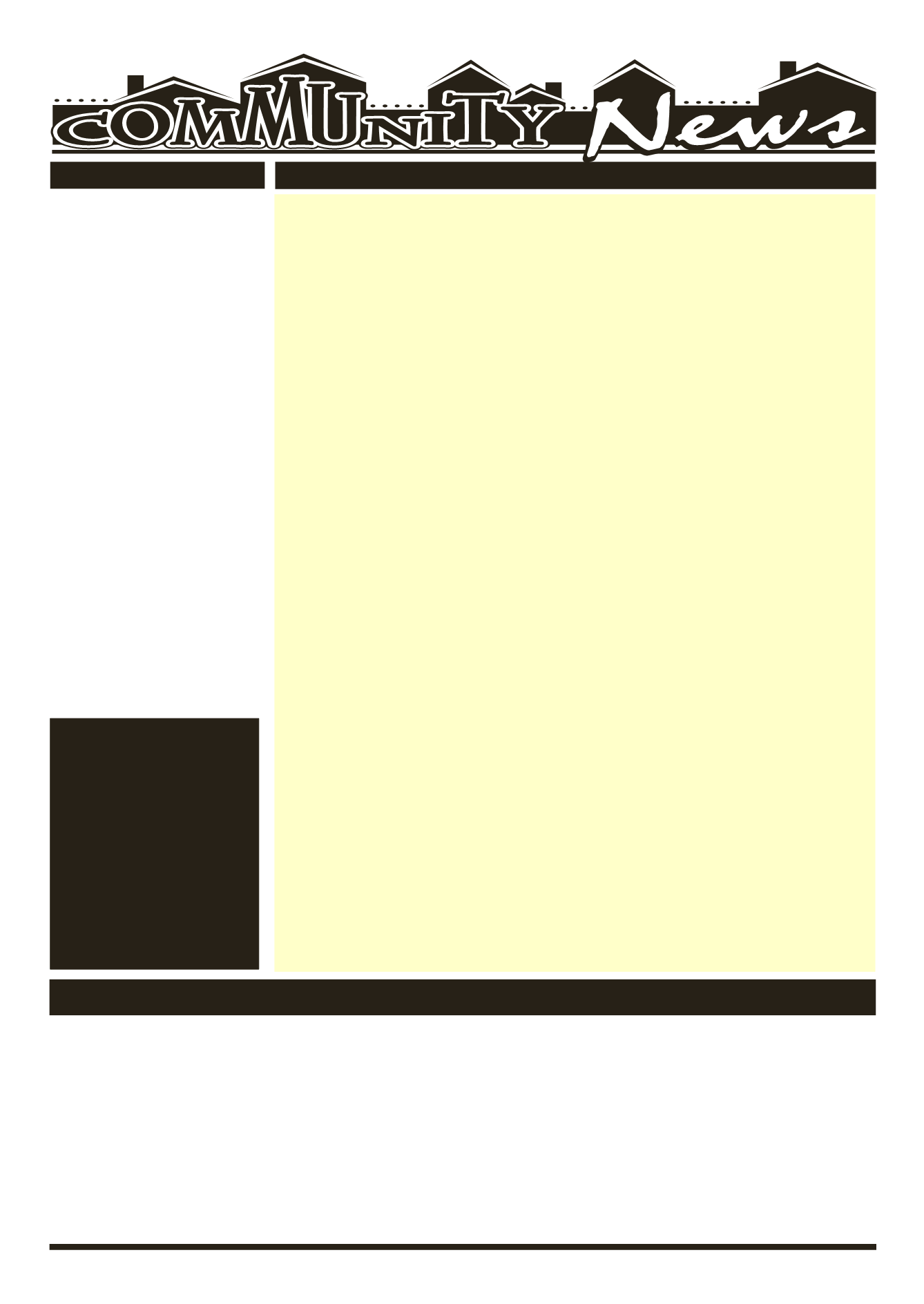 LEROYPENNYSAVER&NEWS - JUNE 7, 2015
Le Roy
Pennysaver
All GeneseeCounty residents, 60andolder, can takepart in thisweek'sactivitiesat theBataviaSenior Center, 2BankSt., Batavia. Formore information, call 343-1611.
WEEKLYEVENTS
OBITUARIES
ArthritisExercise
is set tobeginat 9:30a.m.;
Bridge
is scheduled to start at 11:30a.m.
SafeTalkTraining
isscheduled tobeginat9:00a.m.;
HealthyAgingMeeting
isscheduled tobeginat12:00p.m.;
Cribbage
MPRTransportationMeeting
is scheduled tobeginat 2:00p.m.
OmbudsmenMeeting
is scheduled tobeginat 9:00a.m.;
QuiltersGroup
is scheduled tomeet at 9:00a.m.;
Euchregame
ARepresentative from IndependentHealth
is available from9:30a.m. to11:30a.m.;
Tai Chi
is set tobeginat 9:30a.m. with
Gentle
Fitness
Cribbage&Bridge
are scheduled tobeginat 1:00p.m.
egalServices isavailablebyAPPOINTMENTONLY;LineDancingandArtClass
isset tobeginat10:00a.m.;
Euchre
SUNDAY, JUNE7
Konnect Youth Group at Living Waters Church,
Sundays from 6:30 to 8:30 pm for ages 12-18. "Bring Down all theWalls!
ConnectwithGodandConnectwithothers." Formore information, checkus
outonlineat: livingwatersleroy.org/konnect-youth-ministry/
MONDAY, JUNE8
TOPS (Take Off Pounds Sensibly)
meets Monday evenings at the LeRoy
Presbyterian Church, corner of Clay &Main Streets. Doors open at 6:00 pm
andmeeting is from 6:30-7:15 pm. Visitors are always welcome. Call 585-
768-7103 formore information.
St. Mark's Episcopal Church,
1 East Main St., LeRoy is hosting a
Supper
&Book Discussion
at 6:00 pm to talk about The Faith Club: AMuslim, A
Christian, A Jew—ThreeWomen Search for Understandingby Ranya Idliby,
SuzanneOliver, andPriscillaWarner. Supper is free,butpleasecall thechurch
at768-7200 to reserveyourplace.
TUESDAY, JUNE9
Preschool Storytime:
Every Tuesday at 11 am featuring stories, craft and
songsatPavilionPublicLibrary, 5WoodrowDr., Pavilion. For info: 584-8843.
LCCP'sGRACE'SKITCHEN:
AFREEdinner everyTuesdayevening, 5-7:00pm
at theMasonic Community Center on12Bank St. Plentyof parking. Takeout
&deliveryareavailable. Formore info. contact SelbyDavis at 585-738-8882
GRACE'SCLOSET:Aclothinggiveawayprogram
MethodistChurch,10TrigonPark,LeRoy,9:30amto11:30ameveryThursday.
Wehaveclothingforallages.Weneedbeddingofallkindsespeciallyblankets.
Donations canbedroppedoffat thehousenext to the church. Pleaseput all
bags INSIDE on thebackporch. NO ELECTRONICS, COMPUTERS,DISHES, etc.
StartingJune9th,wewillbeopenTuesdays5-6:30pm.
WEDNESDAY, JUNE10
VillageofLeRoyBoardMeeting,
7pmat theVillageHall, 3WestMainSt.
WoodwardMemorial LibraryBoardofTrustees
MovieDiscussionofPulpFictionat theWoodwardMemorial Library
at6p.m.
Watchthisfilmathome(available for loanatWML)andthen join in
astaff-leddiscussion. Registration required! Call768-8300or registeronline
THURSDAY, JUNE11
GeneseeVeterans Support Network
(GVSN) supports the development
ofVeterans focusedAAmeetings everyThursday, 6-7pmat the First Baptist
Church, 306 E. Main St., Batavia. Meetings led by MikeW. & are open to
non-veterans as well. Handicap accessible. For additional information call
Townof LeRoyBoardMeeting,
7 pm at the TownHall Board Room, 48
FRIDAY, JUNE12
Penuel ChristianFellowship,
OneStep toFreedomaddictionsministry, a
ChristCenteredAddictionsprogram, aweeklymeetingeveryFridayat7pm.
Call theChurch formore informationat768-6901or594-9575.
SATURDAY, JUNE13
VeteransOnlySocial Club -
GeneseeVeterans SupportNetworkannounc-
es a newmeeting location at Scooter's Family Restaurant, 3711West Main
Street Road, Batavia, NY - for the once amonthVeterans Only Social Club.
Meetings areheld the secondSaturdayof eachmonth from7:00 to8:30PM.
Veterans of all eras are invited toattend. GVSN is locatedat 3837WestMain
Street Road, Batavia, NY. For more information, contact GVSN, PO Box 541,
UPCOMINGEVENTS
LCCP'sMommy&MePlaygroup: Every2nd&4th Friday,
Le Roy Physical Therapy (in the back gym). Anymoms and their birth-kin-
dergarten children arewelcome to come enjoy socialization, lunch, coffee,
structuredgames& freeplay.
The Genesee Valley Civil War Roundtable
presents David M. Smeltz on
"The Year of Jubilee". Themeetingwill take place onWednesday, June 17th
at 7pmat LeRoyUnitedMethodist Church, 3rddoor on right endof long side-
walk, 10 Trigon Park, LeRoy, NY. Discussion periodwill follow program. New
Stafford United Methodist Church's annual free giveaway
uled for June 19th & 20th, is being postponed due to construction inside
ourbuilding. Itwill be rescheduledas soonas thisproject isfinished. Please
watch thePennysaver for thenewdates.
The First Presbyterian Church of LeRoywill hold a Garage Sale
6884WestMainRd. LeRoy, on Friday& Saturday, June 19& 20, 8:30 -4:00
pm. Manynice itemswill be for sale.
CornellCooperativeExtension'sNWNYTeam
PastureWalk
atthe farmofJohnandSueMikel,Friday,June26 from11am–2pmat6321
EastBethany-LeRoyRoad, Stafford. Lunchwill beprovidedand is sponsored
by Select Sires andmilkwill be donated by Upstate Farms. Registration is
required by June 19 to get an accurate count for lunch. To register contact
CathyWallace at 585.343.3040 x 138 or
27thAnnual Oatka Festival,
July 18th& 19th, 2015. SAVETHE DATE!
ebook.com/oatkafest,Twitter.com/OatkaFestival
CommunityCalendar Submissions shouldbe sent to:
EASTBETHANY—Kenneth J. Sonne, 67,
of Bethany Center Road, East Bethany,
passedawayunexpectedlyonMonday (May
25, 2015) in the StrongMemorial Hospital,
PAVILION – Geraldine M. Sims, 52, of
Coolidge,Ariz., formerlyofPavilion, passed
awayMay13,2015 inArizona. In lieuof flow-
ers, memorials may be made to Genesee
Cancer Assistance, Inc., 16 Bank Street,
CALEDONIA— Mary R. (Zinni) Coppini
died Friday (May 29, 2015) at age 90. In
lieu of flowers, memorialsmay bemade to
CaledoniaAmbulance, PO Box 3, Caledo-
nia, NY 14423 or have a Mass offered in
PAVILION — Dorothy H. Hackett, 92, of
YorkRoad, passedawayonFridaymorning
(May 29 , 2015) at home. In lieu of flowers,
memorial contributions may be made to
the Pavilion Rescue Squad, PO Box 156,
STAFFORD—Mrs.ShirleyArleneAcheson
Lang, age 86, of Stafford, passed away
on Sunday (May 31, 2015) at her home.
Arrangements are being completed by the
H.E. Turner &Co. Funeral Home, 403East