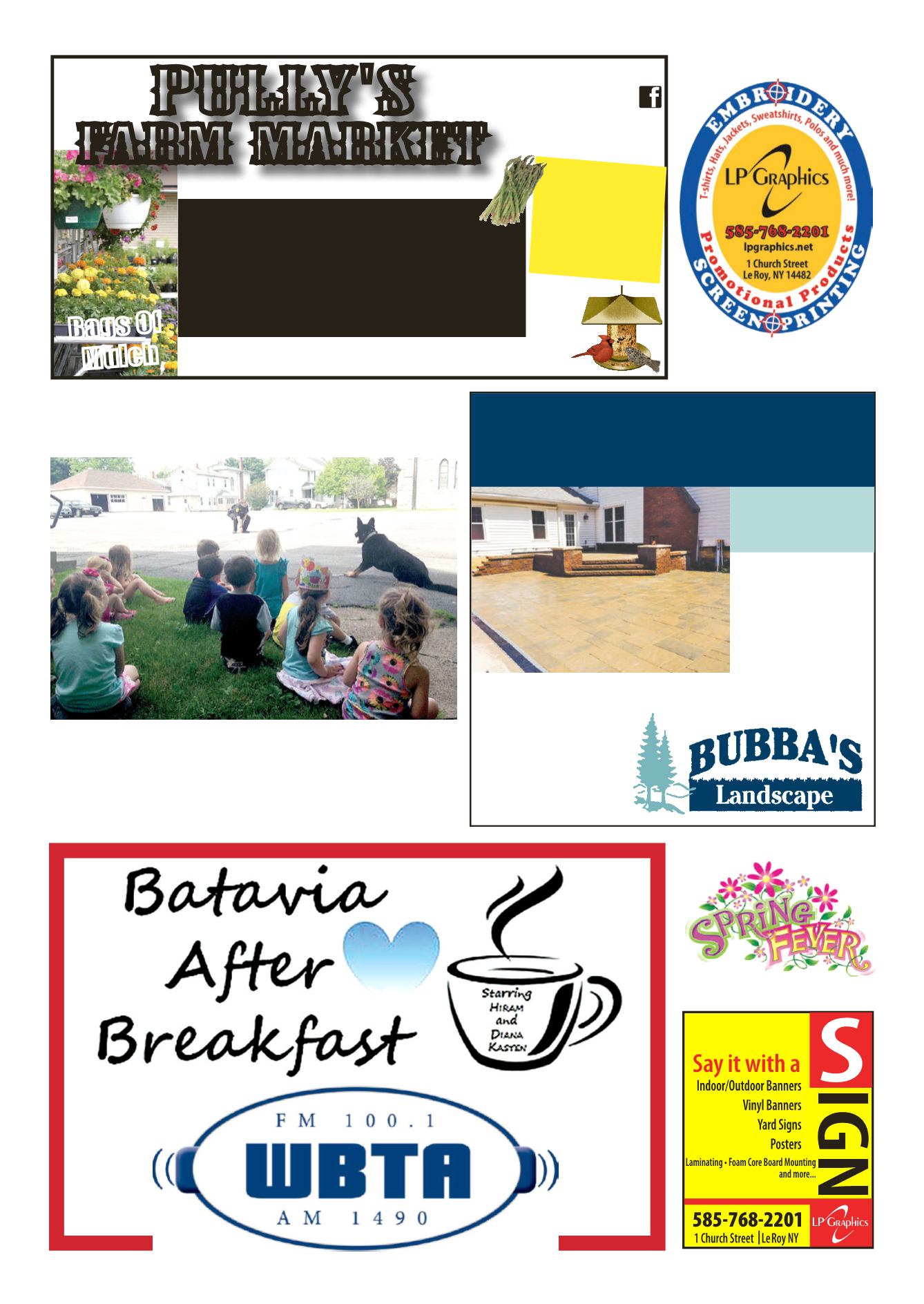 LEROYPENNYSAVER&NEWS -MAY 31, 2015
PottingSoil&TopSoil
HangingBaskets
Annuals • Perennials
VegetablePlants •ComboPlanters
PansyBowls •Herbs
(grown in our own greenhouse)
8160LakeRd. (Rt. 19)
LeRoy, NY
1/2mile south of Thruway
768-2280 • 704-1157
Hours:Mon.-Sat. 9-6, Sunday9-5
pullysfarmmarket.com
Jams • Jelly • Seeds •Honey • Syrup
Fresh
Asparagus
PickedDaily
FromOur Farm
Gift CertificatesAvailable!
Bird
Seed
&Feeders
Walkways • RetainingWalls Hardscapes • LawnCare
Landscape • Trees&Shrubs • Pruning,Mulching
*Call for bulkmaterial
deliveryandpricing.
Your Hardscape
Specialists!
Mon.-Fri. 8-5; Sat. 8-noon
DeputyChrisandhisK-9Destro from theGeneseeCountySher-
iff'sOfficevisited theNurseryclassatLoveBugsPreschool. The
childrenwere able to experience up close what it's like to be a
policeman andwhat aK-9doeswhile atwork. Picturedhere is
DeputyChris andDestrodemonstrating someof the commands
theyuse atwork.
DeputyChrisDemonstrated
AK-9AtWork
lpgraphics.net