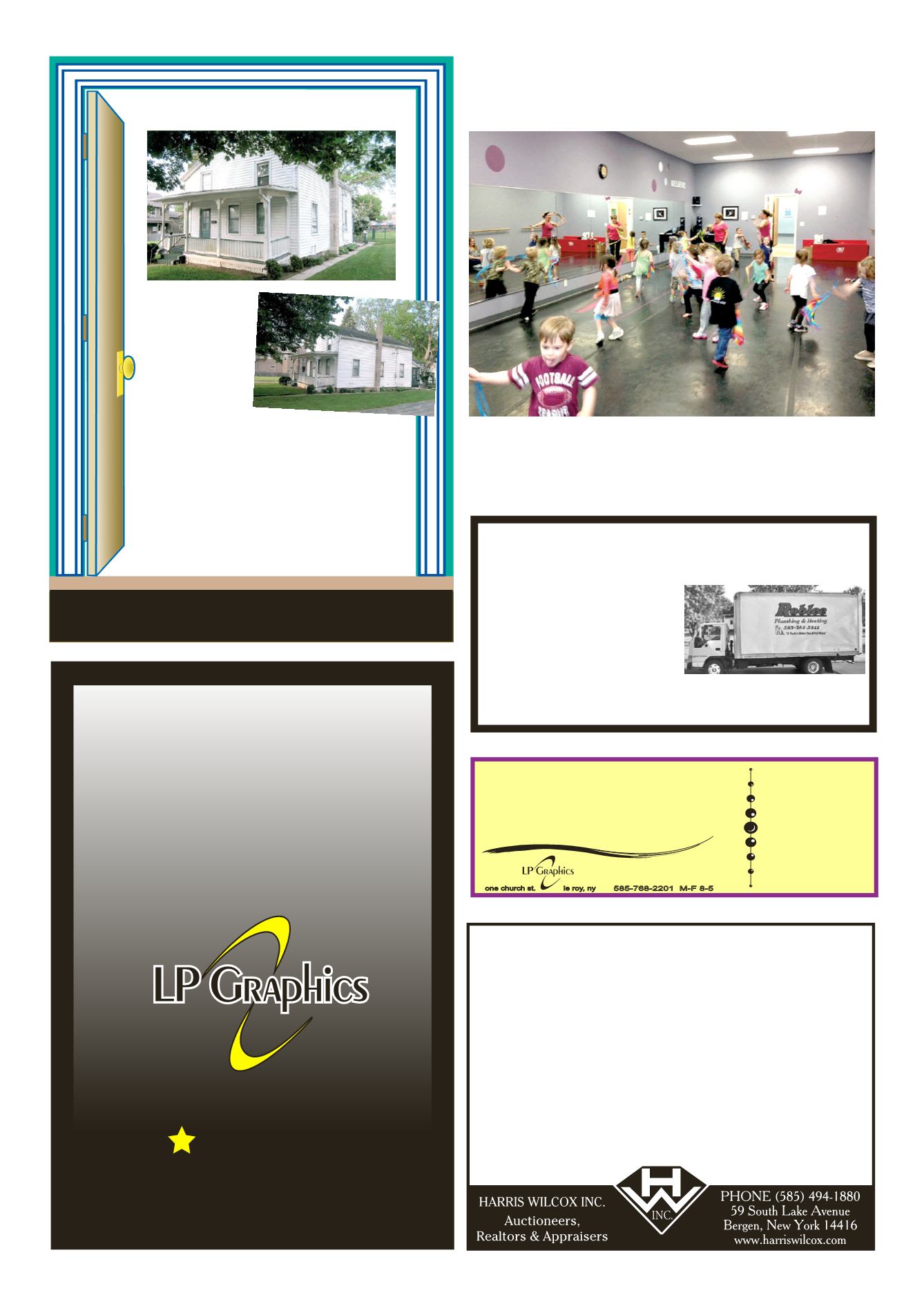 LEROYPENNYSAVER&NEWS -MAY 31, 2015
ROBLEE
Plumbing&Heating, LLC
10991LakeRd., Pavilion • (585) 584-3841
Full Insured
LUXAIRE
GOULD
NYSCertifiedBackflowTester
Water&Sewer Lines •Water Treatment&ConditioningSystems
THURS., JUNE 11, 2015 • 5:00P.M
LEROY, NY
Auction to be held at 77Clay Street (Rt. 19), LeRoy, NY. Sell-
ingwill be a 3 bedroom 1 bath 1560 sq.ft. colonial style home.
Features includegasfireplace,naturalwoodworkandhardwood
floors.Assessedat $85,500, sellsat $30,000or above. $5,000
deposit required tobid. 3% tocooperatingBrokerswho register
clients prior to the open houses. OPENHOUSES: Sat. June 6
fromNoon-1pm andTues. June 9 from 4-5pm. For details call
PenneVincent at 303-2325or Shelly Falconeat 683-0995.
Estateof RussellA. Shepard
SunshineNurserySchool'sNursery classwent on afield trip to
FusionDance Center. Owner and instructor,Miss Kristin, had
themmovingandgrooving tomusic!Thechildrenhada fun-filled
morning of creativemovement.
FusionDanceCenter
Welcomes SNS!
4 bedrooms,
family room,
living room,
dining room,
2 bathrooms,
2 car garage,
central air, large back yard,
vinyl siding
AppointmentsOnly
Call
585-409-0842
one church st. le roy, ny
one church st. le roy, ny
1CHURCHST, • LEROY, NY • lpgraphics.net
WEHANDLEALLASPECTSOFPRINTING...
PROGRAMS
LETTERHEADS
BILLHEADS
FLYERS
BROCHURES
POSTERS
CARBONLESSFORMS
ENVELOPES
RAFFLETICKETS
NEWSLETTERS
RESUMES
TYPESETTING
RUBBERSTAMPS
ENGRAVEDSIGNS
NAMETAGS
COPIES
LAMINATION
COMMUNITYFAX
NEWSANDPICTURES
ADVERTISING
BUSINESSCARDS
HOURS: Monday thruFriday 8:00 to 5:00