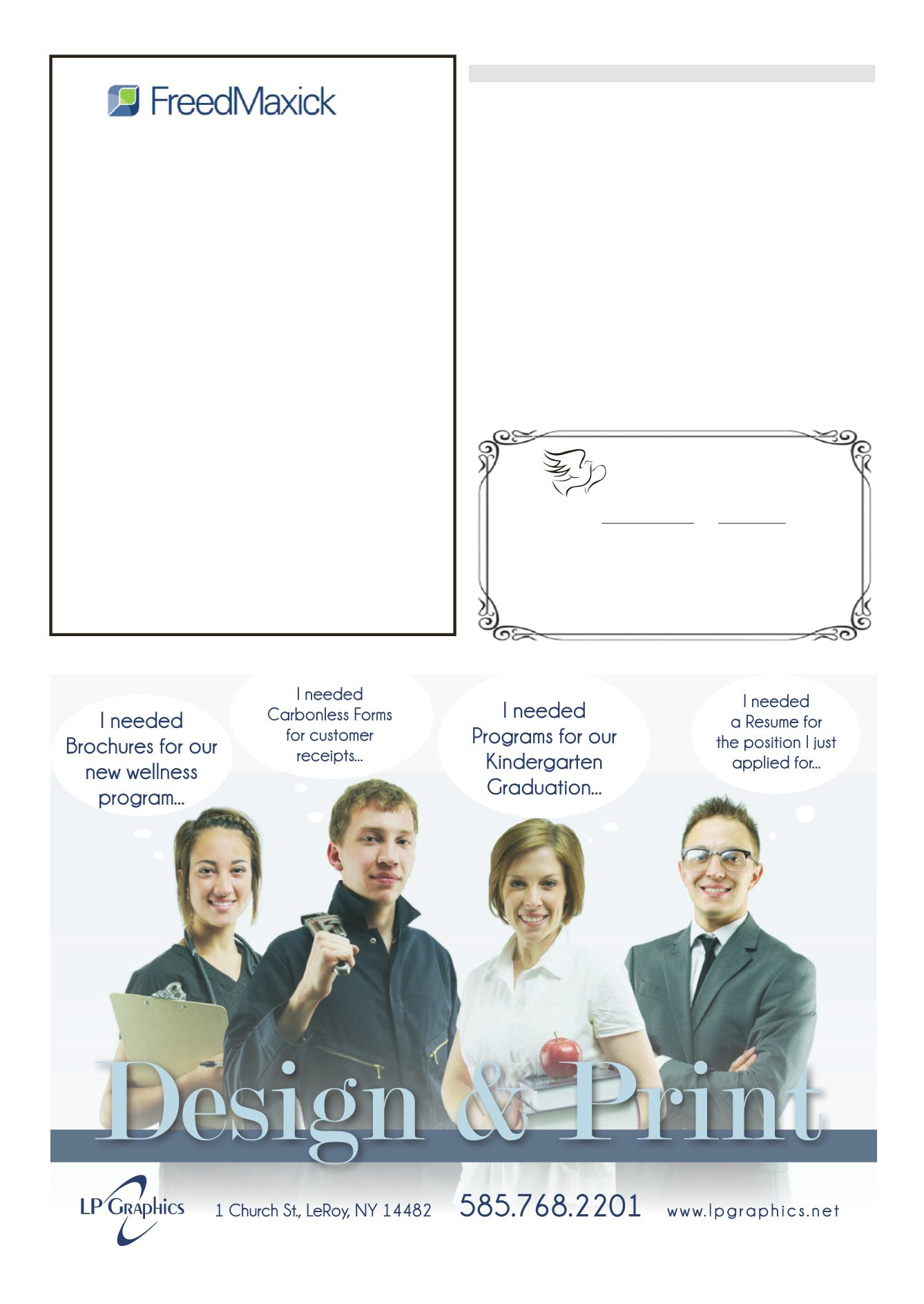 LEROYPENNYSAVER&NEWS -MAY 31, 2015
Director /Owner
FuneralDirector
F
ALCONE
F
AMILY
Funeral&Cremation Service, Inc.
Director/Owner
"ALOCALFAMILY
CARINGFORLOCALFAMILIES"
byGreg "Porp"Rogers
Mayor
On behalf of the Village I
would like to extendour deepest
gratitude and appreciation to
all of our veterans. It is through
your sacrifice that we enjoy our
daily freedomandqualityof life.
1st the Village Board is having
a work shop to address, future
zoning and code enforcement.
Whilewehavemadesomestrides
there isstillmuchwork todo, this
workshop is open to the public
and is not to express individual
complaint asmuchaswhatneeds
to be done going forward.
For your individual complaints
pleasecontactCodeEnforcement
Officer Jeff Steinbrenner at the
TheFarmer'sMarketwillagain
open inTrigonParkonJune20th.
Routinely the Police Dept.
comes across bicycles and we
need to get them out of the Vil-
lageHall as they take up a lot of
space. If your child is inneedof
a bike, please come to the Vil-
lageHall and take your pick, no
charge as long as they last.
"Let fearbeacounselorandnot
Notes From TheMayor's Office
FreedMaxickCPAs, P.C. isoneof the largest accounting
and consulting firms inWesternNewYork
Our Agribusiness Group specializes in providing industry-specific accounting
services to closely held agricultural businesses and family-owned farms.
AccountingSpecialist–Full-ChargeBookkeeper
with an agribusiness background and experience for our Batavia office.
The ideal candidate should have:
• Aminimum of anAASDegree in accounting with 3 to 5 years experience in
• QuickBooksproficiencyandcomprehensivebookkeepingand financial reporting
• Excellent client-facing and communication skills to work with clients on ac-
• Ability to work as part of team to meet and exceed the needs of external
agri-business clients and internal professionals
• Technical competency and computer proficiency
• Ability to travel to client locations
FreedMaxickoffers:
Great Career / Life Integration
ManageableSchedules andTravel
FlexibleandAlternativeSchedules
GivingBack to theCommunity throughVolunteer Initiatives
Sendcover letter, resume and salary requirements to
Visit ourwebsite to learnmore about us!