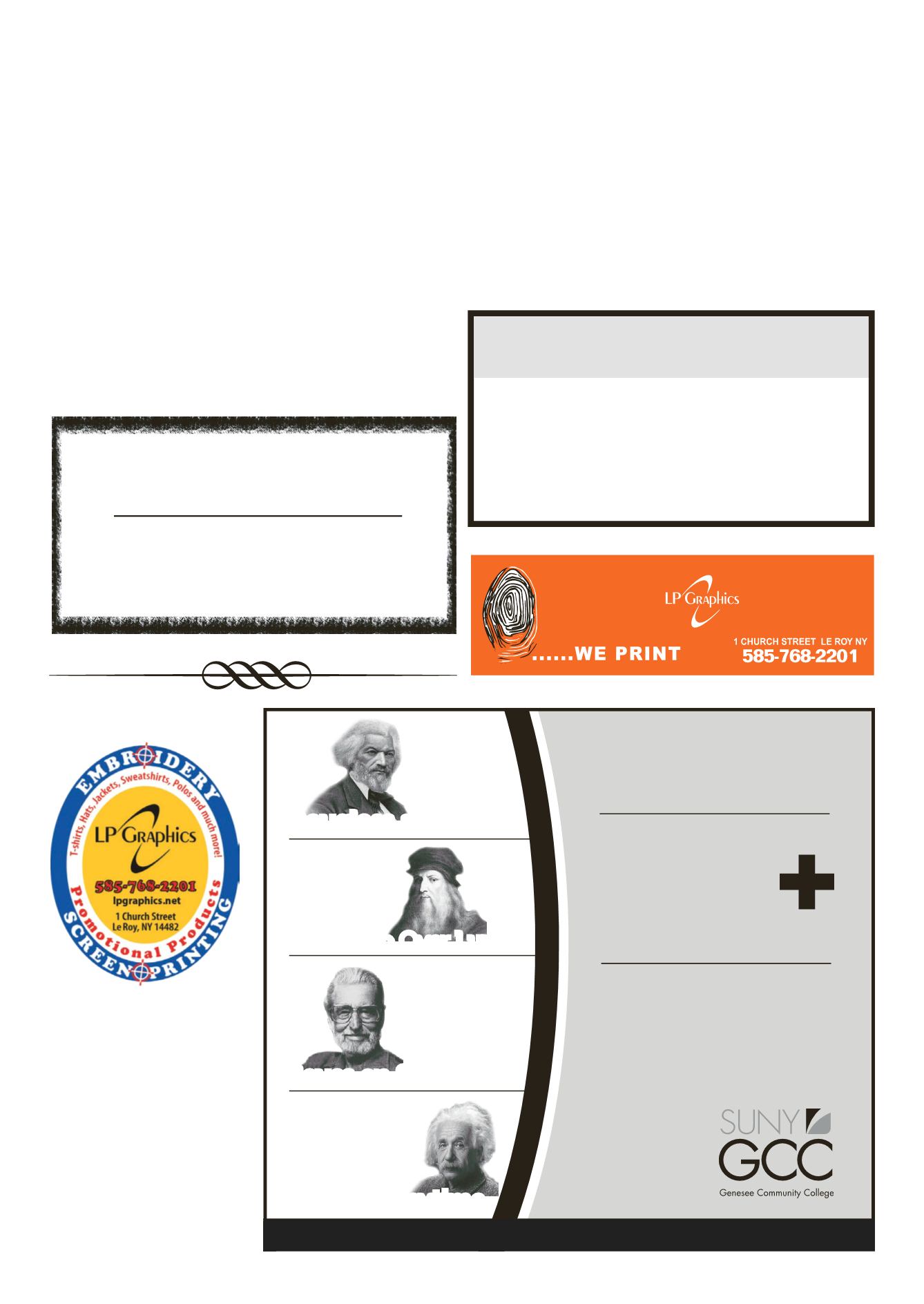 LEROYPENNYSAVER&NEWS -MAY 10, 2015
NEW COURSE:
Geographyof Sustainability
• Session 1 startsMay 26th
GENESEE.EDU
or
866-CALL-GCC
ALBION l ARCADE l BATAVIA l DANSVILLE l LIMA l MEDINA l WARSAW l ONLINE
Genesee Community College is an equal opportunity/affirmative action institution.
ALLWORKMANSHIP GUARANTEED • INSURED
297-9097 • 768-7737
• InteriorPainting
• Plaster/LathRestoration
•Drywall&Drywall Repair
•TextureRemoval
• Floors Stripped
&Refinished
•OldCeilings&Walls
MadeLikeNew!
MikeDarby'sPatch&Paint
Alyssa Klopfer
been named to theUniversity of
Pittsburgh (Dietrich School of
Arts and Sciences) Dean's List.
Tobeplacedon thisDean'sList,
astudentmusthaveearneda term
GPA of at least 3.50. Alyssa has
just completed her sophomore
yearatPittasabiologymajorand
has earned this honor for three
RemembranceDay (alsoknown
asPoppyDay) is amemorial day
observed in Commonwealth of
Nationsmember states since the
end of the First World War to
remember the members of their
armed forces who have died in
Theday, specificallydesignated
ber 1919,[1] or alternative dates,
isalso recognizedasspecialdays
for war remembrances in many
non-Commonwealth countries.
RemembranceDay isobservedon
11November to recall theendof
hostilities ofWorldWar I on that
Hostilities formally ended "at
the 11th hour of the 11th day of
the 11th month", in accordance
with the armistice signed by
representatives of Germany and
the Entente between 5:12 and
5:20 that morning. ("At the 11th
hour" refers to the passingof the
11th hour, or 11:00 am.) The
FirstWorldWar officially ended
with the signing of the Treaty of
Versailles on 28 June 1919.[2]
The memorial evolved out of
Armistice Day, which continues
to be marked on the same date.
The initial Armistice Day was
observed at BuckinghamPalace,
commencing with King George
V hosting a "Banquet inHonour
of the President of the French
Republic"[3] during the evening
hours of 10 November 1919.
The first official Armistice Day
was subsequently held on the
grounds of Buckingham Palace
MemorialDay
The red remembrance poppy
has become a familiar emblem
of RemembranceDay due to the
poem In Flanders Fields. These
poppies bloomed across some of
theworst battlefields of Flanders
inWorldWar I; theirbrilliant red
color became a symbol for the
May 11th, 2015
• 7:30pm
NOMORESpreadingof
HumanWaste in theTownof Stafford.
lpgraphics.net