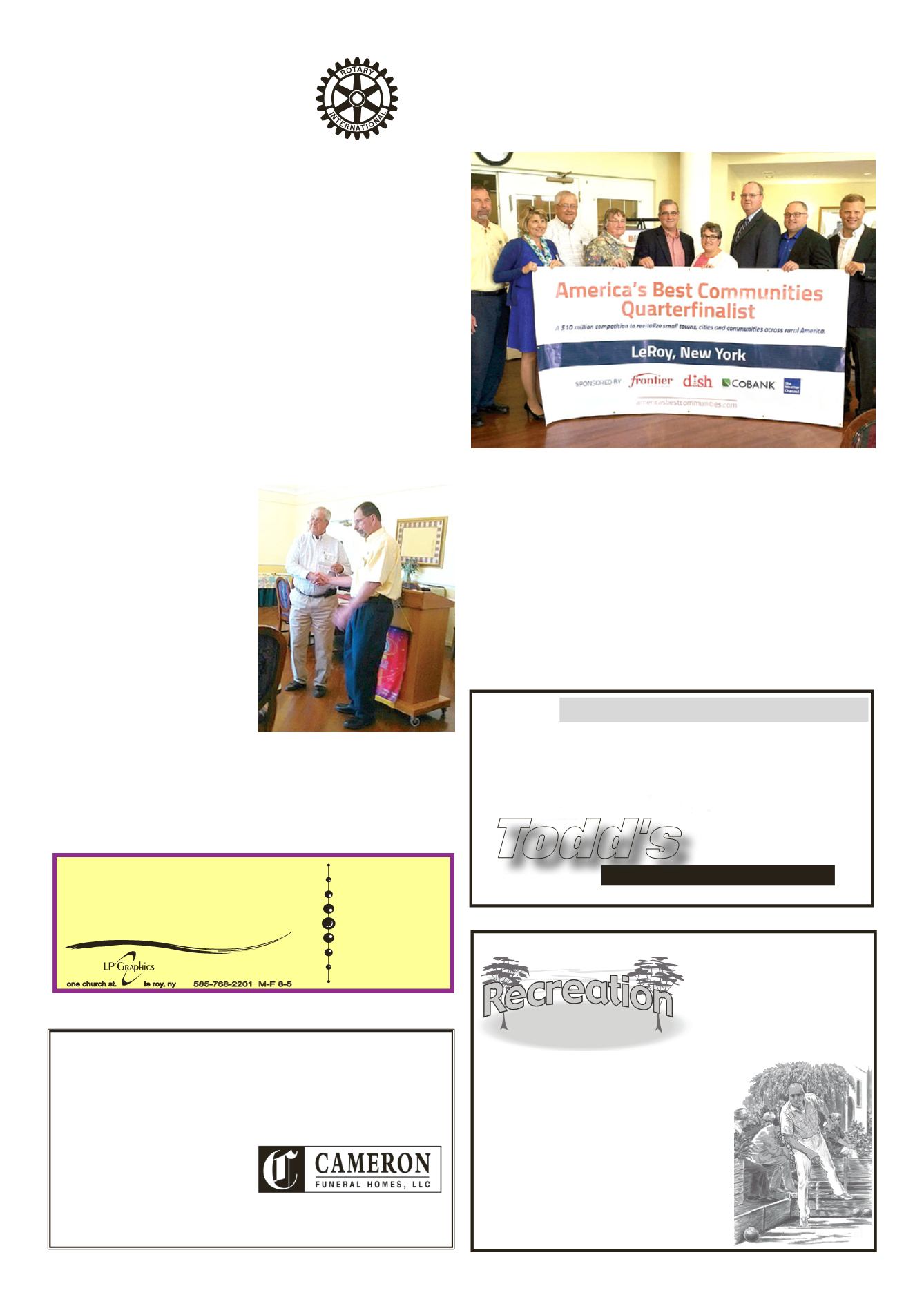 LEROYPENNYSAVER&NEWS -MAY 10, 2015
HelpingFamiliesCelebrateaLifeLived
"Our FamilyServingYours Since 1907"
Trusted•Honest •Proven
Cameron, Brady&Steuber
FuneralHome
111Wolcott Street
LeRoy,NY14482
(585) 768-6800 •
Likeus onFacebook
LeRotary
Notes
A beautiful spring day with a
fullhouseofguests toonumerous
to list, but all important friends,
Rotarians, corporations, agencies
and local government officials.
Area 14 Christmas Party is Jan-
uary 8, 2016. Our Rotary team
willhelpout at theDayofCaring
May13thandourRotaryEarlyact
Club from LeRoy Central will
have a food drive to collect for
the LeRoy Food Pantry and the
backpack program. It's time for
RentARotarianonMay9th.Call
Martha at 261-0714 for details.
The Graze to Raise fundraiser
for the Milne Scholarship Fund
is May 15th. Contact Samantha
Vagg or anyRotarian for tickets
of if youwould like todonate an
auction item. June 17thwewill
holdourPaulHarrispresentation.
Paul Harris is the founder of
Rotary and it's a great honor to
receive this recognition.
The Joint Board Meeting for
current and incoming board
changeover induction ceremony
for our incomingPresident Tony
Gugino and outgoing President
Randy Vink is June 24th at the
Stafford Country Club. Marlee
Diehl,AlbionRotaryandcurrent
assistant governor for Area 14
gave LeRoy Rotary a phenom-
enal review!We are on track for
our awards, but need one more
member! President RandyVink
would love to hear from you.
ups in place for Martha Bailey,
Jim Ellison and Carol Wolfe.
Green cards ($) from Ben De-
ragon, Mary Margaret Ripley,
and Lynne Belluscio. Welcome
back snowbird June Dusen and
vacationingBobBoyce. FINES:
How many flamingos were at
the LeRoy House? Lynne says
at least 185. PayupLynne. Pres-
ident Randy received a nice gift
fromBobBoyce,ametalexpand-
able back scratcher, no charge.
Also a check was presented to
a full house for a wonderful
announcement. Letters from our
localcommunityclubsandothers
went along with the application
LeRoy submitted for a chance
at a great honor. And we are in
the running. LeRoy/Bergen has
beenselectedasoneof the top50
America'sBestCommunities by
FrontierCommunications.There
were 138 applications, which
include over 348 communities.
Now there is more work to be
done to compete for the award
money. Our corporate mentor
will be IBM. They will help
develop our vision and plan for
re-vitalization. Congratulations!!
Hard work from our local gov-
ernment officials and clubs has
made this possible. Remember
to like us on Facebook. Email
Town of
LEROY
2015
Therewill be an
informationalmeetingat the
TownHall, 48MainSt.
to discuss plans for the start
of the 2015 season
MeetingDate:
Thursday,May 14
10:00 am
one church st. le roy, ny
NewHomes •Additions •Garages •PoleBarns
ToddCarli • Phone 703-0964
Todd's
Decks •Windows •Doors
Kitchens •Baths
CeramicTile
Basement Finishing
CustomShelves/Built-Ins
Siding •Remodeling
Roofing • SnowPlowing
FULLY INSURED