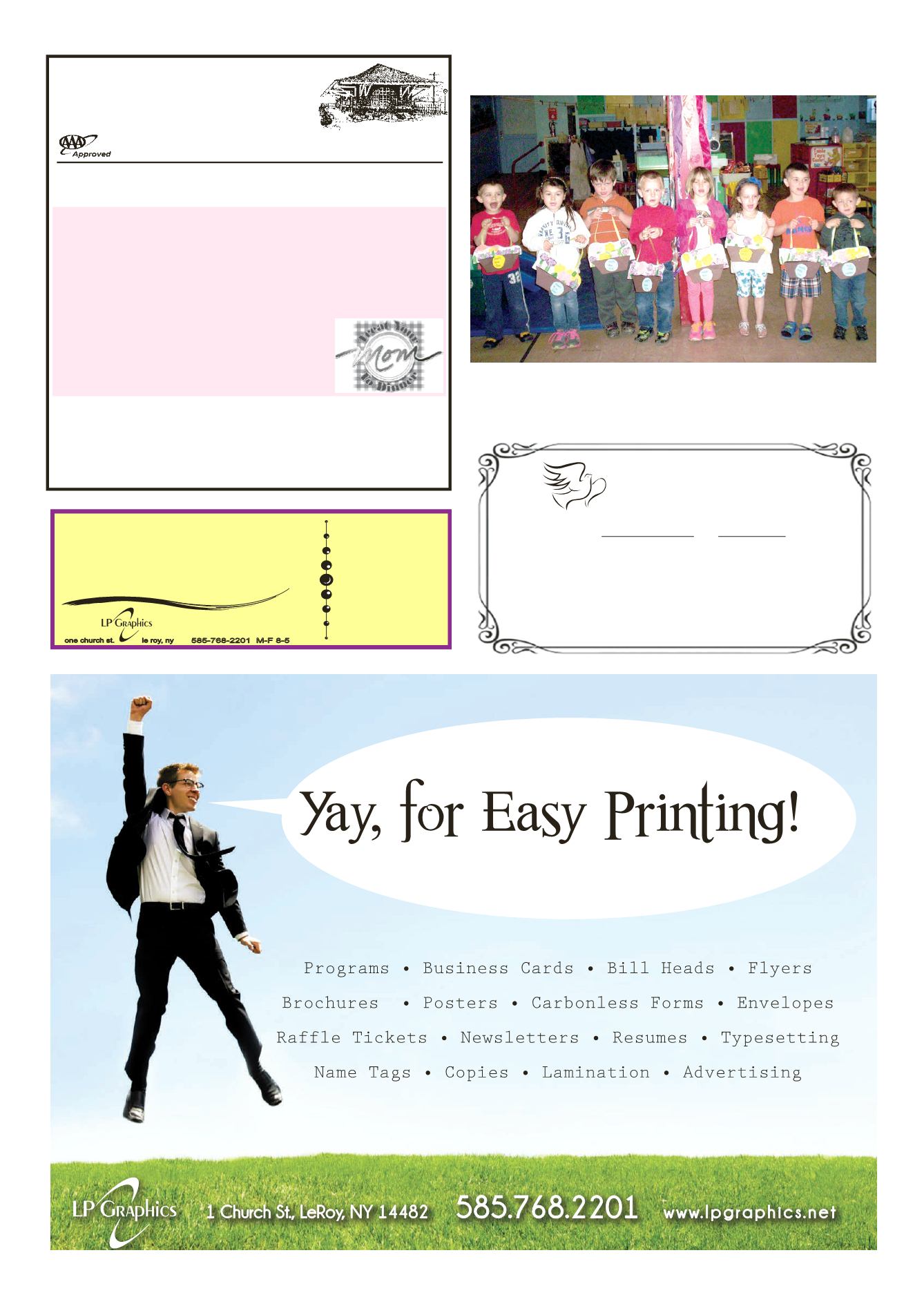 LEROYPENNYSAVER&NEWS -MAY 10, 2015
Director /Owner
FuneralDirector
F
ALCONE
F
AMILY
Funeral&Cremation Service, Inc.
Director/Owner
"ALOCALFAMILY
CARINGFORLOCALFAMILIES"
D&RDepot
63LakeSt. (Rt. 19), LeRoy•768-6270
Let'sMeetAt The ...
OpenForBreakfast, Lunch&Dinner - 7DaysAWeek7am-9pm
LeRoyNursery School madeMayDay baskets to celebrate the
month ofMay. They sang songs aboutMay flowers anddanced
around aMaypole. Picturedhere is the 2DayClass.
MayDay
HAPPYMOTHER'SDAYTOALLTHEWOMEN INYOUR
LIFE from theD&RDepot Restaurant owners and staff
MOTHER'SDAY–MAY 10th
dinner from 11am –9 pm, with a limitedmenu butwith regular
CHICKENPOTPIE, SEAFOODPOT
PIE,HAMSTEAK, FILETMIGNON,VEGGIEPOTPIE,
BROILEDSCALLOPS, PRIMERIB,
CHICKENPARMESAM, SALMON
Reservations are strongly suggested.
(Children's& Senior portions are available).
You can visit ourwebsite atDandRDepot.com
to view our entireMother'sDaymenu.
SUNDAY,MAY17th
for ourmost popular dinner –
ROASTTURKEYDINNER
with homemade stuffing, realmashed potatoes and cranberry
sauce andAmy's pumpkin ice cream pie for dessert
one church st. le roy, ny
one church st. le roy, ny