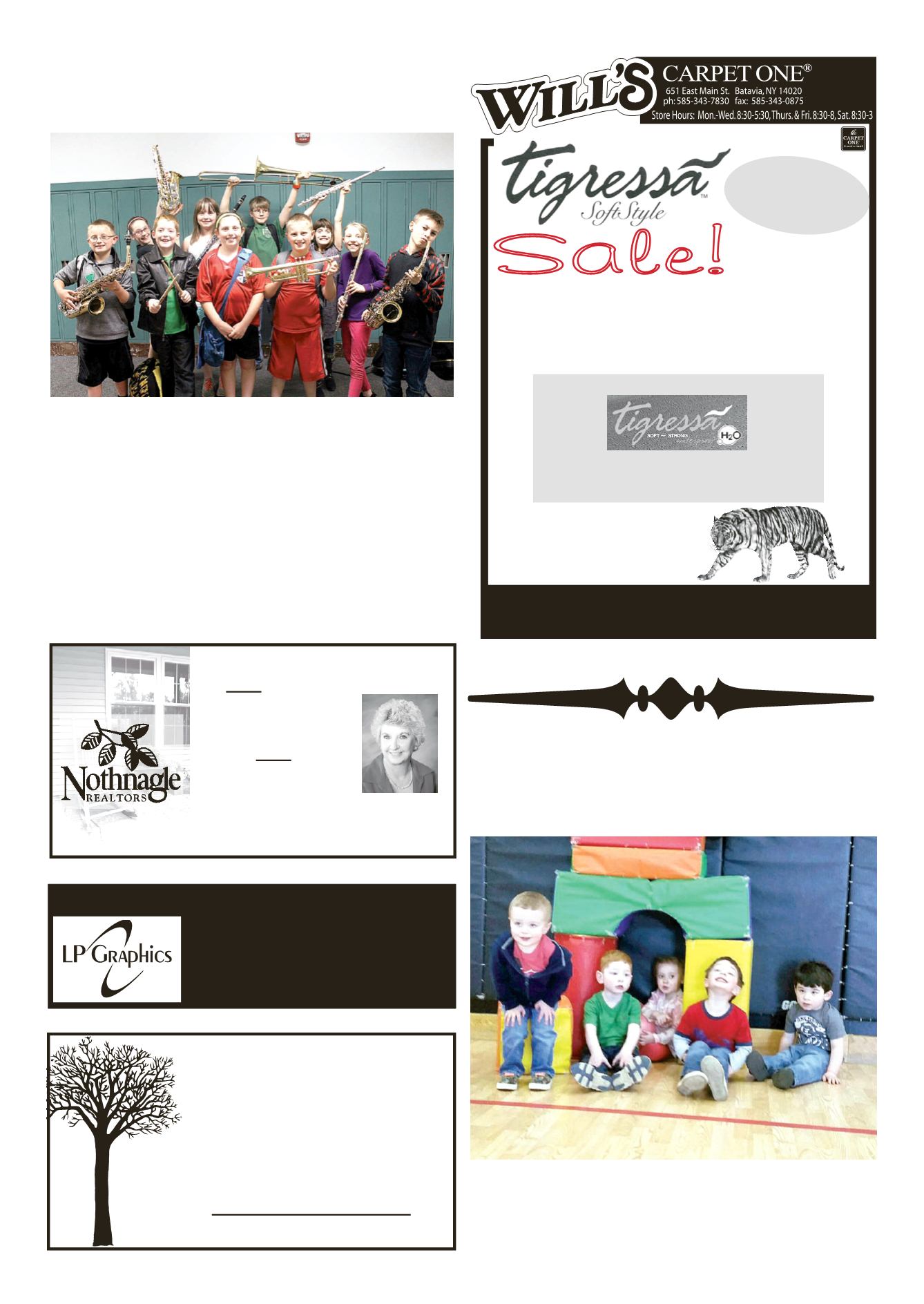 LEROYPENNYSAVER&NEWS -MAY 10, 2015
• FreeEstimates
• FinancingAvailableTo
QualifiedCustomers
1ChurchSt., LeRoy, NY14482
585-768-2201
FAX 585-768-6334
WeDo
Batavia
585-343-6750
NOW is theBEST time
toBUYwith the interest rates
at their lowest!
Don't wait
toBUY -
call
LindaBeaumont
for all your real
estateneeds.
LindaBeaumont
Home (585) 768-6315
LicensedReal Estate
Salesperson
Multi-MillionDollar Producer
TheONE store for your perfect floor.
FLOOR
&HOME
M
ALOVICH
E
NVIRONMENTAL
585.409.6509
TreeService • TreeTrimming
TreeRemoval • TreeCabling
StumpGrinding
Full Insured • FreeEstimates
WeNowAcceptAllMajorCredit Cards
Family
Owned&
Operated
The Practice Buddy Program
ran at theWolcott Street School
from April 7th through April
28th. Created by band directors
Jessa Dechant and BradleyMe-
holick, this activity has helped
to develop the Beginner Band
Program, increase retention and
keep students practicing.
Volunteer Senior High Band
students were paired with small
PracticeBuddyProgram
AtWSS
Picturedhere are some of theBeginnerBandparticipants.
groups of interested Beginner
Bandstudentswhoplay thesame
instrument. These small groups
metonceaweekafter toschool to
practice theBeginnerBandmusic
together.Thisprogramhasprov-
en tobeagreat experience in that
theolderstudentsmodel toneand
technical ability for the younger
students, while also providing a
mini student teachingexperience.
HURRY!
SALEENDS
JUNE 25th!!
Installedw/6#pad
• 15 year texture retention
NEW
Waterproof LuxuryCarpeting
FieldTripFunFor
SNSPlaygroup!
Sunshine Nursery School's playgroup childrenwent on a field
trip toLeRoyPhysicalTherapy&VillageFitness.Theyplayed
withballsandagiantparachute,builtashapecastleandenjoyed
ahealthy snack.The childrenhadagreat timegettingplentyof
fun exercise!