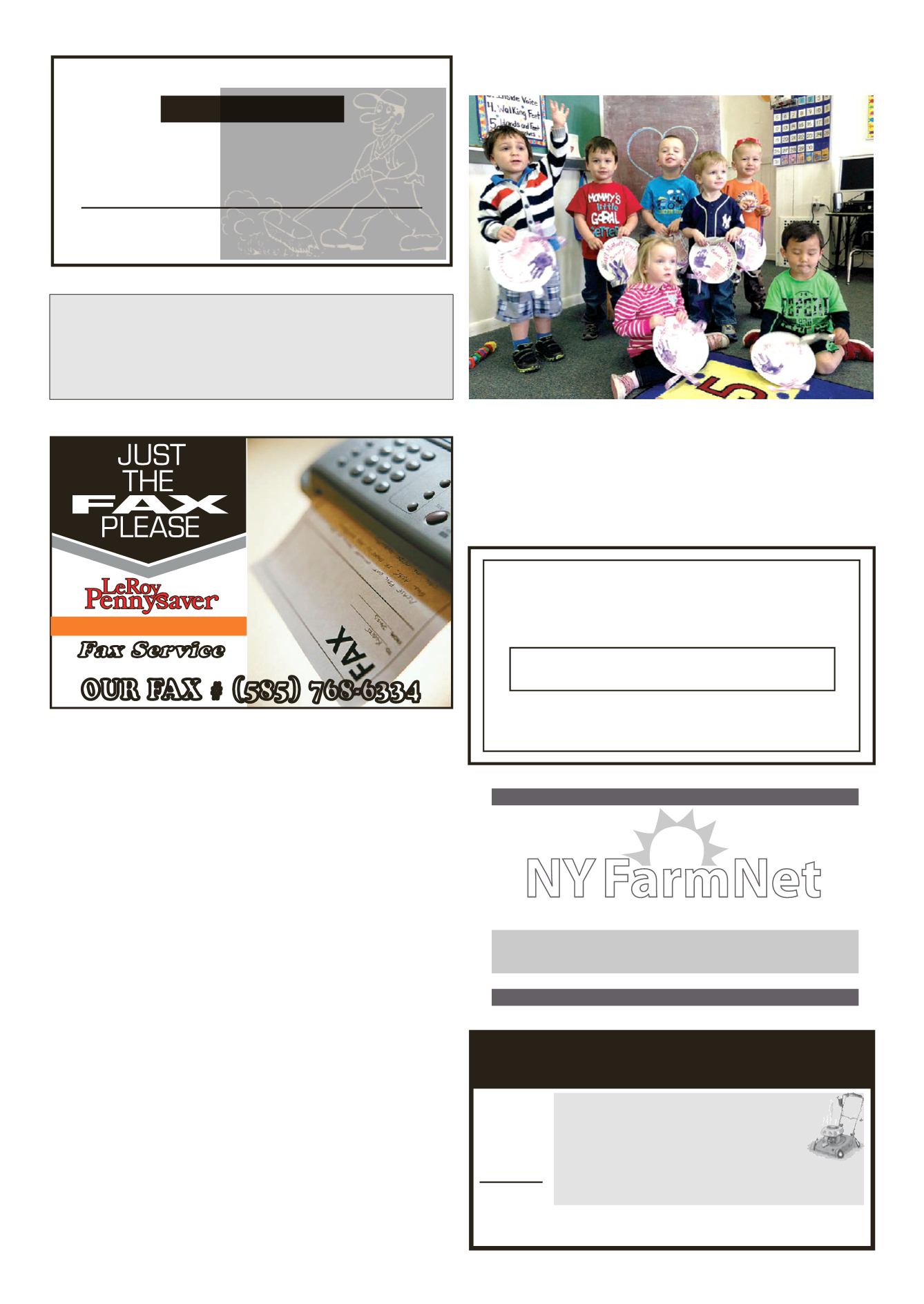 LEROYPENNYSAVER&NEWS -MAY 10, 2015
SUPPORTYOUR LOCALADVERTISERS!
They help sponsor the local news section of the Le Roy Pennysaver.
THANKS FORYOUR SUPPORT!
1ChurchSt., LeRoy, NY • (585) 768-2201
1ChurchSt., LeRoy, NY • (585) 768-2201
• Engine andTransmissionRebuilds
• Lawn andGardenEquipment
•ATV's, Dirt Bikes • Light Equipment
• PickUp andDeliveryAvailable
• Snowblowers • Snowmobiles •Generators
SummerHours:
Thurs., Fri., Sat.
9 am to 5 pm,
Sunday
9 am toNoon
Mon., Tues.,
Wed. byAppt.
WeNow
AcceptAll
Major
Credit Cards
05/02/2015
- 27 year old Chiyannon J. Bundy of Gilbert Street,
LeRoy, was arrested by the LeRoy Police Department on May 1,
2015andchargedwithResistingArrest, aClassAMisdemeanor, and
ObstructingGovernmental Administration in the SecondDegree, a
Bundy was initially being arrested on two BenchWarrants, one
out of the LeRoyTownCourt and the other out of GeneseeCounty
Court.AfterOfficersadvisedBundyof theWarrantsBundyallegedly
fled on foot but was apprehended a short time later by the LeRoy
PoliceDepartm nt. Assistingwith the incidentweremembers from
theGeneseeCountySheriff'sOffice.
Bundy was arraigned in the Stafford Town Court in front of the
HonorableJudgePenepentandwas turnedover to theGeneseeCounty
Jail in lieuof$500cashbail or$1000bond.Bundy is to return to the
LeRoyTownCourt onMay 6, 2015 to answer to the charges.
05/03/2015 -
67 year old John J. Haire of Chili RigaCenter Road,
Churchville, was arrested by the LeRoy Police Department onMay
2, 2015 and chargedwith the following,DrivingWhile Intoxicated, a
ClassAMisdemeanor,andAggravatedDrivingWhileIntoxicatedWith
aBloodAlcoholContent of .18%orHigher, aClassAMisdemeanor.
Haire was arrested following a report of a man urinating in the
Tops parking lot onWest Main Street in the Village. After a brief
investigation Haire was allegedly found to be intoxicated and had
allegedly drove toTops prior toOfficers arrival.
Hairewas issuedappearance tickets for thechargesand is to return
to theLeRoyTownCourt onMay26, 2015 toanswer to thecharges.
Plumbing • Heating
Installation&Repair Service
For All Residential &Commercial Work
CleaningService
•Carpet &UpholsteryCleaning
•Spot Cleaning&Odor Removal
•Tile&WoodFloor Cleaning&Waxing
•Complete Janitorial Services
NYFarm
Net
Brightening the futureofNYagriculture since1986
BusinessPlanning •Retirement&EstatePlanning
FinancialAnalysis •StressManagement
PersonalWellbeing •BusinessTransfers
1.800.547.FARM • NYFarmNet.org
100% FREE&CONFIDENTIAL
All the childrenatLoveBugsPreschoolwishall theirmommy's
a veryHappyMother'sDay! Theyhave beenworkinghard all
weekpreparingforMother'sDay! ThePre-Kchildrencelebrated
withaMother'sDayNightat school, theNurserychildrenmade
special cards andflowers togive theirmoms and thePlaygroup
childrenmadea specialhandprintedgift! Picturedhereare the
children inLittleBugsPlaygroup!
HappyMother'sDay!