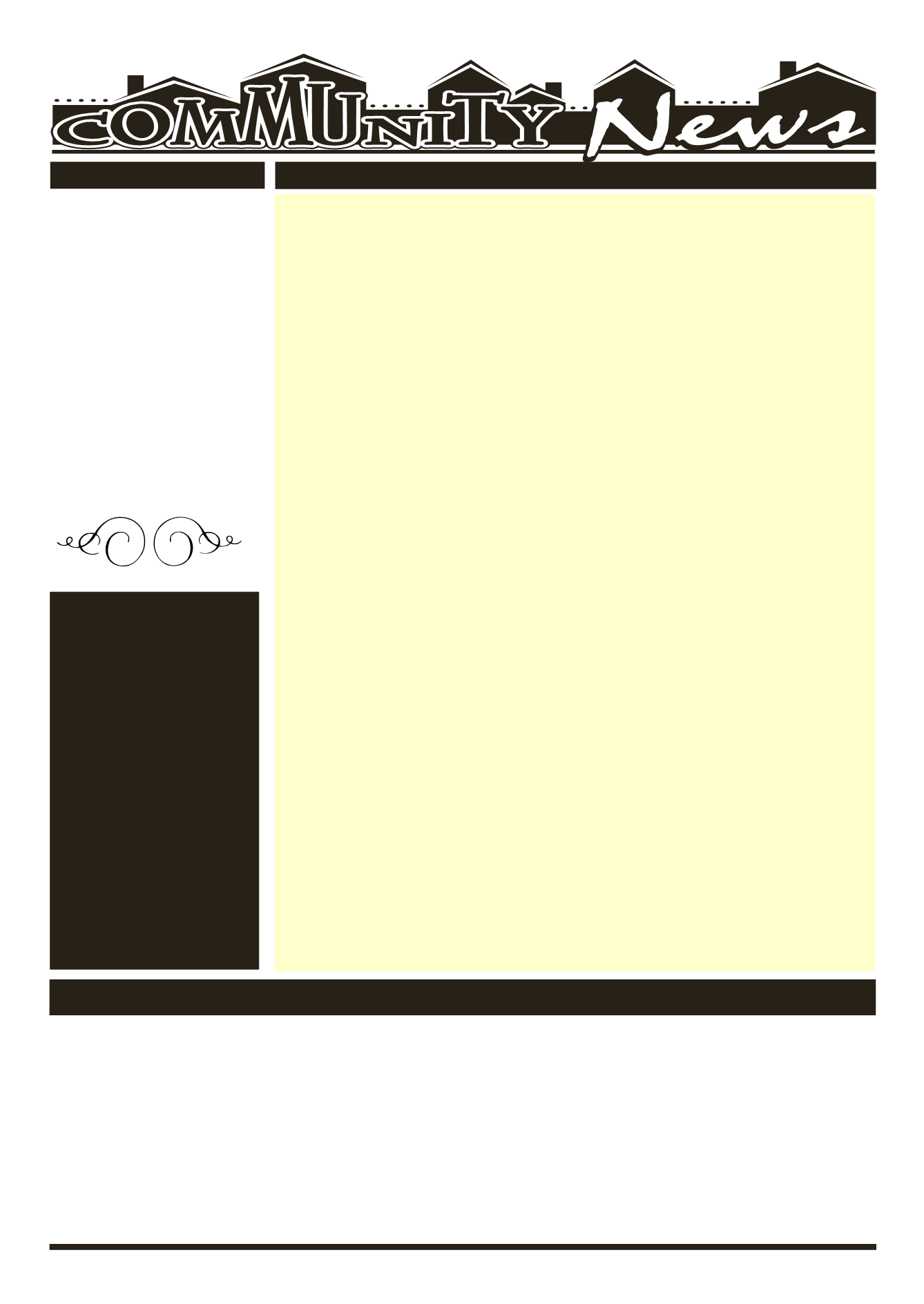 LEROYPENNYSAVER&NEWS -MAY 10, 2015
Le Roy
Pennysaver
All GeneseeCounty residents, 60andolder, can takepart in thisweek'sactivitiesat theBataviaSenior Center, 2BankSt., Batavia. Formore information, call 343-1611.
WEEKLYEVENTS
OBITUARIES
ArthritisExercise
Bridge
Cribbage
is scheduled tobeginat 1:00pm;
CollaborativeAdvocacyEvent
OmbudsmanMeeting
is scheduled to begin at 9:00 am;
Quilters Group
is scheduled tomeet at 9:00 am.;
Euchre
game
is scheduled tobeginat 1:00pm.
TaiChi
isset tobeginat9:30amwith
GentleFitness
ARepresentative from IndependentHealth
isscheduled tobehere from9:30am to11:30am.;
Cribbage&Bridge
arescheduled tobeginat1:00pm.;
MusicalKey-
boardLessons
LineDancingandArtClass
is set tobeginat 10:00am;
Euchre
is set tobeginat 12:00pm.
SUNDAY,MAY10
Konnect YouthGroup at LivingWaters Church,
days from6:30 to8:30pm for ages 12-18. "BringDownall theWalls! Connect
withGodandConnectwithothers." Formore information, checkus out online
at: livingwatersleroy.org/konnect-youth-ministry/
MONDAY,MAY11
TOPS (Take Off Pounds Sensibly)
meets Monday evenings at the LeRoy
Presbyterian Church, corner of Clay &Main Streets. Doors open at 6:00 pm
andmeeting is from6:30-7:15pm.Visitorsarealwayswelcome.Call585-768-
7103 formore information.
TUESDAY,MAY12
Preschool Storytime:
Every Tuesday at 11 am featuring stories, craft and
songsatPavilionPublicLibrary, 5WoodrowDr., Pavilion. For info: 584-8843.
LCCP's GRACE'S KITCHEN:
CLOSED
May 5th andwill RE-OPEN on
May12th)AFREEdinnereveryTuesdayevening,5-6:30pmat theLeRoyUnited
Methodist Church, 10TrigonPark. ParkingavailableonTrigonPark& the lots
to the left and back of the Church. Handicapped Entrance in the back of the
Church.Takeout&deliveryareavailable. Formore info. contact SelbyDavisat
WEDNESDAY,MAY13
VillageofLeRoyBoardMeeting,
7pmat theVillageHall, 3WestMainSt.
WoodwardMemorial LibraryBoardofTrustees
MovieDiscussion of Interstellar
at theWoodwardMemorial Library at 6
p.m. Watch this film at home (available for loan atWML) and then join in a
staff-leddiscussion. Registration required! Call768-8300or registeronlineat
THURSDAY,MAY14
GeneseeVeteransSupportNetwork
(GVSN) supports thedevelopmentof
VeteransfocusedAAmeetingseveryThursday,6-7pmattheFirstBaptistChurch,
306E.MainSt., Batavia.Meetings ledbyMikeW.&areopen tonon-veterans
aswell.Handicapaccessible. For additional information call 585-302-0825.
GRACE'S CLOSET: A clothing giveaway program
UnitedMethodist Church, 10TrigonPark, Le Roy, 9:30 am to 11:30 am every
Thursday.Wehaveclothing forallages.SPRING&SUMMERclothingnowbeing
put inplace.We are inneed of COOLER clothing especially coats, jackets rain
boots,especiallyclothing forchildrenofallages. Weneedbeddingofallkinds
especiallyblankets.Weaccept donations bedroppedoffat thehousenext to
the church. Please put all bags INSIDE on the back porch. NO ELECTRONICS,
COMPUTERS,DISHES, etc. Anyquestions call theoffice768-8980.
Town of LeRoy BoardMeeting,
7 pm at the Town Hall Board Room, 48
MovieShowingof Still Alice
for adults at 6:00p.m. at theWoodwardMe-
morial Library,101minutes,PG-13. Registration is required. Call768-8300or
FRIDAY,MAY15
Penuel Christian Fellowship,
One Step to Freedom addictionsministry, a
Christ CenteredAddictions program, aweeklymeeting every Friday at 7pm.
Call theChurch formore informationat768-6901or594-9575.
SATURDAY,MAY16
FreeFoodoutreachbroughttoyoubyFoodlink
lot. Every3rdSaturdayofthemonth. 11-1pm. CallPenuelChristianFellowship
at585-768-6901withanyquestions.
Createatiedyet-shirtattheWoodwardMemorialLibrary
p.m. for children ingrades3-6. T-shirtswill beprovided sobe sure to include
your child's shirt size when registering. Registration is required. Limit 15.
Program ledbyKimArgentaofArtAhLaCarte. TheDecentralizationRegrant
Program is made possible by the New York State Council on the Arts with
support fromGovernorAndrewCuomoand theNewYorkStateLegislature.
UPCOMINGEVENTS
LCCP'sMommy&Me Playgroup: Every 2nd& 4th Friday,
Le Roy Physical Therapy (in the back gym). Anymoms and their birth-kin-
dergarten children are welcome to come enjoy socialization, lunch, coffee,
structuredgames& freeplay.
TheGeneseeValleyCivilWarRoundtable
presentsWayneMahoodon"Wy-
man Johnsonand theScytheTree." Themeetingwill takeplaceonWednesday,
May 20th at 7pm at LeRoyUnitedMethodist Church, 3rddoor on right end of
longsidewalk,10TrigonPark, LeRoy,NY.Discussionperiodwill followprogram.
TheLeRoyTown&CountryGardenClub
willmeetat6:30pmonMonday,
May18that thewalkwayonMainSt. Wewill be cleaningup theMainStreet
planters and planting the flowers for Memorial Day. Please bring a trowel
andagallonofwater.ContactAnnWaltersat737-9481or768-8130 formore
TheAnnual Plant Auctionof the StaffordGarden Clu
at theStaffordTownHall, locatedatRoute237andRoute5. Theauctionwith
startat6:30P.M.onWednesday,May20,2015. Bringyourextraplantstoshare.
TheWarsawBarbershopChorus
present their 74thannualMusical Show,
"Star Trek…The Lost Episode" at theWarsawMiddle/Senior High School,
MemorialDayweekend, Saturday,May23rdat7:30pm.
Foodlink FreeMobile FoodPantry:
MorganvilleUnited Church of Christ
is partneringwith Foodlink of Rochester to host a freemobile food pantry,
Tuesday,May26, 4:00-6:00pmatMorganvilleUnitedChurchof Christ, 8466
MorganvilleRoad (offRt237, 1milenorthof Stafford). Theexact food items
and quantity available are not known, but fresh produce will be available.
Mustbe18yearsofage,no income requirementor ID required. Mustprovide
ownbags/vehicle to transport items to your home. Foodprovidedon afirst
come, first servebasiswhile supplies last.
St.Mark'sEpiscopal Church,
1EastMainSt., LeRoy ishostinga
Supper&
BookDiscussion
onMonday, June8at6:00pm to talkaboutTheFaithClub:
AMuslim, A Christian, A Jew—ThreeWomen Search for Understanding by
Ranya Idliby, SuzanneOliver, andPriscillaWarner. Supper is free, but please
call the churchat768-7200 to reserveyourplace.
27th Annual Oatka Festival,
July 18th & 19th, 2015. SAVE THE DATE!
ebook.com/oatkafest,Twitter.com/OatkaFestival
CommunityCalendar Submissions shouldbe sent to:
WYOMING— Rudolf Kunze of Wyo-
ming died April 30, 2015, on his farm
asa resultofa farmaccident.Hewould
havebeen90 inJune. In lieuof flowers,
memorialsmaybemade to theJuvenile
DiabetesResearchFoundation (JDRF),
theWyomingHook&LadderCo.,or the
PAVILION—LindaJ.Mott, 72, of Lake
Road, passed away Friday evening
(May 1, 2015) at home after a lengthy
illness in the loving presence of her
family. The courtesy of no flowers is
requested with memorials suggested
to either GeneseeCancer Assistance,
Inc.,or thePavilionFirstBaptistChurch.