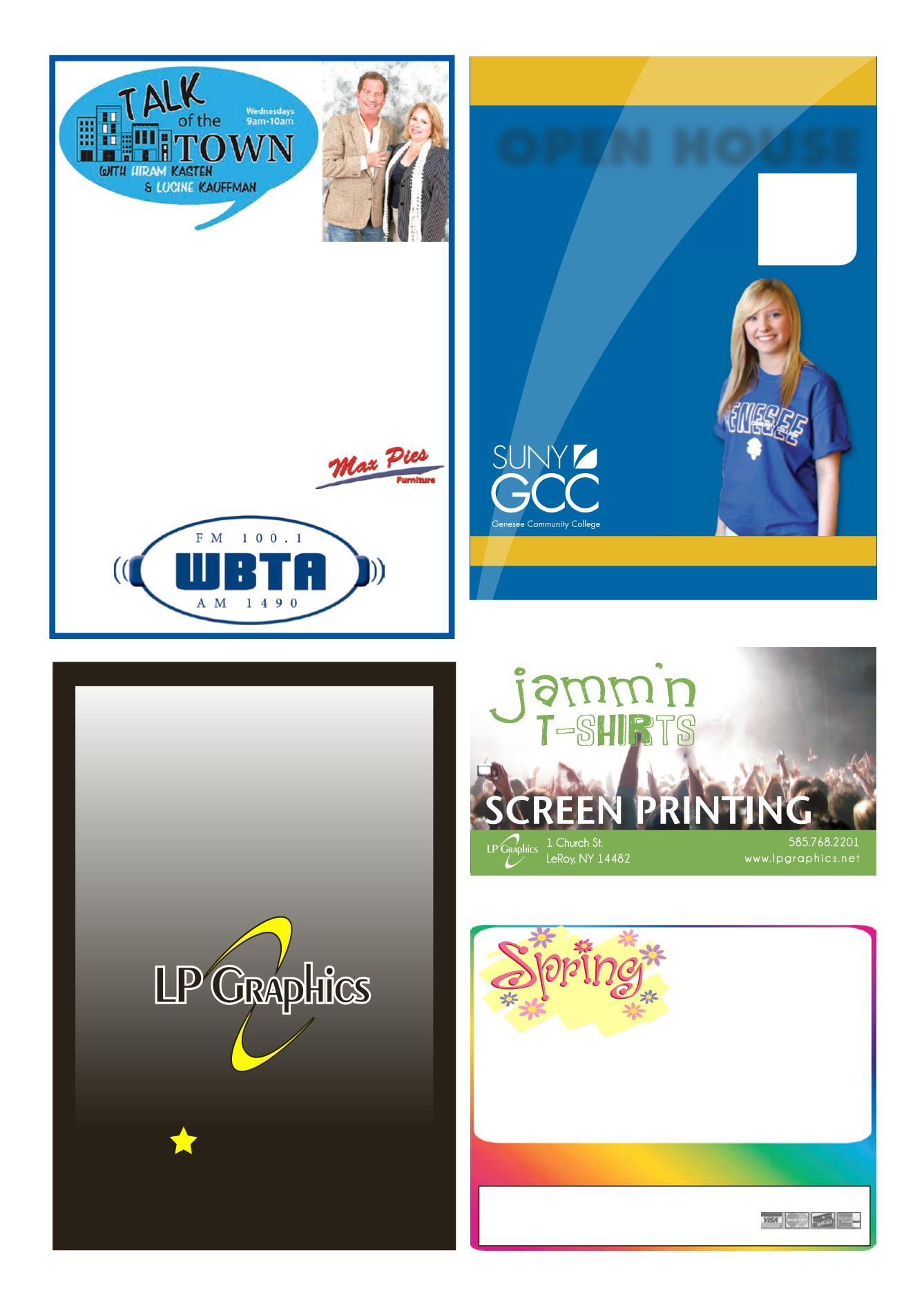 LEROYPENNYSAVER&NEWS -MARCH 15, 2015
Conversation about the arts and entertainment scene
inGeneseeCounty andWesternNewYork,
includinghigh schoolmusicals, theatre andmore.
A fun filled hour of information and bantering between
HiramKasten andLucineKauffman
Listen on theWBTA ap,
streamed on theweb or on
your radio atWBTAAM 1490
EveryWednesday at 9am – 10am
1CHURCHST, • LEROY, NY • lpgraphics.net
WEHANDLEALLASPECTSOFPRINTING...
PROGRAMS
LETTERHEADS
BILLHEADS
FLYERS
BROCHURES
POSTERS
CARBONLESSFORMS
ENVELOPES
RAFFLETICKETS
NEWSLETTERS
RESUMES
TYPESETTING
RUBBERSTAMPS
ENGRAVEDSIGNS
NAMETAGS
COPIES
LAMINATION
COMMUNITYFAX
NEWSANDPICTURES
ADVERTISING
BUSINESSCARDS
HOURS: Monday thruFriday8:00 to 5:00
SeewhyGCC is somuchmoreat
OPENHOUSE
•More than 60 degrees or certificates
• 125+ online courses
• Transferable SUNY Credits
• Affordable Tuition / Financial Aid/ Scholarships
• FREE application
• FREE Career Counseling
• FREE GCC Student Services / Tutoring
THURSDAY, MARCH19
5-7 PM
Enjoy a Friday visit:
genesee.edu/openhouse
GeneseeCommunityCollege is an affirmative action/equal opportunity institution
Tour the two
NEW student
residence halls
at College
Village!
M-F9am-6 pm, Sat. 9-4pm, Sun. 9-2 pm
For over 20 years.
LeRoy
YourElectronic Store - Just Around theCorner
LimitedQuantitiesAvailable
Storewide
10-50
%
OFF
LIST PRICE