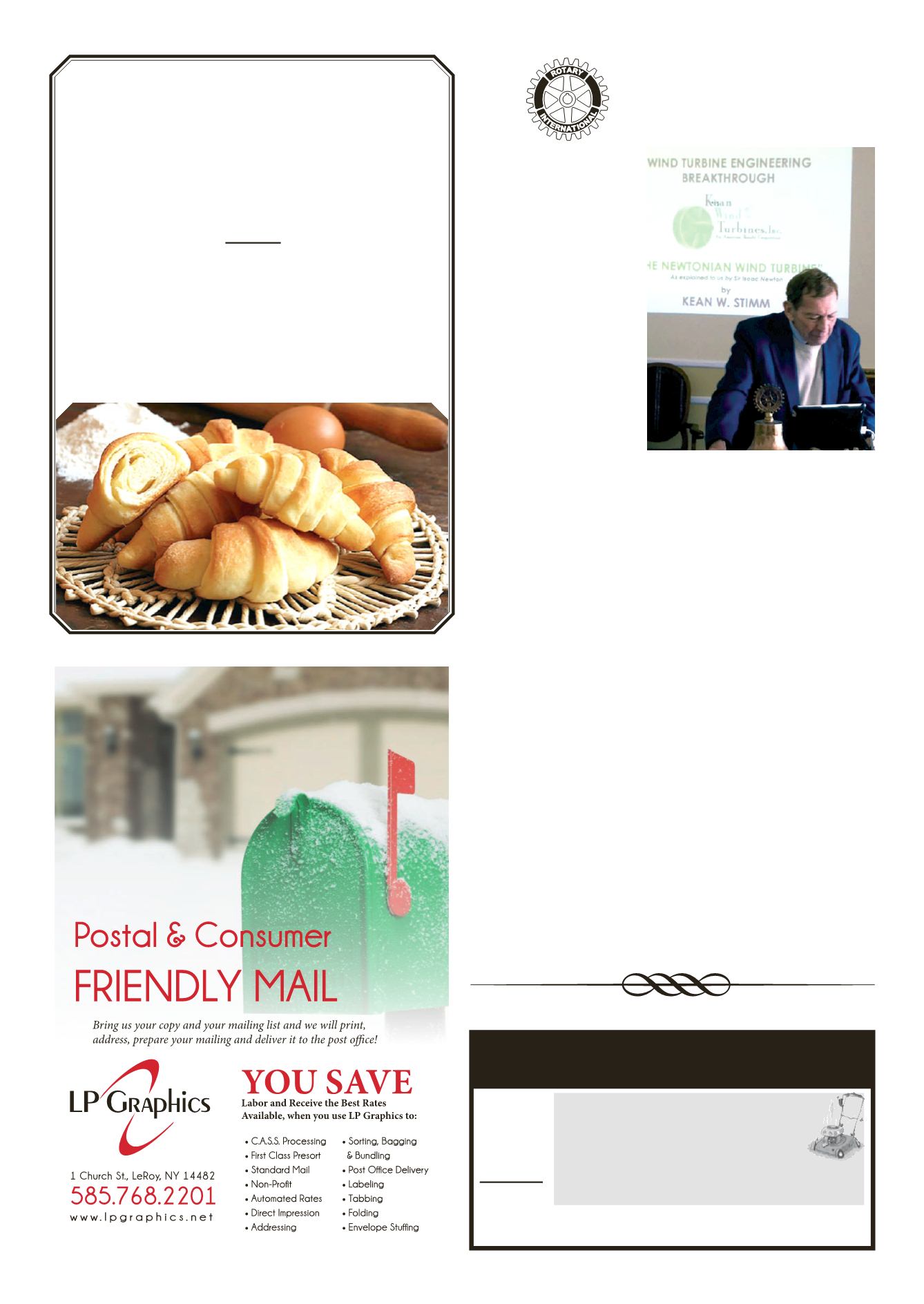 LEROYPENNYSAVER&NEWS -MARCH 15, 2015
LeRotary
Notes
Something Special For Your Dinners
Fundraiser for First PresbyterianChurch, LeRoy.
Prepared andbaked at the church.
Phone 768-8553 or 506-2424 or
Available forpickupatOlmstedhall of PresbyterianChurch
Thursday,March26, 1-4pm, Fri.,March27, 1-4pm
orSaturday,March28, 10am to2pm
*recipe of Frances Cromwell (long-time LeRoy and churchmember,
d. 1982), these are a soft, rich-flavored crescent roll that freezes well.
Rotary Bell to call us to
order on another brisk day
visiting Batavia Rotarian
fast March 8th, 8-11 am at
the K of C, there will be a
on theMainStreetwalkway tables
and chairs at theVillageDPW on
North St. this Saturday at noon.
The Business Council is hosting
an informational forumon theLVA
SaturdayMarch7that9AMat the
Masonic Lodge. Martha Bailey
provided a report for the Valen-
tine'sDayTea andDance.Martha
andher committee receivedheart-
felt thanks for their efforts.
Many Rotarians were called
uponformissedmeetings.Martha
Bailey, Kim Cox, Mary Young,
Bob Bennett, Jim Ellison, Tony
Gugino, Scott McCumiskey and
Tamara Torrey all had make-
ups at the ready while Lauren
Humphrey chose to make up
electronically andAnil Sawhney
was medically excused. Bob
Boyce returned from a trip to
much warmer climes and as is
customary, lavished President
Randywith exquisite gifts.
Mary Young paid President
Randy for storing her mail and
TonyGuginopaidup forbeingon
theLeRoyHSveryfirstWrestling
Team!BobBoycewas tagged for
hisout-of-officemessageandJim
Ellison picked up the tab.
founder, Chairman and CEO
Kean Stimm was our program
today. Their plant in Williams-
ville turnsoutanalternative to the
three-bladeversionwe'vegrown
accustomed to seeing around the
country-side. This Newtonian
Wind Turbine fans the flames of
innovationandprovides abreath
of fresh air to the industry. The
simplicityandaffordabilitycould
provide investors a windfall
but due to time constraints he
couldn't be very long-winded.
You can learnmore about our
RotaryClubatLeRoyRotary.org
and don't forget to "Like" us on
• Engine andTransmissionRebuilds
• Lawn andGardenEquipment
•ATV's, Dirt Bikes • Light Equipment
• PickUp andDeliveryAvailable
• Snowblowers • Snowmobiles •Generators
SummerHours:
Thurs., Fri., Sat.
9 am to 5 pm,
Sunday
9 am toNoon
Mon., Tues.,
Wed. byAppt.
WeNow
AcceptAll
Major
Credit Cards