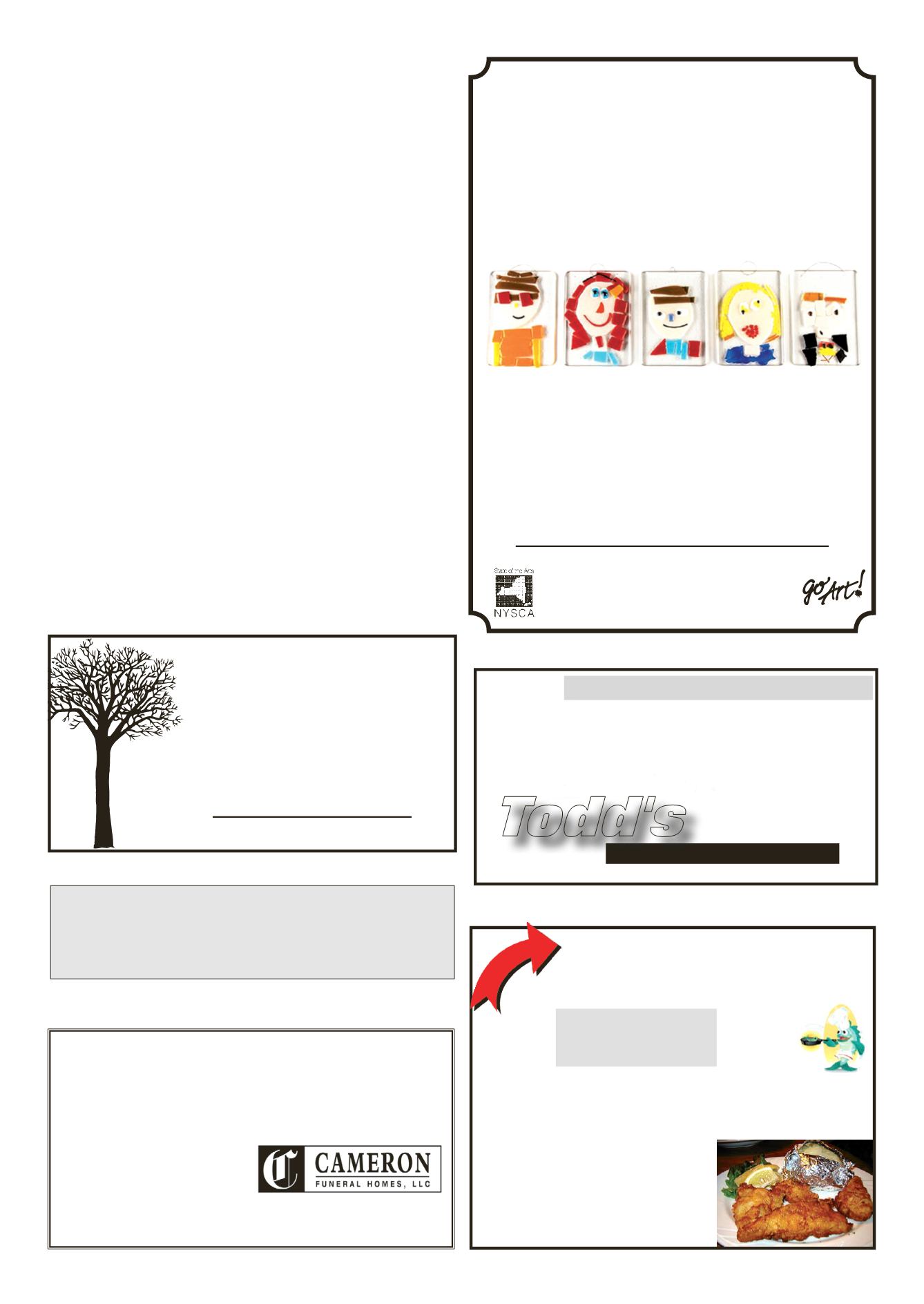 LEROYPENNYSAVER&NEWS -MARCH 15, 2015
HelpingFamiliesCelebrateaLifeLived
"Our FamilyServingYours Since 1907"
Trusted•Honest •Proven
Cameron, Brady&Steuber
FuneralHome
111Wolcott Street
LeRoy,NY14482
(585) 768-6800 •
Likeus onFacebook
SUPPORTYOUR LOCALADVERTISERS!
They help sponsor the local news section of the Le Roy Pennysaver.
THANKS FORYOUR SUPPORT!
NewHomes •Additions •Garages •PoleBarns
ToddCarli • Phone 703-0964
Todd's
Decks •Windows •Doors
Kitchens •Baths
CeramicTile
Basement Finishing
CustomShelves/Built-Ins
Siding •Remodeling
Roofing • SnowPlowing
FULLY INSURED
M
ALOVICH
E
NVIRONMENTAL
585.409.6509
TreeService • TreeTrimming
TreeRemoval • TreeCabling
StumpGrinding
Full Insured • FreeEstimates
WeNowAcceptAllMajorCredit Cards
Family
Owned&
Operated
WoodwardMemorial Library
Glass Self-Portrait Program
Ledby
TheOatka School ofGlass
Saturday,March21
1:00 – 2:30p.m.
Grades 3-6
Usebrokenpieces of glass, glass tubes, andglass beads
tocreatea self-portrait. Aparentmay signupwith their
child todo their own self-portrait. If youwish topartici-
patewith your childmake sure to register for bothof you.
Registration is required. Limit 25children.
Call 768-8300or register onlineat
ThisDecentralizationRegrant Program ismade
possibleby theNewYork StateCouncil on the
Artswith support fromGovernor Andrew
Cuomoand theNewYork State Legislature.
Genesee County is excited to
welcomeMikeWolfe,FrankFritz
and Antique Archeology to the
area.The teamwillfilmepisodes
of their hit series AMERICAN
PICKERS throughoutNewYork.
Filmingwill begin nextmonth.
documentaryseries that explores
the fascinating world of antique
'picking' on History. This hit
show follows two of the most
skilled pickers in the business,
Mike Wolfe and Frank Fritz,
as they embark on an epic road
trip across the U.S. in search
of America's most valuable an-
tiques frommotorcycles, classic
carsandbicycles toone-of-a-kind
vintage memorabilia. Mike and
Frankareonamission to recycle
America, restore forgotten relics
to their former glory, and learn
a thing or two about American
Filming is scheduled to start
ERS is looking for leads and
would love to explore what you
may have. They are on the hunt
for interestingcharacterswith in-
terestingandunique items. Some
of what they look for: vintage
bicycles, toys, unusual radios,
moviememorabilia, advertising,
military items, folk art, vintage
musical equipment, vintage au-
tomotive items, earlyfirefighting
equipment,vintageclothing,pre-
produced by Cineflix Produc-
tions for History. New episodes
air Wednesdays at 9 pm ET on
If you have a large collection
orwant to refer someone toMike
and Frank, email: your name,
number, address and description
of the collection and photos to:
'AmericanPickers'To
Film InGeneseeCounty
585-502-5155
FISH FRY
4pm til
SoldOut!
FridaysDuringLent (includingGoodFriday)
Regular FishFry •Mini FishFryorBroiledFish
TakeOutOrEat In