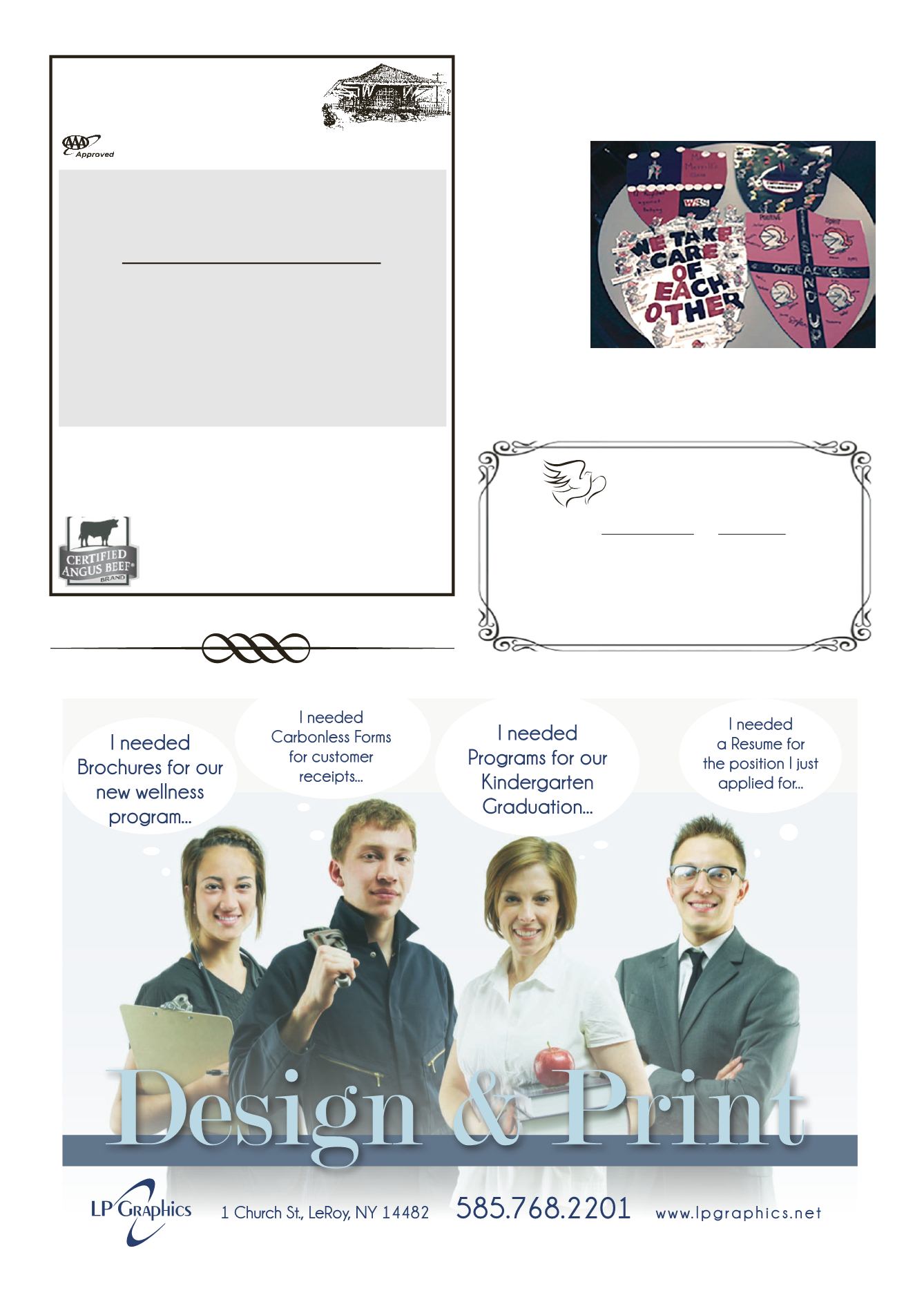 LEROYPENNYSAVER&NEWS -MARCH 15, 2015
D&RDepot
63LakeSt. (Rt. 19), LeRoy• 768-6270
Let'sMeetAt The ...
OpenForBreakfast, Lunch&Dinner - 7DaysAWeek 7am-9pm
Director /Owner
FuneralDirector
F
ALCONE
F
AMILY
Funeral&Cremation Service, Inc.
Director/Owner
"ALOCALFAMILY
CARINGFORLOCALFAMILIES"
SUNDAY,MARCH 15thDINNERSPECIAL - $17.99
SAUERBRATENwith a gingersnap gravy
Includes soup or salad, potato pancakes, veggies
andGerman chocolate cake
TUESDAY,MARCH 17thST. PATRICK'SDAY
DINNERSPECIAL
CORNEDBEEFN'CABBAGEDINNER
Available for lunch or dinner – reservations suggested.
Includes vegetable barley soup, corned beef round,
parsley potatoes, onions, cabbage, carrots, rolls andmuffins
(be sure to save room for our famous
grasshopper pie for dessert)
TheD&RDepot Restaurant is nowa
CertifiedAngus Beef Steakhouse!
If you'venever enjoyed theamazingquality,
flavor & tenderness of CAB, youwon't believe
thedifference.
Askyour server if youhave
anyquestions.
Students recent-
ly participated
inamultitude of
daily activities
in order to cele-
brate and recog-
nize good char-
acter at WSS!
Needless to say,
the students had
ablastwhilealso
learning life-long
skills and strategies to build positive relationships with their
peers! Picturedhere are some of the "Shields ofGoodCharac-
ter" the studentsmade.
CharacterEducation
AHugeSuccess!!!