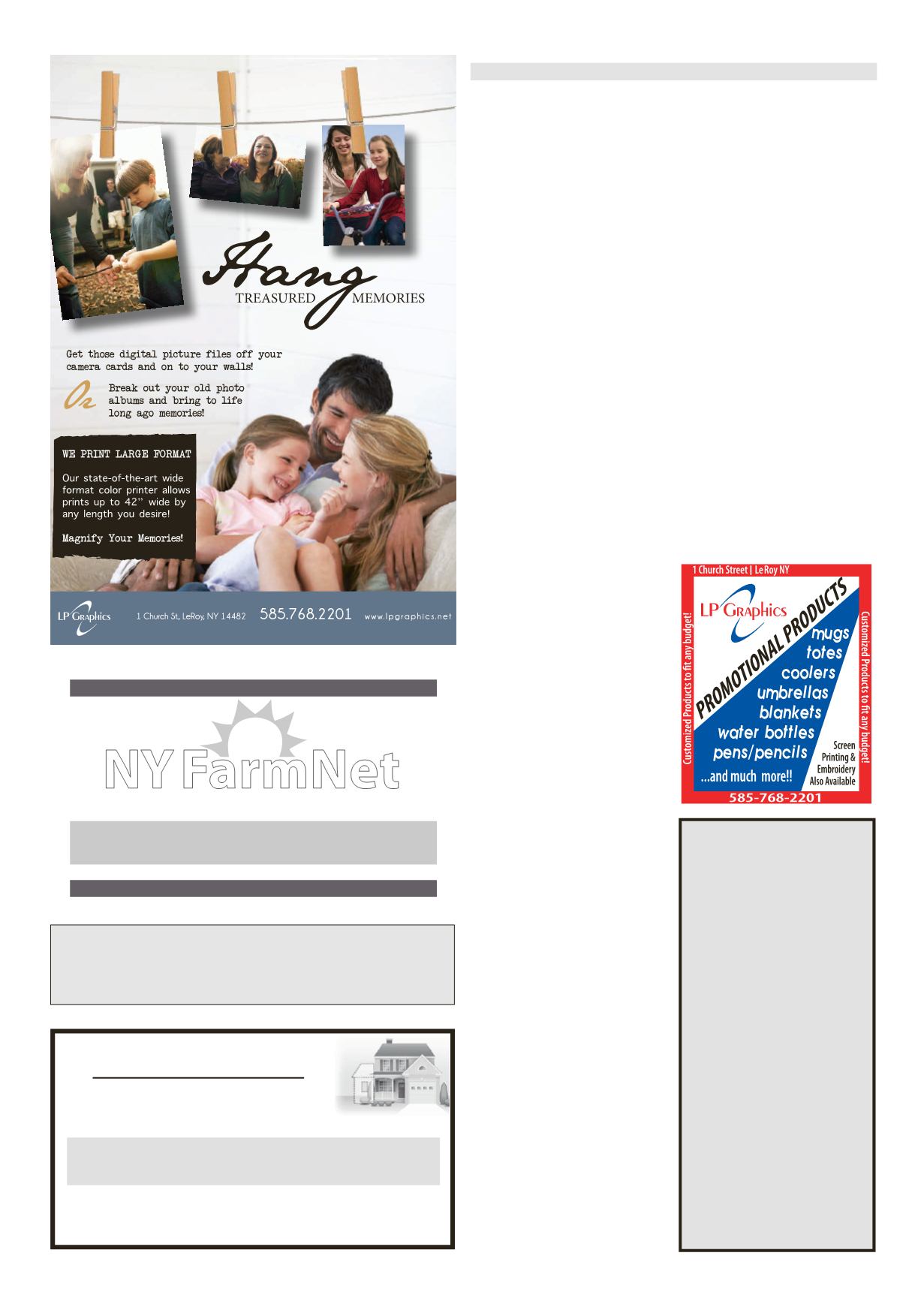 LEROYPENNYSAVER&NEWS -MARCH 15, 2015
"CompleteCarpentry Service"
M
ILLER
B
ROTHERS
B
UILDERS
CustomHomes •Remodeling•Additions
Roofing• Siding
DANIEL
MICHAEL
SUPPORTYOUR LOCALADVERTISERS!
They help sponsor the local news section of the Le Roy Pennysaver.
THANKS FORYOUR SUPPORT!
NYFarm
Net
Brightening the futureofNYagriculture since1986
BusinessPlanning •Retirement&EstatePlanning
FinancialAnalysis •StressManagement
PersonalWellbeing •BusinessTransfers
1.800.547.FARM • NYFarmNet.org
100% FREE&CONFIDENTIAL
AROUNDTOWN
byStephenR. Barbeau
Supervisor,TownofLeRoy
(585)768-6910 x 231
FormyMarchcolumn, I would
like to revisit two topics we
have previously discussed. A
quick note first. Once again, the
Highway Department must be
more conservative with its use
of salt, as our supplier's reserves
are low. Prioritywill be given to
intersections, blind curves, high
traffic areas, etc. Hopefully, like
last year, the weather will break
as Imake this announcement.
We had a great discussion
last weekend on the status of
ambulance service in LeRoy.
I came away with two charges
being made clear by the folks
in attendance. A 24/7/365 am-
bulance serviceWITHAPPRO-
paramount to our community.
As long as I am Town Supervi-
sor, I pledge to you this being
a priority of mine as I prepare
recommended budgets. Second,
explore all possiblemeans to en-
sure this first charge in themost
cost effectivemanner to all. The
entire Town Board is committed
to thisprocessgoing forwardand
many excellent ideas on howwe
might do thiswere articulated at
the meeting. I will continue to
Every once in a while, in our
effort to disseminate information
as soon as possible, we get out in
front of ourselves. The assessor's
office has now notified me that
NYS has reversed its previous
decision andwill award us 100%
equalization rateWITHOUT rais-
ing assessments (this year only)
on agricultural (and woodland)
property. Therefore, local assess-
mentswillnotberaisedand theas-
sessor'sofficewillnotbesending
out an informational letter.
However, this does allow me
to, hopefully, address a misper-
ception that exists about ag-
ricultural land that is in an ag
exempt district. The State (not
local assessors) establishes ag-
ricultural assessment values per
acre for land in an agdistrict.As
an example, prime farmland's
2015 taxable value is $1,039 per
acre. Assuming a stable tax rate
(something theTownhas had for
four straight years), a landowner
would NOT pay more in taxes
whether that land is assessed at
$2,400 per acre or $4,400 per
acre locally. The State has that
land locked in at $1,039 taxable
value. Now, the State could in-
crease its taxablevalues (in2014
itwas$1,019 for thisexample)or
the Town could increase its tax
rate (which might be necessary
in the future) and that would
increase the amount of taxes the
property owner would pay. But,
the landowner DOES NOT pay
anymore in taxesbyhaving local
assessments increased for land
that is ag exempt. This is what I
was trying to convey in my last
column. If I have still not done a
good job with this explanation,
please feel free to contact either
JoeMacaluso or KenPike at the
As always, thank you very
muchand seeyouAroundTown.
Special
PlotOwners'
Meeting
ForTrustee
Election
Thursday,
March19, 2015