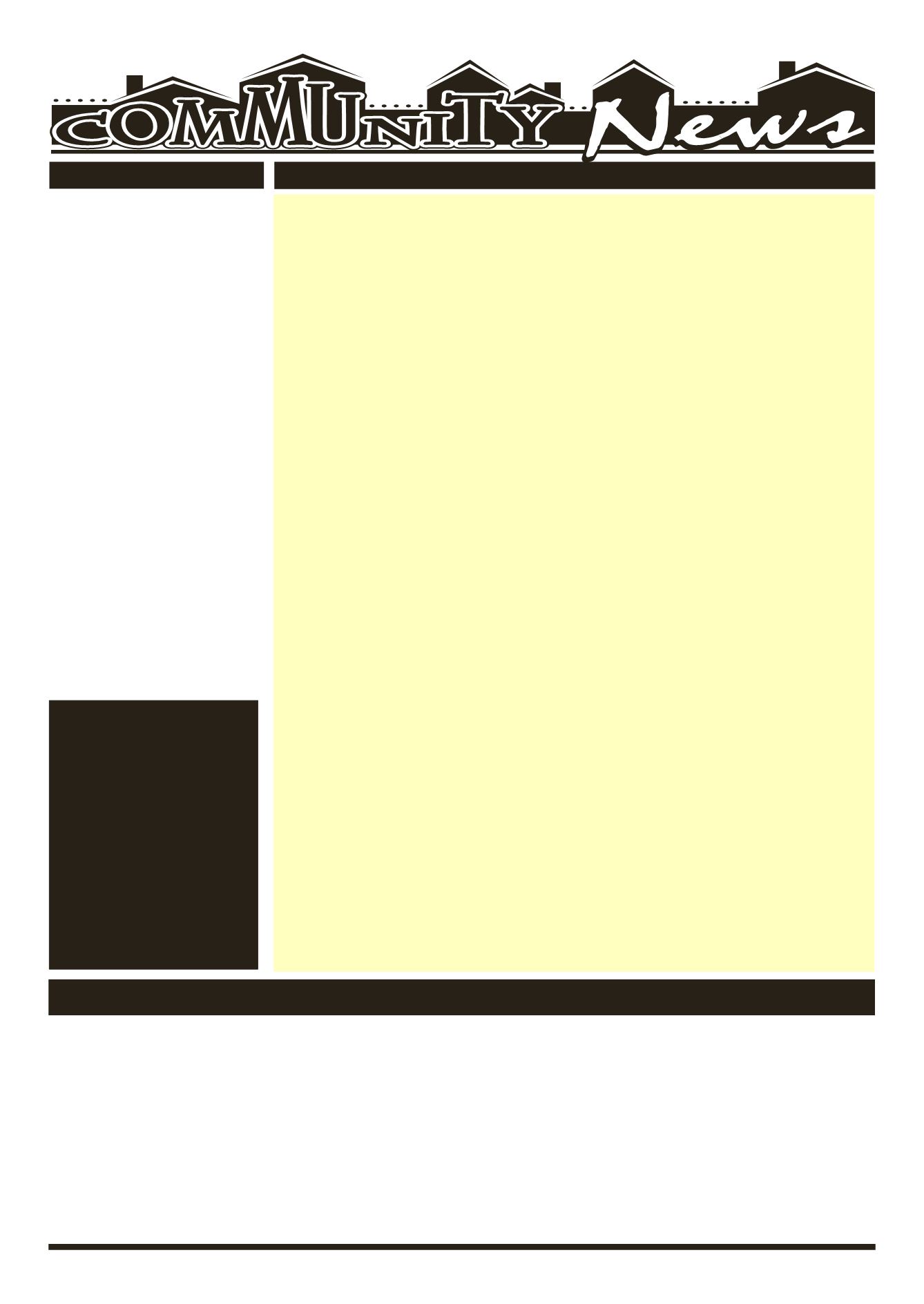 LEROYPENNYSAVER&NEWS -MARCH 15, 2015
Le Roy
Pennysaver
All GeneseeCounty residents, 60andolder, can takepart in thisweek'sactivitiesat theBataviaSenior Center, 2BankSt., Batavia. Formore information, call 343-1611.
WEEKLYEVENTS
OBITUARIES
IncomeTaxPreparation
byAPPOINTMENTONLY takingplacebetween9:00am to3:00pm;
ArthritisExercise
NewsletterAssembly
Cribbage
is scheduled tobeginat 1:00pm.
IncomeTaxPreparation
byAPPOINTMENTONLY takingplacebetween9:00 am to3:00pm;
QuiltersGroup
Euchregame
is scheduled tobeginat 1:00pm.
LifespanMeeting
is scheduled tobeginat9:30am;
TaiChi
is set tobeginat9:30a.m.with
GentleFitness
Representative from IndependentHealth
will beavailable from9:30am to11:30am;
Cribbage&Bridge
MusicalKeyboardLessons
are scheduled for 2:30pm.
LineDancingandArtClass
is set tobeginat 10:00a.m.;
Euchre
is set tobeginat 12:00p.m.
SUNDAY,MARCH15
AWANA Program at Penuel Christian Fellowship.
12:15 to 1:45 pm. Ages 5-17 broken into groups. Developing friendships. Having
fun. LearningaboutGod. Safeenvironment.
Konnect YouthGroup at LivingWaters Church,
onMain St. LeRoy. Sundays
from6:30 to8:30pm for ages12-18. "BringDownall theWalls! ConnectwithGod
andConnectwithothers." Formore information, checkus out onlineat: livingwa-
tersleroy.org/konnect-youth-ministry/
MONDAY,MARCH16
TOPS (TakeOffPoundsSensibly)
meetsMondayevenings at the LeRoyPresby-
terian Church, corner of Clay&Main Streets. Doors open at 6:00 pm andmeeting
is from 6:30-7:15 pm. Visitors are always welcome. Call 585-768-7103 for more
Weeklystorytimefortwo-year-oldsattheWoodwardMemorialLibrary
Mondays from10:30-10:50a.m.beginningJanuary12throughMarch9. Childmust
be two-years-oldby thefirst sessionandaccompaniedbyanadult. Registration is
required. Call 768-8300or registeronlineat
TUESDAY,MARCH17
PreschoolStorytime:
EveryTuesdayat11am featuringstories, craftandsongsat
PavilionPublicLibrary, 5WoodrowDr., Pavilion. For info: 584-8843.
LCCP'sGRACE'SKITCHEN:
AFREEdinner everyTuesdayevening, 5-6:30pmat the
LeRoy UnitedMethodist Church, 10 Trigon Park. Parking available on Trigon Park
& the lots to the left andbackof theChurch. Handicapped Entrance in thebackof
the Church. Takeout &delivery are available. Formore info. contact SelbyDavis at
Weekly Storytime for three, four and five-year-olds at theWoodward
MemorialLibrary
onTuesdays from6:30 to7p.m. beginning January13 through
March3. Childmust be three-years-oldby thefirst session. Stories, games, songs!
Town of LeRoy PlanningBoardMeeting
(as necessary) 7:30 pm at the Town
Hall, 48MainSt. For further info. Call 768-6910, Ext. 223.
WEDNESDAY,MARCH18
PavilionBaptistChurch
youthprograms
Wednesday evening. All community children arewelcome to attend. AWANA is a
program for younger childrenPreschool (4 year old) through6thgrade. It is a fun
time of Bible Stories, games Biblememory and even refreshments.Word of Life
program is for teens7th through12thgrade.Weareeasily locatedat10956SLake
Road inPavilion. Call 585-584-3179ext. #12 for anyquestions.
The senior citizens of LeRoy and Stafford
meet the thirdWednesday of each
month for a pot luck dinner and a planned program. Wemeet at the Knights of
ColumbusHall locatedbehindSave-A-LotonWestMainStreet. Eachpersonattending
bringsagenerousdishtopassorcontributes$4.00Foranicebuffetmealandsocial.
Pleasebringyourownplacesettingandbeverage. Coffeeandteaareprovided.Dinner
isservedat6:00pmandaprogram follows.Please joinus foranenjoyableevening.
Anyquestions,pleasecontact JudyRidleyat768-2001orSharon frostat768-6846.
TheGeneseeValley CivilWar Roundtable
presents Kevin Siepel on "Excerpts
FromHis Book"Rebel."Themeetingwill take place onWednesday, March 18th at
7 pm at LeRoy UnitedMethodist Church, 3rd floor on right end of long sidewalk,
10 Trigon Park, LeRoy, NY. Discussion periodwill follow program. Newmembers
TinkerbellandtheLegendoftheNeverbeast -
MovieShowing (craftafter the
movie) at theWoodwardMemorial Library for children ingradesK-6
at3:15–5:00p.m.Registrationrequired! Call768-8300orregisteronlineat
THURSDAY,MARCH19
Genesee Veterans Support Network
(GVSN) supports the development of
Veterans focusedAAmeetings everyThursday, 6-7pmat theFirst Baptist Church,
306E.MainSt.,Batavia.Meetings ledbyMikeW.&areopentonon-veteransaswell.
Handicapaccessible. For additional information call 585-302-0825.
GRACE'S CLOSET: A clothinggiveaway program
sponsored by Le Roy United
MethodistChurch, 10TrigonPark, LeRoy, 9:30am to11:30ameveryThursday.We
haveclothingforallages. FALL&WINTERclothingnowbeingput inplace.Weare in
needofWARMERclothingespeciallycoats, jacketsboots,pajamas.Weneedbedding
of all kinds especially blankets.We accept donations be droppedoff at thehouse
next to thechurch.Pleaseputallbags INSIDEon thebackporch. NOELECTRONICS,
COMPUTERS,DISHES, etc. Anyquestions call theoffice768-8980.
FRIDAY,MARCH20
PenuelChristianFellowship,
OneStep toFreedomaddictionsministry, aChrist
CenteredAddictionsprogram,aweeklymeetingeveryFridayat7pm.CalltheChurch
formore informationat768-6901or406-3863.
SATURDAY,MARCH21
Veterans Only Social Club -
Genesee Veterans Support Network announces a
newmeeting locationatScooter'sFamilyRestaurant,3711WestMainStreetRoad,
Batavia, NY - for the once amonthVeterans Only Social Club. Meetings are held
the second Saturdayof eachmonth from7:00 to8:30PM.Veterans of all eras are
invited toattend. GVSN is locatedat 3837WestMainStreet Road, Batavia, NY. For
more information, contact GVSN, POBox 541, Batavia, NY14021-0541Director@
GlassSelf-PortraitProgramattheWoodwardMemorialLibrar
ingrades3-6 from1–2:30p.m.Usebrokenpiecesof glass, glass tubes, andglass
beads to create a self-portrait. A parentmay sign upwith their child to do their
ownself-portrait. Registration required! Call768-8300or registeronlineat
programwillbe ledbyTheOatkaSchoolofGlass.
UPCOMINGEVENTS
LCCP'sMommy &Me Playgroup: Every 2nd& 4th Friday,
Roy Physical Therapy (in the back gym). Anymoms and their birth-kindergar-
ten children arewelcome to come enjoy socialization, lunch, coffee, structured
FoodlinkFreeMobileFoodPantry:
MorganvilleUnitedChurchofChrist ispart-
neringwithFoodlinkofRochestertohosta freemobile foodpantry,Tuesday,March
31,4:30-6:30pmatMorganvilleUnitedChurchofChrist,8466MorganvilleRoad(off
Rt 237, 1milenorthof Stafford). Theexact food items andquantityavailableare
notknown,but freshproducewillbeavailable. Mustbe18yearsofage,no income
requirement or ID required. Must provideownbags/vehicle to transport items to
yourhome. Foodprovidedonafirst come, first servebasiswhile supplies last.
WyomingHook&Ladder,MapleWeekendBreakfast,
2015, 26Maple Street,Wyoming, NY, 8 am - 12:30 pm. Scrambled eggs, reg. &
buckwheatpancakes, sausage,OJ,milk, coffee.
CommunityCalendar Submissions shouldbe sent to:
BYRON - Richard Church, 67, of Lake-
land, Fla., formerly of Byron, passed
away on Feb. 26, 2015. Services will
be held March 15 in Florida. Memorials
may bemade to the Kidney or Diabetes
PAVILION—ColleenA.Thompson,71,of
Starr Road passed away Thursday eve-
ning (March5, 2015) atWyomingCounty
CommunityHospital inWarsaw. In lieuof
flowers, memorials are suggested to the
EastSideNursing&RehabilitationCenter,
62Prospect Street,Warsaw, NY14569.
BERGEN— Marilyn A. Fisher (Adams)
passedawaypeacefullywithherhusband
byher sideonSunday (March8, 2015) at
theageof77.Thosewishingmaycontrib-
ute to the Churchville United Methodist
ChurchorHospiceofOrleans, Inc.,14080
Route 31West, POBox 489, Albion, NY
14411 in lieu of flowers.
BYRON—NovaE. Caccamise of Byron
passed away on Wednesday (March 4,
2015) at Strong Memorial Hospital. To
leave a message of condolence please
formore informationcall (585) 343-8260.