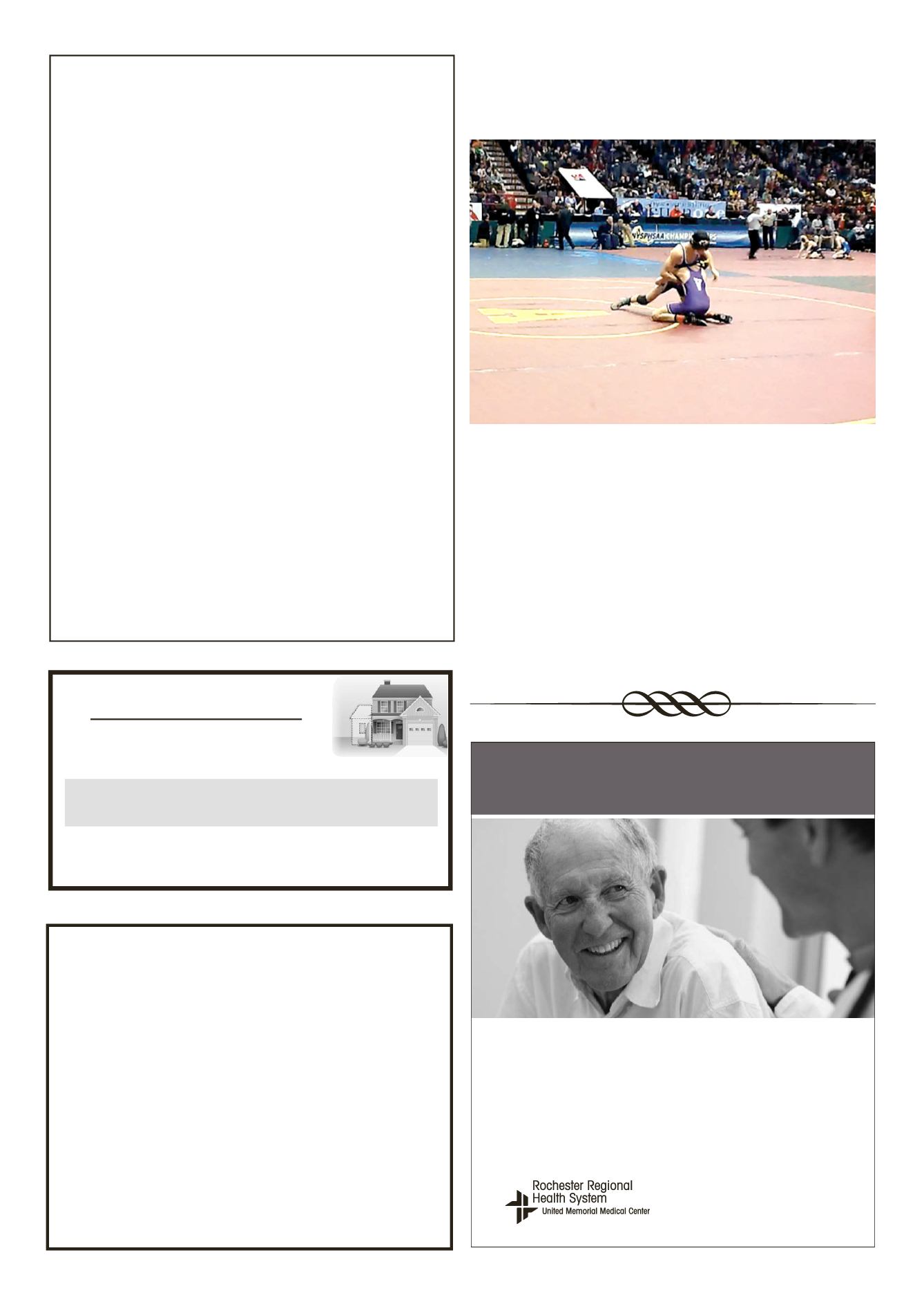 LEROYPENNYSAVER&NEWS -MARCH 8, 2015
"CompleteCarpentry Service"
M
ILLER
B
ROTHERS
B
UILDERS
CustomHomes •Remodeling•Additions
Roofing• Siding
DANIEL
MICHAEL
PAINT&BODYTECHNICIAN
(BATAVIA, NYAREA)
• 3-5 years of experience
• Trucks / ConstructionEquipment
• Part-time or Full-time position
• Pay based on experience
• Competitive compensation package
Send resume or outline of experience to:
Paint&BodyTechnician
This institution is an equal opportu
Coloncancer is the second leadingcauseof cancerdeaths in theU.S.,
preventable, treatableandbeatable
when screeningsaredone timelybeginningat age50.
If youareuninsuredandover50callusat585.344.5494
easy-to-use takehomekit. If youhavea strong familyhistoryorare
having symptoms, youmayqualify fora freecolonoscopy.
March is Colorectal Cancer AwarenessMonth.
President Bob Bennett called themeeting
toorderat5:30atLeRoyVillageGreen.After
review of February'sminutes, amotionwas
made by JimNeilson to accept theminutes,
seconded by Randy Vink, motion passed.
Therewas no Treasurer's Report. Therewas
Samantha Vagg gave a brief hostess pre-
sentation on LeRoyVillageGreen, and then
deferred the host presentation to JamesMott
from RTS- Genesee. James Mott gave an
in depth overview of public transportation
options currently available in LeRoy. He
alsostated thatRTS (RegionalTransportation
Service)-Genesee is currently looking at
increasing public transportation in LeRoy.
They are looking at implementing programs
similar to those available in Batavia, such
as free transportation to grocery stores for
seniors,andmoredoor todooroptions. James
indicated he will schedule a series of Town
Halleventsas theseoptionsbecomeavailable
Member announcements includedMartha
Bailey is transitioning from WBTA to a
new career with Tompkins. Samantha Vagg
announced the Rotary's Graze to Raise will
be May 15th. Martha said she is hoping to
have an update on our newwelcomewagon
procedures bynextmonth. Severalmembers
commented on our website having outdated
information on it. Dave Paddock from the
The LeRoy Ambulance Forum is Satur-
day, March 7th at TheMasonic Community
Center, at 9 am. BobBennett will be unable
to attend, soBill Kettle has stepped in to be
themoderator.BobBennett remindedus that
Easter egg stuffing will beMarch 28th, and
The Easter EggHunt will beApril 4th. Bob
also saidwewill have to keep an eye on the
condition of the grounds at Hartwood Park.
Even if the snow ismelted, the groundmay
be to saturated to have a safe hunt. We will
Therewasno report from theLeRoyPolice
Department. Dave Paddock reported on the
Town. He informed us the zoning change
for the property formerly known as Mercy
Grove has been approved, pending some
minor changes in the request. The Town is
still reviewing their comprehensive plan.
Finally, he reported we are running low on
road salt. There seems to be a shortage in
Bill Kettle reported on the Village. He
commended Bob Lathan& staff on staying
on top of the snow plowing& removal. He
said theVillageBoard ison thesecond round
of interviews for the sewer plant manager.
Therewas a question regardingMain Street
sidewalk repair, and Bill stated that the pri-
ority is in residential areas, andMain Street
Tom Turnball reported on the Chamber
of Commerce. He said they are almost sold
out for vendors at their annual Home Show.
The Home Showwill take placeMarch 27-
29 at Falleti's IceRink inBatavia. The 2015
Tourist Guide is now available, and we can
all expect a copy upcoming in the
Genesee
ValleyPennysaver
Shelly Stein reported on the County. She
reported several organizations in LeRoy
were the recipients of a grant from GO
Art. Also she asked for the support of local
organizations to help apply for a grant that
could possibly assist us with theWest Ber-
gen Road Project. She will follow up with
Our nextmeetingwill beatTheAmerican
Legion onApril 6th at 5:30 pm.
A motion was made by Bill Kettle, sec-
ondedbyKimPasquale,meeting adjourned.
LBCMinutes
Wrestling's John Lauricella for
finishing the2014-15seasonwith
an impressive 39-3 record. He
represented LeRoy High School
in the 120# weight class as an
At-Largeentry into theNewYork
State Wrestling Championships
Johnwonhisfirstmatchdefeat-
ing Dillon Ross, from Onteora
in Section IX, by a score of 6-0.
Advancing to the quarterfinals,
JohnLauricella atNYS
Championships
John lost 6-2 to Derek Spann,
the eventual Runner-Up at 120#,
fromAdirondack inSection III.
John thenmoved into the con-
solation bracket where he wres-
tled theSectionVChampionand
auto-entry into the tournament,
Tony Recco, from Lyndonville
whofinished in 6th place.
We look forward toJohnLauri-
cellaearninga return trip to"The