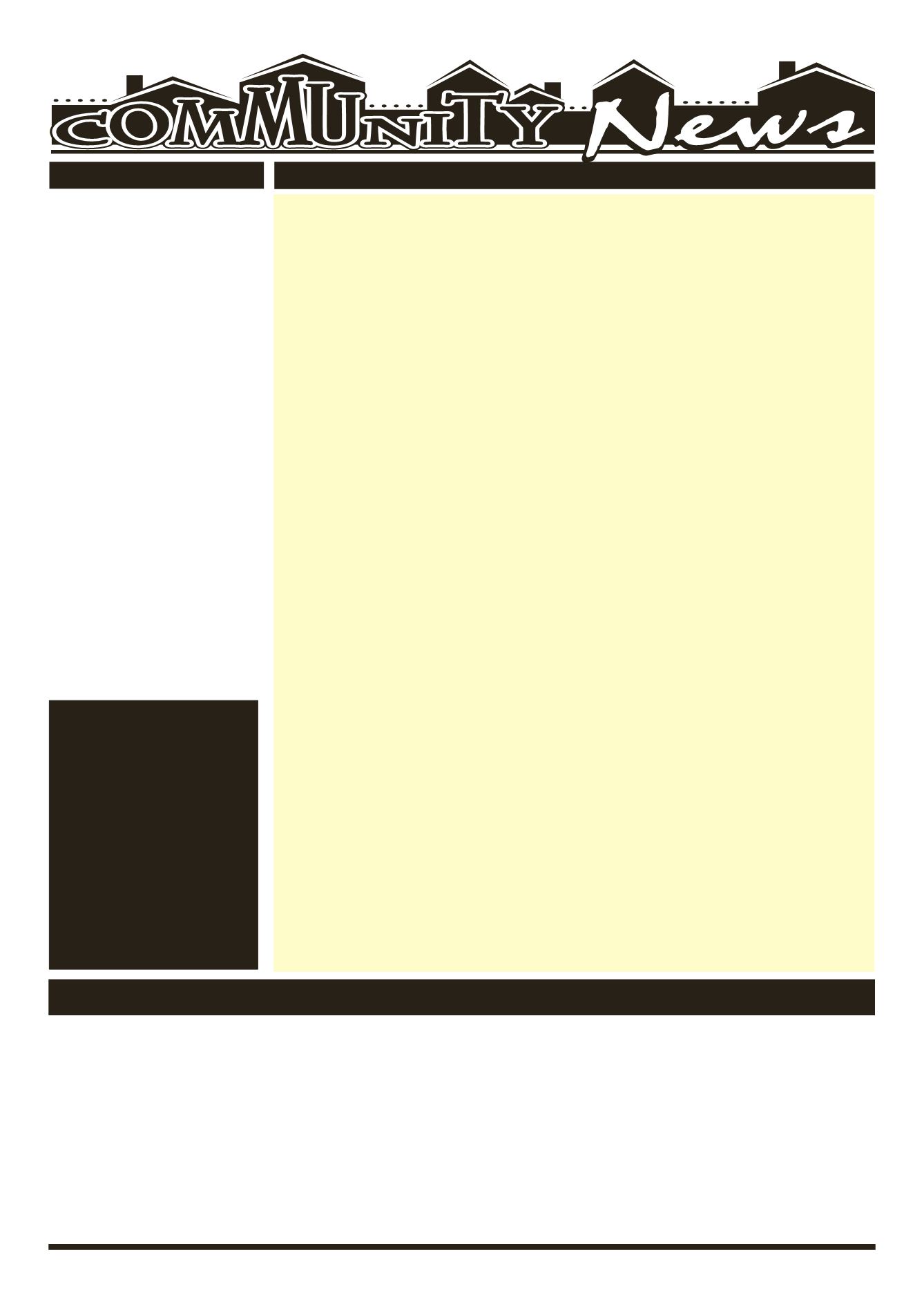 LEROYPENNYSAVER&NEWS -MARCH 8, 2015
Le Roy
Pennysaver
All GeneseeCounty residents, 60andolder, can takepart in thisweek'sactivitiesat theBataviaSenior Center, 2BankSt., Batavia. Formore information, call 343-1611.
WEEKLYEVENTS
OBITUARIES
IncomeTaxPreparation
takingplacebetween9:00am;
ArthritisExercise
at 9:30amandBridgeat 11:30am.
YouthBureau
UnitedWayKickoffLuncheon
Cribbage
is scheduled tobeginat 1:00pm.
OmbudsmanMeeting
IncomeTaxPreparation
QuiltersGroup
is scheduled tomeet at 9:00am.;
Euchre
game
is scheduled tobeginat 1:00pm.
IndependentHealthRepresentative
TaiChi
isset tobeginat9:30a.m.with
GentleFitness
Crib-
bage&Bridge
are scheduled tobeginat 1:00pm;
MusicalKeyboardLessons
are scheduled for 2:30pm.
TaxAssistance
tobeginat9:00amand1:00pm; Legal ServicesbyAppointmentONLY9:00am;
LineDancingandArtClass
Euchre
is set tobeginat 12:00p.m.
SUNDAY,MARCH8
AWANAProgramat Penuel Christian Fellowship.
days12:15 to1:45pm.Ages5-17broken intogroups.Developing friendships.
Having fun. LearningaboutGod. Safeenvironment.
KonnectYouthGroupat LivingWatersChurch,
days from6:30 to8:30pm forages12-18. "BringDownall theWalls! Connect
withGodandConnectwithothers." Formore information, checkusoutonline
at: livingwatersleroy.org/konnect-youth-ministry/
MONDAY,MARCH9
TOPS (Take Off Pounds Sensibly)
meets Monday evenings at the LeRoy
Presbyterian Church, corner of Clay &Main Streets. Doors open at 6:00 pm
andmeeting is from6:30-7:15pm.Visitorsarealwayswelcome.Call585-768-
7103 formore information.
Weekly storytime for two-year-olds at theWoodward Memorial
Library
onMondays from 10:30-10:50 a.m. beginning January 12 through
March 9. Childmust be two-years-old by the first session and accompanied
byanadult.Registration is required. Call768-8300or registeronlineat
TUESDAY,MARCH10
Preschool Storytime:
Every Tuesday at 11 am featuring stories, craft and
songsatPavilionPublicLibrary, 5WoodrowDr., Pavilion. For info: 584-8843.
LCCP'sGRACE'SKITCHEN:
AFREEdinnereveryTuesdayevening,5-6:30pmat
theLeRoyUnitedMethodistChurch,10TrigonPark.ParkingavailableonTrigon
Park& the lots to the leftandbackof theChurch.HandicappedEntrance in the
back of the Church. Takeout & delivery are available. For more info. contact
SelbyDavisat585-738-8882or
WeeklyStorytimeforthree, fourandfive-year-oldsattheWoodward
Memorial Library
on Tuesdays from 6:30 to 7 p.m. beginning January 13
throughMarch3. Childmust be three-years-oldby thefirst session. Stories,
games,songs!Registration isrequired. Call768-8300orregisteronlineat
WEDNESDAY,MARCH11
PavilionBaptistChurch
youthprograms
everyWednesdayevening.Allcommunitychildrenarewelcometoattend.AWA-
NA isaprogram foryoungerchildrenPreschool (4yearold) through6thgrade.
It is a fun timeof BibleStories, games Biblememory andeven refreshments.
WordofLifeprogram is forteens7ththrough12thgrade.Weareeasily located
at10956SLakeRoad inPavilion.Call585-584-3179ext.#12 foranyquestions.
TheLeRoyTown&CountryGardenClub
will hold itsmonthlymeetingon
at7:00pmatLeRoyPresbyterianChurch. ContactAnnWaltersat737-9481or
768-8130 formore information.
TheWoodwardMemorialLibraryBoardofTrustees
March11at 4:30p.m. at the community center at SouthPonteVedra, Florida
andat theWoodwardMemorial Library.
VillageofLeRoyBoardMeeting,
7pmat theVillageHall, 3WestMainSt.
THURSDAY,MARCH12
GeneseeVeterans Support Network
(GVSN) supports the development
ofVeterans focusedAAmeetings everyThursday, 6-7pm at the First Baptist
Church, 306 E. Main St., Batavia. Meetings led by MikeW. & are open to
non-veterans as well. Handicap accessible. For additional information call
GRACE'S CLOSET: A clothing giveaway program
UnitedMethodist Church, 10TrigonPark, LeRoy, 9:30am to11:30amevery
Thursday.Wehave clothing for all ages. FALL&WINTER clothingnowbeing
put in place.We are in need ofWARMER clothing especially coats, jackets
boots, pajamas. Weneedbeddingof all kindsespeciallyblankets.Weaccept
donationsbedroppedoffat thehousenext to the church. Pleaseputall bags
INSIDE on the back porch. NO ELECTRONICS, COMPUTERS,DISHES, etc. Any
questions call theoffice768-8980.
Town of LeRoy BoardMeeting
, 7 pm at the Town Hall Board Room, 48
FRIDAY,MARCH13
Penuel ChristianFellowship,
One Step to Freedom addictionsministry, a
Christ CenteredAddictions program, aweeklymeetingeveryFridayat 7pm.
Call theChurch formore informationat768-6901or406-3863.
SATURDAY,MARCH14
VeteransOnlySocial Club -
GeneseeVeterans SupportNetworkannounc-
es a newmeeting location at Scooter's Family Restaurant, 3711West Main
Street Road, Batavia, NY - for the once amonthVeterans Only Social Club.
Meetings areheld the secondSaturdayof eachmonth from7:00 to8:30PM.
Veterans of all eras are invited toattend. GVSN is locatedat 3837WestMain
Street Road, Batavia, NY. For more information, contact GVSN, PO Box 541,
UPCOMINGEVENTS
LCCP'sMommy&Me Playgroup: Every 2nd& 4th Friday,
Le Roy Physical Therapy (in the back gym). Anymoms and their birth-kin-
dergarten children are welcome to come enjoy socialization, lunch, coffee,
structuredgames& freeplay.
TheGeneseeValley CivilWar Roundtable
presents Kevin Siepel on"Ex-
cerpts From His Book "Rebel."The meeting will take place onWednesday,
March18that7pmat LeRoyUnitedMethodistChurch, 3rdflooron rightend
of long sidewalk, 10TrigonPark, LeRoy,NY.Discussionperiodwill followpro-
gram.Newmembersarewelcome.
WyomingHook& Ladder - All You Can Eat Breakfast,
15th, 2015, 26Maple Street,Wyoming, NY, 8 am - 12:30pm. FeaturingThis
CommunityCalendar Submissions shouldbe sent to:
BERGEN—GertrudeLadd, 90, ofMaple
Avenue passed away at homeWednes-
daymorning (Feb. 25, 2015). Memorials
aresuggested toeither theNewmanRiga
Library, 1SouthMainSt.,Churchville,NY
14428; BergenFireDept., 10Hunter St.,
Bergen, NY 14416 or American Cancer
Society, 1120SouthGoodmanSt.,Roch-
LEROY—DonaldR.LeggJr.,50,ofClay
Street passedawayat homeonTuesday
(Feb. 24, 2015). In lieuof flowers,memo-
rials may be offered to the family at PO
LEROY—Mildred ''Mickey''O.Tourville,
78, of LeRoy passed away on Saturday
(Feb. 28, 2015) at UnitedMemorial Med-
ical Center. In lieu of flowers, memorials
may be made to Le Roy Village Green
10MunsonSt. LeRoy, NY14482 and or
Mass Intentions in care of Father David,
202SouthUnionSt. Olean, NY14760.
PAVILION—WilliamL.Lamb,45,passed
away peacefully on Thursday (Feb.
26, 2015) at Strong Memorial Hospital,
surrounded by his loving family. In lieu
of flowers, memorial contributions are
suggested toWill's family at POBox 62,