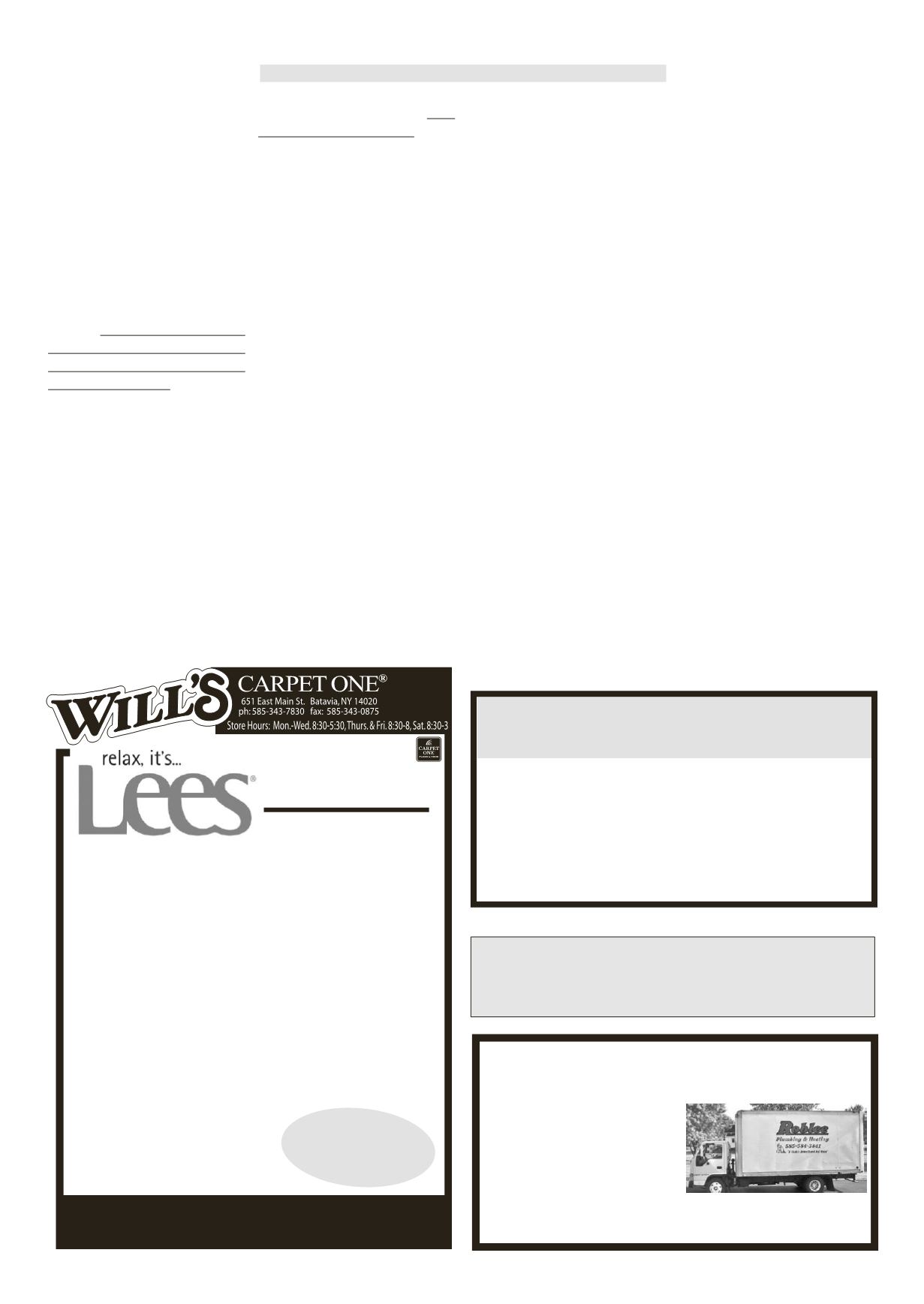 LEROYPENNYSAVER&NEWS -MARCH 8, 2015
TheONE store for your perfect floor.
FLOOR
&HOME
• Lifetime - Stain& SoilWarranty
• 25Year TextureRetentionWarranty
• FreeEstimates
• FinancingAvailableTo
QualifiedBuyers
Hurry
LimitedTime!
CARPET
InstalledWitha 6#Pad
byKimCox
LCSDSuperintendent
of Schools
School districts around the
State are uniting to have their
voices heard. There are signifi-
cantproposalsbeingmadeand is-
suesbeingdebatedby theelected
leadersofourstate.TheGovernor
has been openly negative about
public education and especially
about the teaching profession.
Thebottom line is that your chil-
doingverywell thanks
toyoursupport,anoutstanding
staff, administrative team and
BoardofEducation
ing debated right now inAlbany
couldhave a significant negative
impact on the work being done
here inLeRoy. It is important to
haveyourvoicesheard.Whatcan
you do? Please consider writing
to both the legislators and the
Call for an end to thewith-
holdingof StateAid that isdue
toyou, the local taxpayers, and
a fair and equitable state aid
foundation formula.
complete restoration of the
Gap
EliminationAdjustment
year's State Budget. In a year
when the Governor is touting
that the state has gone from a
"deficient to a surplus budget"
it is inconceivable that theGEA
is still imposed on districts that
are working diligently for the
children of New York State to
ensure a high quality education.
The proposed Gap Elimination
Adjustment, along with the in-
equity of the foundation aid for-
mula, drastically and negatively
impactsourschooldistrict. Since
2009, theLeRoyCentral School
District has been denied over
$8,302,000 due to theGEA!
Call for the Governor to
release thestateaidrunsso that
districtscanplan for the future.
Explain that it is impossible for
districts toplan forstudentswith-
out this information.Withholding
the preliminary state runs, adds
another level of complexity to
what is already a complex issue.
Districts like ours are unable to
make critical financial decisions
without this information. It isnot
responsible towithhold important
information fromdistricts thatare
working tirelessly to provide for
Call for a change in the use
of state assessment data as an
evaluationof teachers.
ernor is proposing a significant
increase in the roleofassessments
in teacher evaluation. Inform the
Governor that using testing data
in this way is misguided and in-
appropriate.Thedata isnotyet re-
liableor accurate enough for this
tobe a fairmeasureof individual
growthwhen used alone. Testing
doeshavevalueasoneelement in
program and school evaluation.
In addition, the common core
standards have had a positive
impact on teaching and learning
when implementedappropriately.
Assessments provide educators
with important information, but
only when used in conjunction
withmultiple formsofdata in the
Call for a return to local
control and end the constant
game playing surrounding the
propertytax laws.
is proposing that you pay your
STAR rebateupfrontand thenget
it back later only if yourDistrict
stayswithin theproperty taxcap.
Although it is always our goal
to do so, we think it is entirely
wrong that local control is being
reduced by a state government
that is not even providing you
with the aid that you are due.
Express to theGovernor that it is
unreasonable that you would be
asked to paySTAR upfront.
The Governor and the legis-
lators need to hear from you,
the taxpayers, parents, and
community members.
expressyourquestions, concerns,
and comments to them directly.
Youwillfind information tocon-
tact state officials at our website
Thank you for taking the time
to read this message and for all
that you have always done to
SUPPORTYOUR LOCALADVERTISERS!
They help sponsor the local news section of the Le Roy Pennysaver.
THANKS FORYOUR SUPPORT!
ALLWORKMANSHIP GUARANTEED • INSURED
297-9097 • 768-7737
• InteriorPainting
• Plaster/LathRestoration
•Drywall&Drywall Repair
•TextureRemoval
• Floors Stripped
&Refinished
•OldCeilings&Walls
MadeLikeNew!
MikeDarby'sPatch&Paint
ROBLEE
Plumbing&Heating, LLC
10991LakeRd., Pavilion • (585) 584-3841
Full Insured
LUXAIRE
GOULD
NYSCertifiedBackflowTester
Water&Sewer Lines •Water Treatment&ConditioningSystems