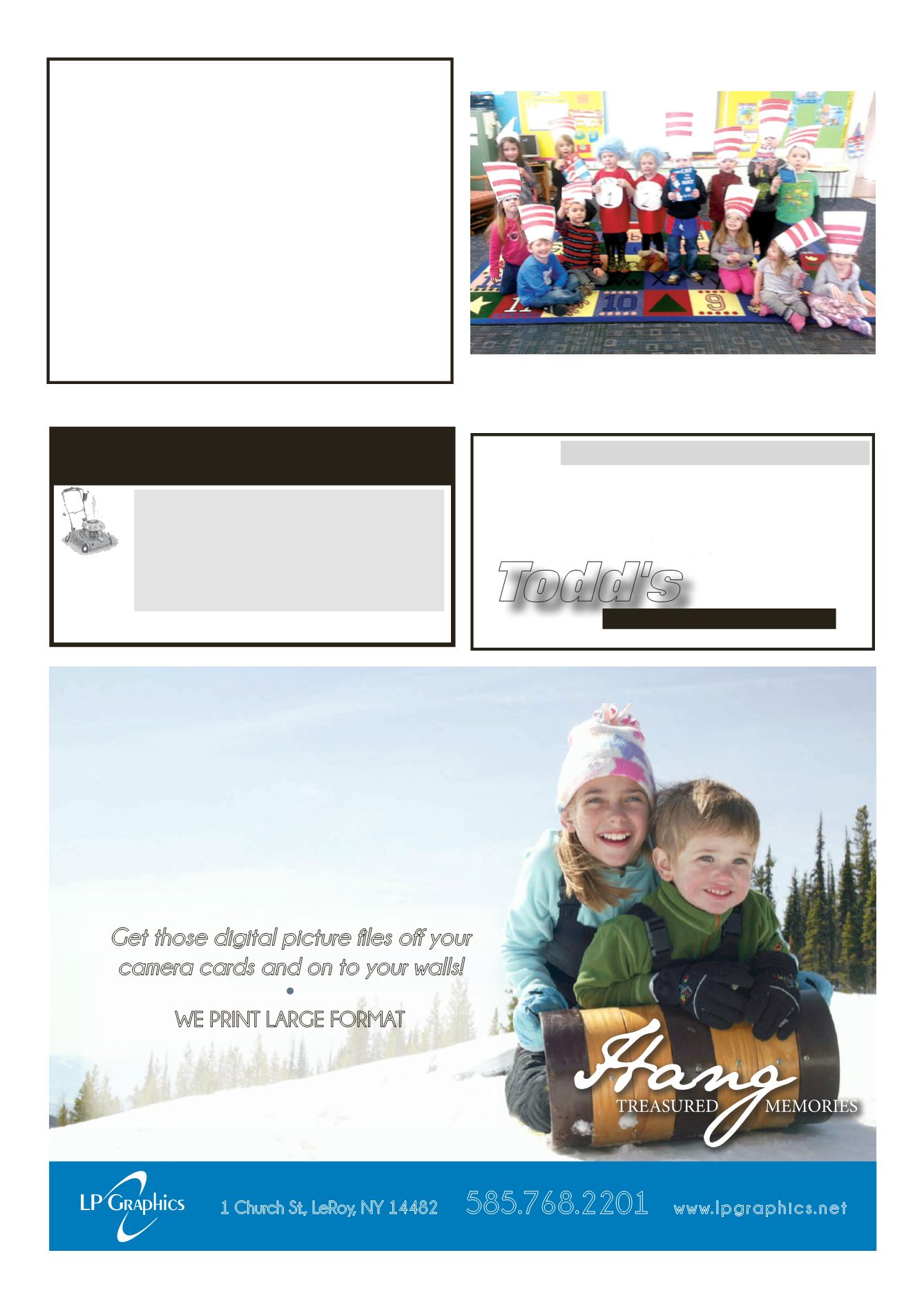 LEROYPENNYSAVER&NEWS -MARCH 8, 2015
NewHomes •Additions •Garages •PoleBarns
ToddCarli • Phone 703-0964
Todd's
Decks •Windows •Doors
Kitchens •Baths
CeramicTile
Basement Finishing
CustomShelves/Built-Ins
Siding •Remodeling
Roofing • SnowPlowing
FULLY INSURED
• $15.00 - $20.00per hour
• Customer service experience a plus
• Seasonal layoff if desired
• Benefits available including 401k
TRUCKDRIVER
• Engine andTransmissionRebuilds
• Lawn andGardenEquipment
•ATV's, Dirt Bikes • Light Equipment
• PickUp andDeliveryAvailable
• Snowblowers • Snowmobiles •Generators
SummerHours:
Thurs., Fri.
9 am to5 pm,
Sat., Sun.
9am toNoon
Mon., Tues.,
Wed. byAppt.
ThePre-kindergarten class at LoveBugs Preschool had a great
time celebrating Dr. Seuss's birthday this week. The children
read books, made hats, and had a wonderful time learning all
about the author.
HappyBirthdayDr. Seuss
As crispas theday
they weremade.
1ChurchSt., LeRoy, NY14482
585.768.2201
raphics.net
Get thosedigital picture files off your
cameracards andon to your walls!
WE PRINT LARGE FORMAT
Our state-of-the-art wide format color
printer allows prints up to42" wide
by any length youdesire!