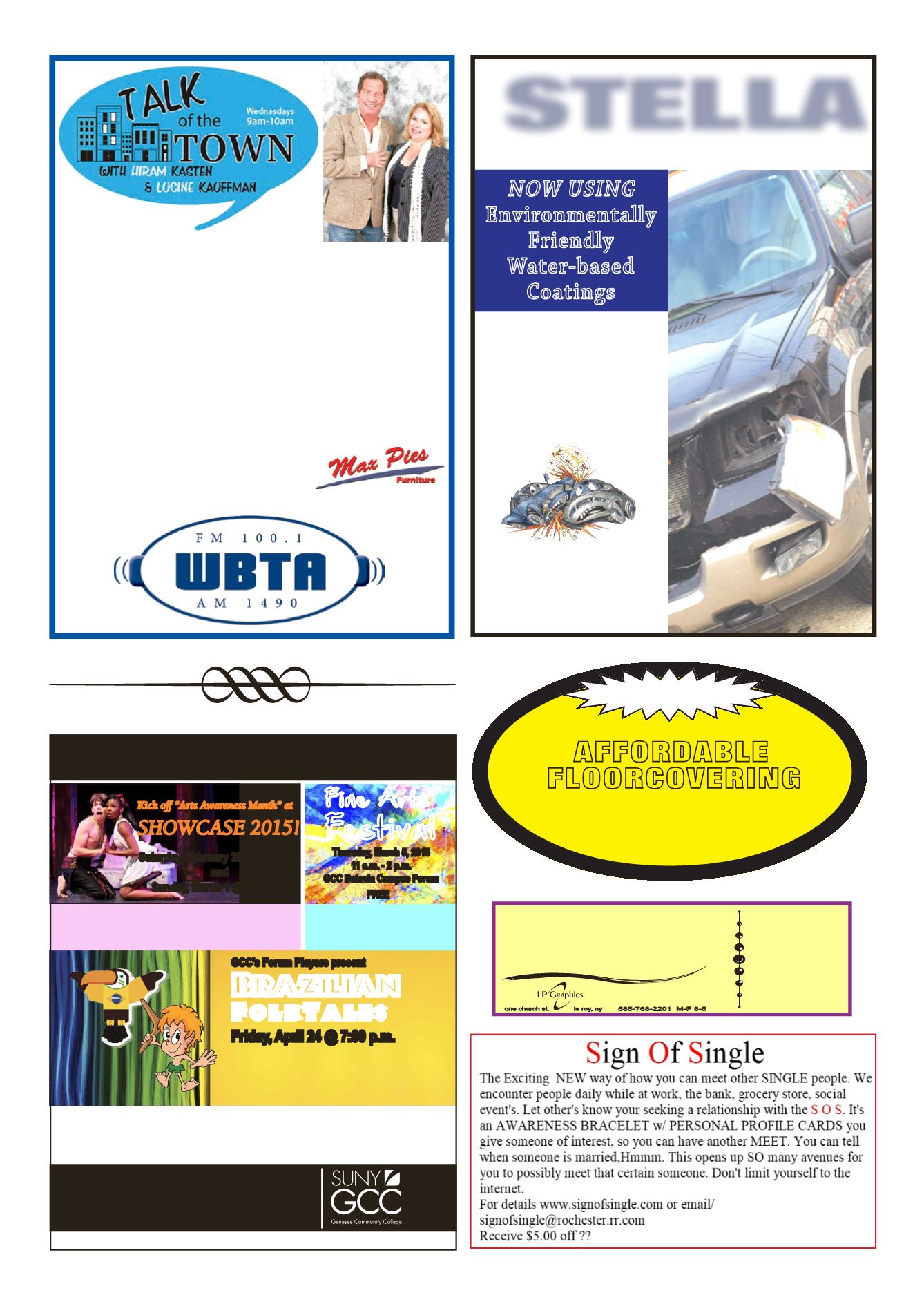 LEROYPENNYSAVER&NEWS - FEBRUARY 22, 2015
one church st. le roy, ny
one church st. le roy, ny
Conversation about the arts and entertainment scene
inGeneseeCounty andWesternNewYork,
includinghigh schoolmusicals, theatre andmore.
A fun filled hour of information and bantering between
HiramKasten andLucineKauffman
Listen on theWBTA ap,
streamed on theweb or on
your radio atWBTAAM 1490
EveryWednesday at 9am – 10am
Collision Service, Inc.
STELLA
Complete
AutoBodyRepair
GlassReplacement
24HourTowing
DowndraftPaintBooth
ComputerEstimating
8375EastMainRd.
LeRoy,NY
768-7370
NOWUSING
Environmentally
Friendly
Water-based
Coatings
Gene
SEE
Center for theArts
OneCollegeRoad •Batavia, NY
GeneseeCommunityCollege isan equal opportunity/affirmative action institution.
Revel in theArtswithGCC
Kick off "Arts AwarenessMonth" at
SHOWCASE 2015!
Saturday, February 28@7:30p.m.
and
Sunday, March1@2:00p.m.
Amedleyof performing artsshowcasing the
varied talentsof GCCperformingartsstudents.
Enjoynumerousworkshops
anddemonstrations and
express your creativity.
Friday,April 24@ 7:00p.m.
GCC'sForumPlayerspresent
GCC'sForumPlayersTheatreEnsemblepresent
thechildren'sproduction featuring storiesof
enchantment withanimalsand tricksters
emanating theblendof Brazilian culture.
Get your nameonourmailing list!
Email:
Thursday, March 5, 2015
11 a.m. - 2p.m.
GCCBataviaCampusForum
FREE
VALU HOME PLAZA • WEST MAIN • BATAVIA
AFFORDABLE
FLOORCOVERING
AFFORDABLEFC.COM
585-345-1108
M-W-F,8-6pm
Thurs.8-7pm, Sat.8-3pm
0
%
Financing