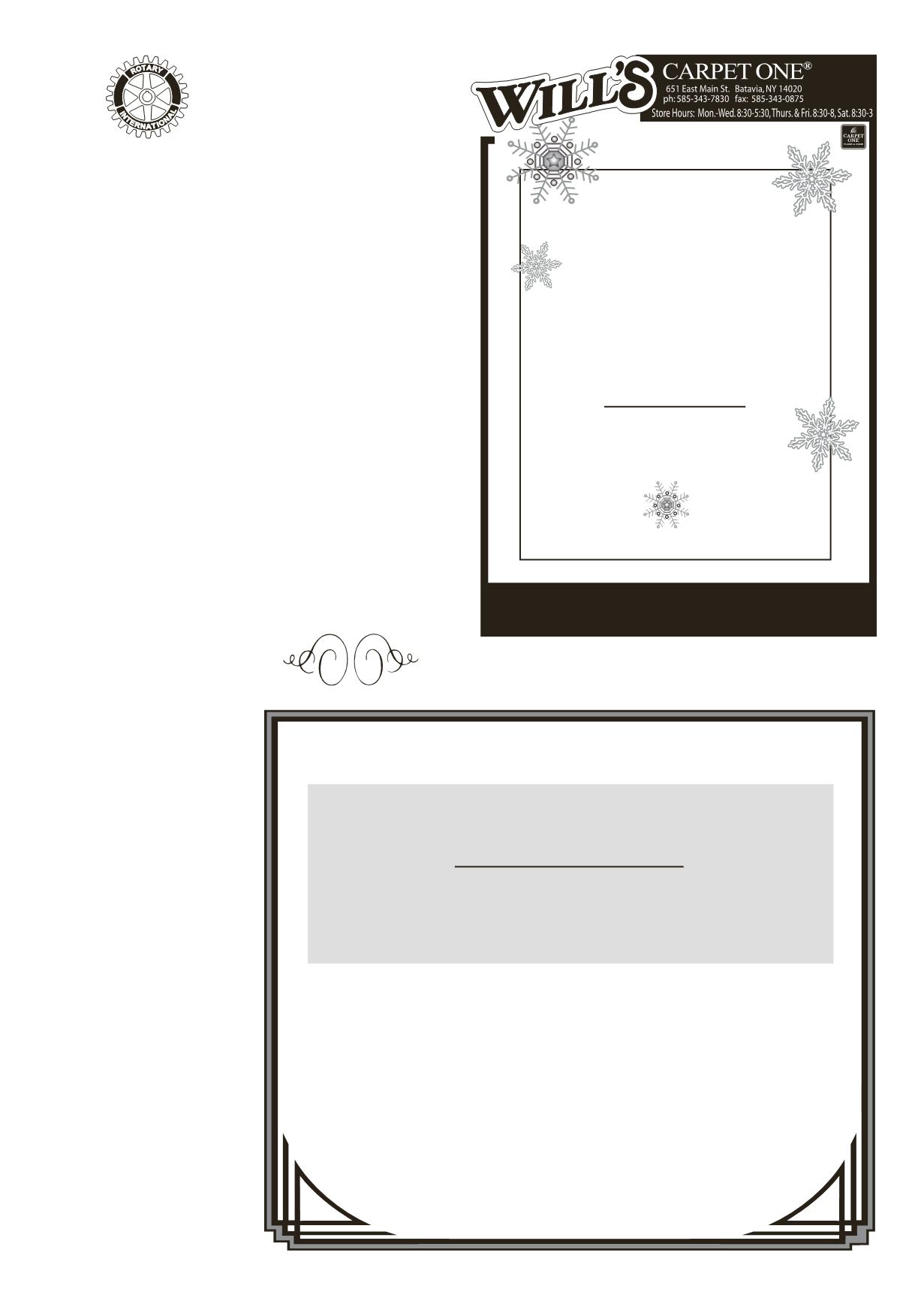 LEROYPENNYSAVER&NEWS - FEBRUARY 22, 2015
LeRotary
Notes
TheONE store for your perfect floor.
FLOOR
&HOME
Remnants!
Remnants!
Remnants!
LargeSelection ofCarpet Remnants
Small andLargeSizesAvailable.
Remnants6'WideandUnder -25¢sq. ft.
We canmake area rugs to your size.
Binding available orwe can installwall-to-wall.
"ODDLOT"
$
1.00
Cash&CarryOnly
SaleEnds Feb. 28th
FREE
(Limit 6)
Great forDogBeds,
Boots orCarMats
LeRoyBusinessCouncil
Community Educational Forumon
The LeRoyAmbulance Service
Saturday,March7th
9:00am
MasonicCommunityCenter
Public is encouraged toattend.
The Townof LeRoycurrentlyprovides a subsidy to
Therehas beenaneed to increase the subsidy
to keep the serviceoperational.
Pleasecomeand listen toall the facts regarding the future
of the LeRoyAmbulance Service,
This effectsALL taxpayers in LeRoy.
Past President Martha Bailey
presided over the February 11th
meeting while President Randy
"knee"ded tomiss.Wewishhim
We welcomed several guests.
CindyHendrickson joinedus from
thePerryClub.ThreeLeRoyHigh
School Seniors aswell asDistrict
Governor Elect Kevin Crosby
of Buffalo Sunrise were also in
There were many announce-
ments.TheTVRafflewasagreat
success. Thank you to everyone
that supported the event. Robert
Boyce won the television and
Tamara Torrey won the tailgate
package. The Valentine's Tea &
Dance for Seniors was February
14th from 1pm-4pm at the Le-
gion. LynneBelluscio is collect-
ing past Rotary items from the
last 10 years. Le Roy Business
Council is sponsoring ameeting
regardingLeRoyAmbulance at
9:00 am on March 7th. Le Roy
Historical Society is hosting its
annual Dinner on March 7th.
Tickets are $40 per person.
There were several members
called upon formissedmeetings.
ChrisBiviano,MaryYoung,Mary
Margaret Ripley, Lauren Hum-
phrey, Kim Cox and Tracy Ford
had make-ups. Carol Wolfe and
JoeGiannettinowere busywork-
ing andpaidupwithgreen cards.
The fining session began with
Tamara Torreywho has opened a
second locationandwillbework-
ing inWarsaw twodaysperweek.
Marcia MacKenzie paid for the
90thbirthdayofTomCox'smoth-
er. Mary Margaret was charged
foraT-shirt that she"liked".Lau-
renHumphreywascalledupon to
explainhostingaclassat theYon
Essential Oils before having to
reach into her wallet. PhilWeise
paid up for his new and correctly
Our program was presented
byDistrict 7090Governor Elect
Kevin Crosby. Kevin informed
usof theDistrict'sfirst evercam-
paign to raiseonemilliondollars
in a year for the Rotary Foun-
dation. The Rotary Foundation
depends on thegenerosityof our
Clubs and individual members
to support efforts like Polio-
Plus and effective, sustainable
projects around the globe that
promotepeace, prevent and treat
disease, provide cleanwater and
sanitation.Promotematernal and
child health, contribute to basic
education and literacy, and help
grow local economies. Oppor-
tunities to support the programs
includemajorgiftsof$10,000or
greater: as an outright gift, a gift
over 3 years, a gift of publicly
traded securities. There are also
opportunities through bequests.
Thecampaignwill culminate ina
black tie"MillionDollarDinner"
Kevin also remindedus of the
upcoming District Conference.
The conference will take place
at HolidayValley inEllicottville
"Like"uson facebookatRota-
ryClubofLeRoy,NY for all the