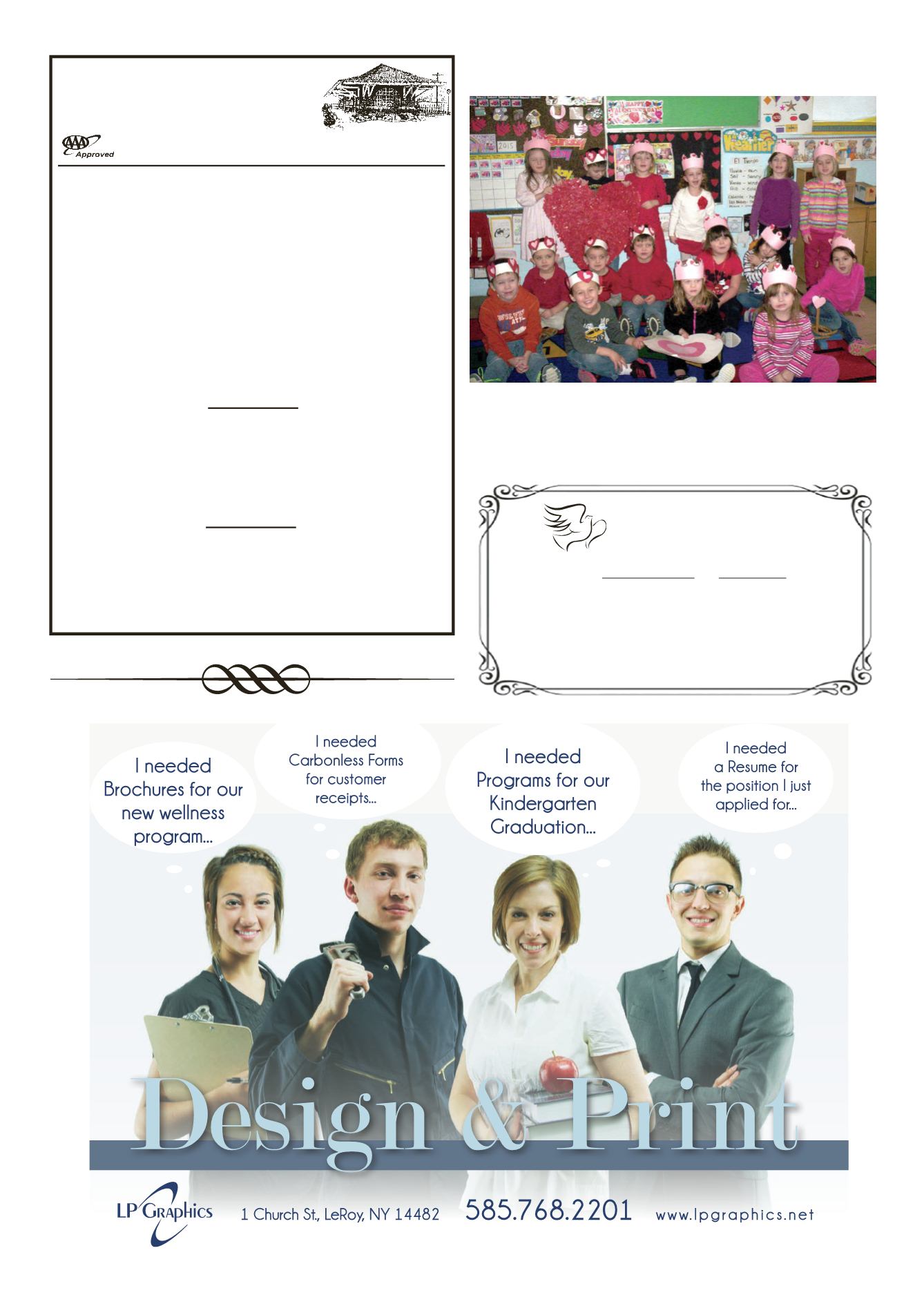 LEROYPENNYSAVER&NEWS - FEBRUARY 22, 2015
D&RDepot
63LakeSt. (Rt. 19), LeRoy• 768-6270
Let'sMeetAt The ...
OpenForBreakfast, Lunch&Dinner - 7DaysAWeek 7am-9pm
Director /Owner
FuneralDirector
F
ALCONE
F
AMILY
Funeral&Cremation Service, Inc.
Director/Owner
"ALOCALFAMILY
CARINGFORLOCALFAMILIES"
SUNDAY, FEBRUARY 22ndDINNERSPECIAL
ROASTPORKDinner
withhomemadedressing - $17.99
Includes soup or salad, potato, rolls andmuffins
andapple crisp for dessert.
Andat 5pmwe have the secondappearance of our
ol' timemusicians
JerryCurry, AlMastrolio, DaveSantaMaria, joined by
Doug andEricKelly (fromKelley'sOldTimers).
Reservations are necessary for this show and there is a
$5.00 cover charge for the benefit of themusicians.
SUNDAY,MARCH 1stDINNERSPECIAL
ROASTCHICKEN
(withhomemadedressing)Dinner - $17.99
Includes soup or salad, realmashed potatoes, veggie,
rolls andmuffins (and a delicious dessert)
SUNDAY,MARCH 8thDINNERSPECIAL
VIRGINIABAKEDHAMDinnerwith scallopedpotatoes
Includes soup or salad, rolls andmuffins
and banana cream pie for dessert
LeRoyNurserySchoolhadaValentineExchangeandparty.The
childrenmade hats towear and containers for their valentines.
They played games, sang songs and heard stories. It was a fun
day for all!! Picturedhere is the 3DayPre-KClass.
Valentine'sDay