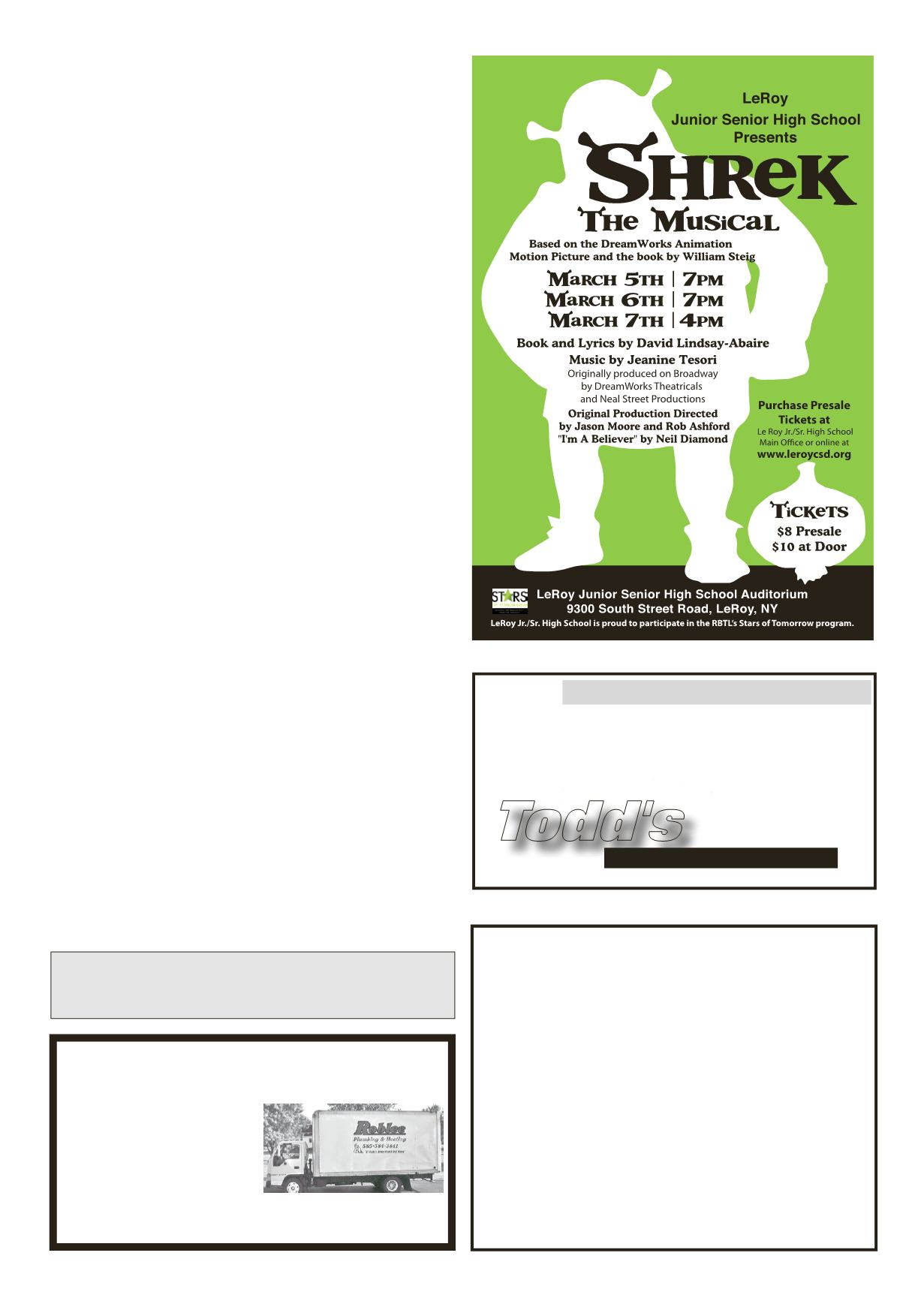 LEROYPENNYSAVER&NEWS - FEBRUARY 22, 2015
SUPPORTYOUR LOCALADVERTISERS!
They help sponsor the local news section of the Le Roy Pennysaver.
THANKS FORYOUR SUPPORT!
NewHomes •Additions •Garages •PoleBarns
ToddCarli • Phone 703-0964
Todd's
Decks •Windows •Doors
Kitchens •Baths
CeramicTile
Basement Finishing
CustomShelves/Built-Ins
Siding •Remodeling
Roofing • SnowPlowing
FULLY INSURED
ROBLEE
Plumbing&Heating, LLC
10991LakeRd., Pavilion • (585) 584-3841
Full Insured
LUXAIRE
GOULD
NYSCertifiedBackflowTester
Water&Sewer Lines •Water Treatment&ConditioningSystems
bySenatorRanzenhofer
February 2015
Back in 2010, when the Leg-
islature was controlled by New
York City Democrats, taxpayers
all across the Empire Statewere
repeatedlyhurt bybaddecisions.
New job-killing taxes were im-
posed.Stateexpendituresspiraled
out of control. Among theworst
was thecreationof theGapElim-
TheGEA resulted inbillionsof
dollarsbeingunfairly takenaway
from our local school districts,
especially in rural and suburban
areas of New York. Since then,
this multi-billion dollar budget
cutting scheme has hurt local
schools and property taxpayers.
I voted against this draconian
measure, and Ihavebeen leading
thefight toend theGEA. Since it
wasfirst approved, theGEAcuts
havebeen reducedby62percent,
from a highof $2.6billion in the
2011-12 State Budget to $1 bil-
lion in the 2014-15Budget.
Last year alone, theStateBud-
get included an additional $602
million– 86 percent more than
what theGovernor proposed and
nearly seven times more than
the Assembly– to help schools
overcome the GEA challenge.
That funding representedamajor
step towards lessening theGEA's
negative impact, but there is still
$1 billion in GEA budget cuts
anticipated for the upcoming
That is why I am proposing to
end the notorious Gap Elimina-
tion Adjustment and its devas-
tating impact onState funding to
public schools once and for all.
In doing so, I am proposing the
return of $1 billion to accelerate
theabolishmentof theGEA in the
As a member of the Senate
EducationCommitteeandBudget
Subcommittee, ending the GEA
is one of my highest priorities.
Bymaking this a top priority in
budgetnegotiations, Iamfighting
to restore much-needed funding
to local schools inour communi-
ty.Thiswillmeanmore resources
for classroom instruction and
quality programs, helping to
ensure an outstanding education
Budget proposes an overall $1.1
billion increase in education
funding from theprior year. Un-
fortunately, that increasewasnot
specifically tied to theelimination
of the $1 billion needed for this
My Senate colleagues and I
will be putting forth a budget
that uses themajorityof the$1.1
billion increase proposed by the
Executive budget, up to $600
million, aswell as identifying the
sources for theadditional$300 to
$400millionneeded toeliminate
Fulfilling the commitment
to eliminate the remaining $1
billion of this unfair draconian
measure would provide critical
resources to school districts,
allowing them a possible option
to freeze or reduce school taxes
for the upcoming year.Working
together, we can bring an end
to the GEA school aid cuts, and
build a brighter, stronger, better
End theGEA
• $15.00 - $20.00 per hour
• Customer service experiencea plus
• Seasonal layoff if desired
• Benefits available including 401k
TRUCKDRIVER