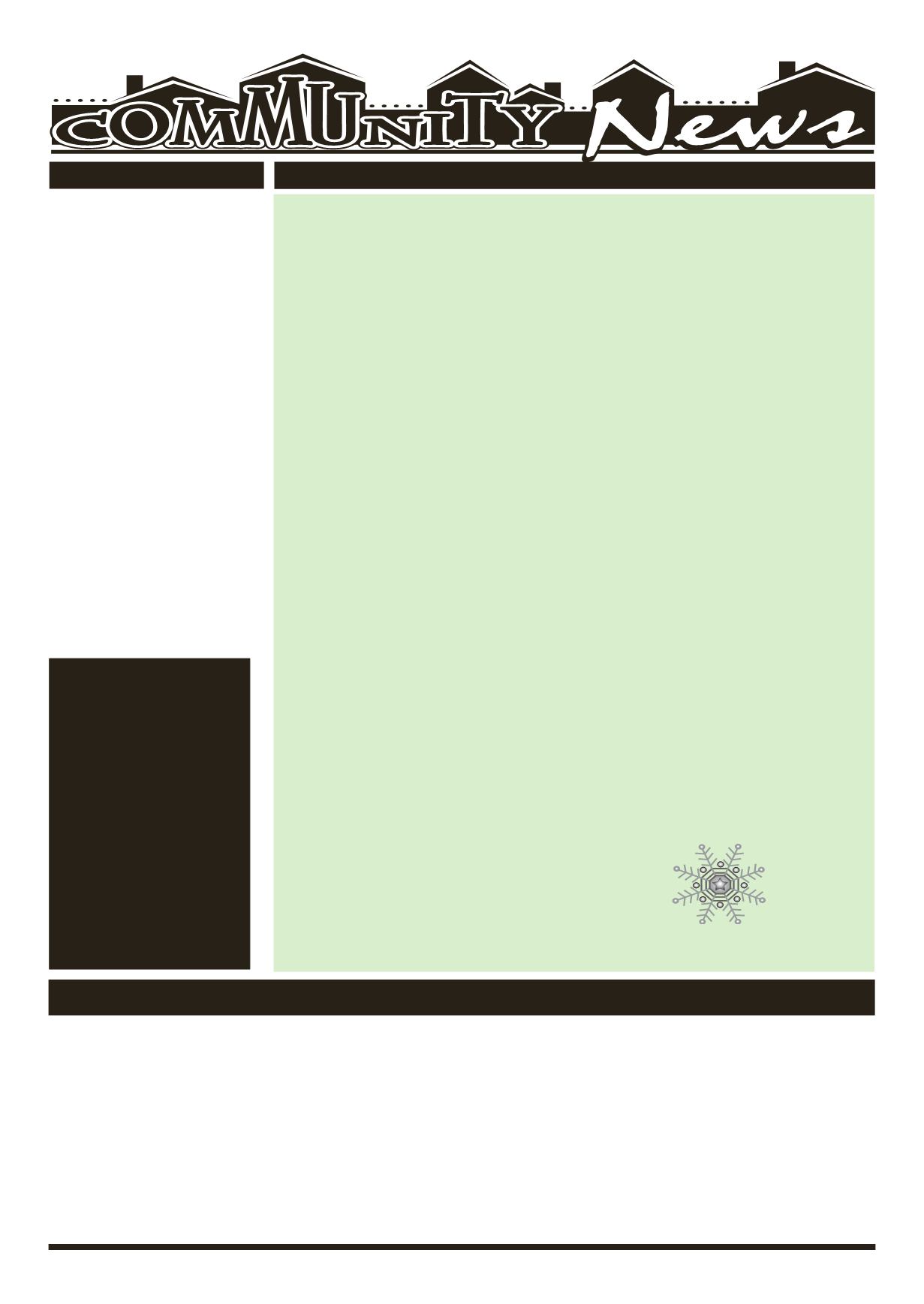 LEROYPENNYSAVER&NEWS - FEBRUARY 22, 2015
Le Roy
Pennysaver
All GeneseeCounty residents, 60andolder, can takepart in thisweek'sactivitiesat theBataviaSenior Center, 2BankSt., Batavia. Formore information, call 343-1611.
(February 23rd - February 27th)
WEEKLYEVENTS
OBITUARIES
IncomeTaxPreparation
byAPPOINTMENTONLY takingplacebetween9:00am to3:00pm;
ArthritisExercise
RSVPAdvisoryMeeting
scheduled tobeginat 12:30pm.
Cribbage
is scheduled tobeginat 1:00pm.
IncomeTaxPreparationbyAPPOINTMENTONLY
takingplacebetween9:00am to3:00pm.;
QuiltersGroup
Euchregame
is scheduled tobeginat 1:00pm.
TaiChi
is set tobeginat 9:30a.m.with
GentleFitness
Cribbage&Bridge
are scheduled tobeginat 1:00
MusicalKeyboardLessons
are scheduled for 2:30pm.
A representative fromUnivera Insurance
will beavailable from10:00am to12:00pm;
LineDancingandArtClass
Euchre
is set tobeginat 12:00p.m.
SUNDAY, FEBRUARY22
AWANA Program at Penuel Christian Fellowship.
Sundays 12:15 to 1:45 pm. Ages 5-17 broken into groups. Developing
friendships.Having fun. LearningaboutGod. Safeenvironment.
Konnect YouthGroup at LivingWaters Church,
Sundays from6:30 to8:30pm for ages12-18. "BringDownall theWalls!
ConnectwithGodandConnectwithothers." Formore information, check
usoutonlineat: livingwatersleroy.org/konnect-youth-ministry/
MONDAY, FEBRUARY23
TOPS(TakeOffPoundsSensibly)
meetsMondayeveningsattheLeRoy
Presbyterian Church, corner of Clay &Main Streets. Doors open at 6:00
pmandmeeting is from6:30-7:15pm.Visitors arealwayswelcome. Call
585-768-7103 formore information.
Weekly storytime for two-year-olds at theWoodwardMemorial
Library
onMondaysfrom10:30-10:50a.m.beginningJanuary12through
March9. Childmustbetwo-years-oldbythefirstsessionandaccompanied
by an adult. Registration is required. Call 768-8300 or register online at
TUESDAY, FEBRUARY24
PreschoolStorytime:
EveryTuesdayat11am featuringstories,craftand
songsatPavilionPublicLibrary,5WoodrowDr.,Pavilion.For info:584-8843.
LCCP'sGRACE'SKITCHEN:
(willbeCLOSEDFeb.17th&Feb.24th.We
willreopenMarch3rd)
AFREEdinnereveryTuesdayevening,5-6:30pm
at the LeRoyUnitedMethodist Church, 10TrigonPark. Parking available
onTrigonPark& the lots to the left andbackof theChurch.Handicapped
Entrance in the back of the Church. Takeout &delivery are available. For
WeeklyStorytime forthree, fourandfive-year-oldsattheWood-
wardMemorial Library
on Tuesdays from 6:30 to 7 p.m. beginning
January 13 throughMarch 3. Childmust be three-years-old by the first
session. Stories, games, songs!Registration is required. Call 768-8300or
LeRoyZoningBoardofAppealsMeeting
(asnecessary),7:30pmatthe
TownHall, 48MainSt. For further info. call 768-6910, Ext. 223.
WEDNESDAY, FEBRUARY25
Pavilion Baptist Church
youth programs
winter everyWednesday evening. All community children arewelcome
toattend.AWANA isaprogram foryoungerchildrenPreschool (4yearold)
through6thgrade. It is a fun timeof BibleStories, games Biblememory
and even refreshments.Word of Life program is for teens 7th through
12th grade.We are easily located at 10956 S Lake Road in Pavilion. Call
585-584-3179ext. #12 for anyquestions.
LEGO&GameClubattheWoodwardMemorialLibrary
gradesK-6, from3:15-4:15p.m.BuildwithLegos,playboardgameswith
your friends, or jamout onGuitarHero. There is something for everyone.
Registration isNOT required.
Village of LeRoy BoardMeeting
, 7 pm at the Village Hall, 3West
MovieShowingofTheTheoryof Everything
attheWoodwardMemorialLibrary.123minutes. Registration isrequired.
Call 768-8300or registeronlineat
THURSDAY, FEBRUARY26
GeneseeVeteransSupportNetwork
(GVSN)supportsthedevelopment
ofVeteransfocusedAAmeetingseveryThursday,6-7pmattheFirstBaptist
Church, 306 E.MainSt., Batavia.Meetings ledbyMikeW. &areopen to
non-veterans as well. Handicap accessible. For additional information
GRACE'SCLOSET:Aclothinggiveawayprogram
UnitedMethodist Church, 10 Trigon Park, Le Roy, 9:30 am to 11:30 am
everyThursday.We have clothing for all ages. FALL&WINTER clothing
now being put in place.We are in need ofWARMER clothing especially
coats, jackets boots, pajamas. We need bedding of all kinds especially
blankets.We accept donations be dropped off at the house next to the
church. Pleaseput all bags INSIDEon thebackporch. NO ELECTRONICS,
COMPUTERS,DISHES, etc. Anyquestions call theoffice768-8980.
Townof LeRoyBoardMeeting,
7 pm at theTownHall Board Room,
Travelogue to Tahiti at theWoodwardMemorial Library
p.m. Experience the adventure and fun of traveling to the French Poly-
nesian Islands (Moorea,Tahaa, andBoraBora). LauraLanderswill share
photographichighlights and talkabout her recent trip. Call 768-8300or
FRIDAY,FEBRUARY27
PenuelChristianFellowship,
OneSteptoFreedomaddictionsministry,
aChrist CenteredAddictions program, aweeklymeetingevery Fridayat
7pm. Call theChurch formore informationat768-6901or406-3863.
SATURDAY, FEBRUARY28
UPCOMINGEVENTS
LCCP's Mommy &Me Playgroup: Every 2nd& 4th Friday,
1:30, Le Roy Physical Therapy (in the back gym). Anymoms and their
birth-kindergarten children are welcome to come enjoy socialization,
lunch, coffee, structuredgames& freeplay.
CommunityCalendar Submissions shouldbe sent to:
LEROY—FrancisJ. "Frank"Mangefrida,
78, of Le Roy died Wednesday (Feb.
11, 2015) after a long illness. In lieu of
flowers, memorialsmay bemade toThe
AndreaLynnMangefridaMemorial Fund
c/o Stepping Stones Learning Center,
2111 Hudson Ave., Irondequoit, NY
14617; Le Roy Knights Incorporated, 7
East Ave., Le Roy, NY 14482; The Bull
Terrier Rescueof Virginia (BTRVA), P.O.
Box 10090, Manassas, VA. 20108.
LE ROY — Jane A. Bushman, 86,
formerly of South Street Road, passed
away Thursday (Feb. 12, 2015) at the
Genesee County Nursing Home. The
courtesy of no flowers is requested with
memorialssuggested to theLeRoyUnited
LE ROY— James F. Murphy Jr., 87, of
West Bergen Road, joined his valentine
and lovingwife,AdelaideonFriday (Feb.
13, 2015). In lieu of flowers, memorials
are suggested to St. Jude Children's
Hospital, 262 Danny Thomas Place,