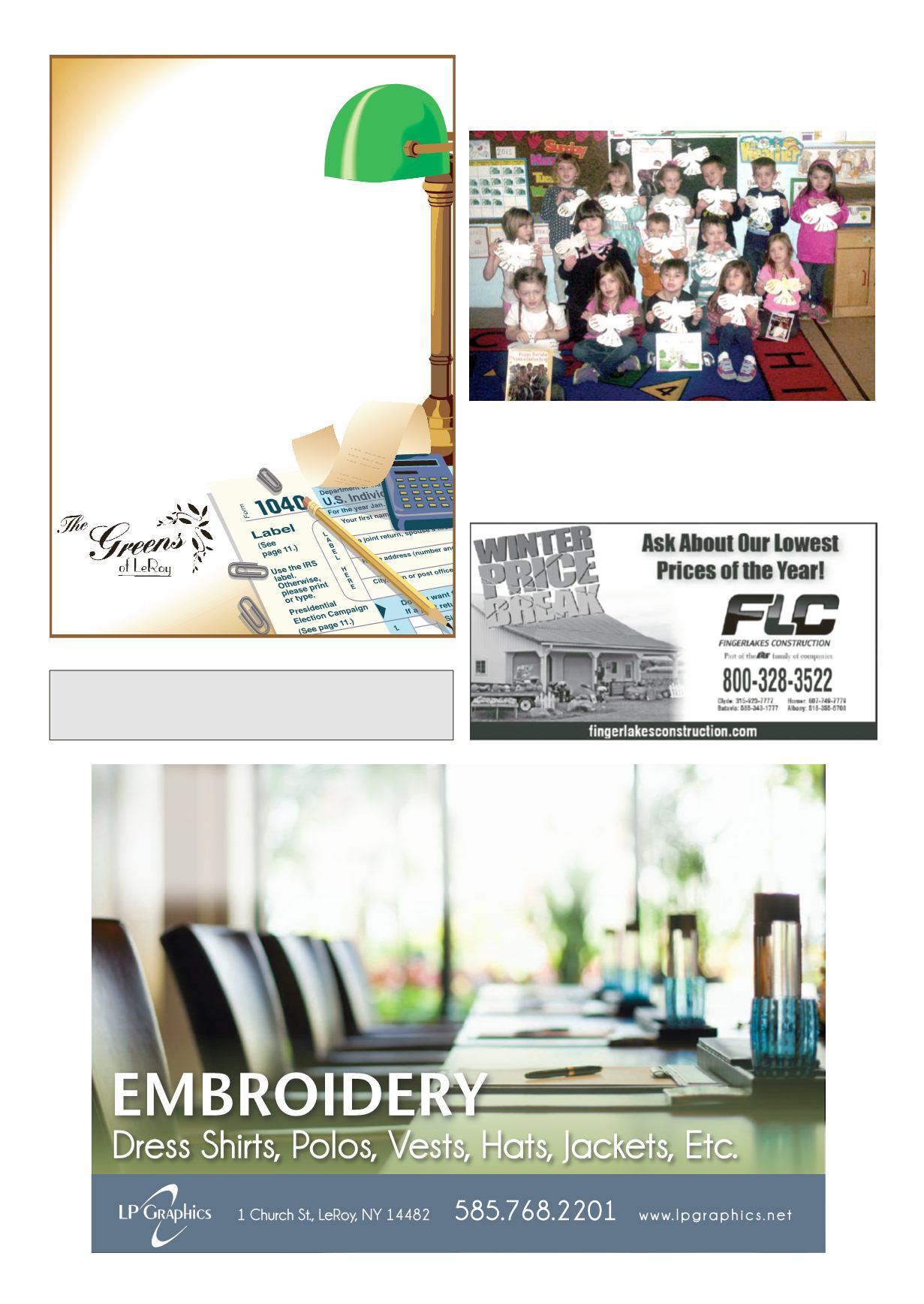 LEROYPENNYSAVER&NEWS -FEBRUARY 1, 2015
MissingSomething?
SUPPORTYOUR LOCALADVERTISERS!
They help sponsor the local news section of the Le Roy Pennysaver.
THANKS FORYOUR SUPPORT!
Tax counseling for the elderly provides
tax assistance to older individuals in the
community and thosewitha lower income
regardless of age. Trained volunteerswill help
prepare your income tax return. Youmay call
TheGreens of LeRoy at 768-2740 to set upan appointment.
Taxeswill bedoneonlyonTuesdays from9:00am to3:00
pm, February 3rd thruApril 14th with a scheduled appointment.
Please arrive 15 minutes before your scheduled time to fill out
some papers. If you are unable to keep your appointment, then
please call as soon as possible. Other people are often on a
All income forms (W-2's, 1099-INT, 1099-R,
Social Security statement, dividends, capital gains/loss, 1099-
MISC,K-1).Alsoanyotherdocumentsverifying income received.
All documents verifying itemized deductions (ie: charitable
contributions, medical expenses, mileage records, property tax
receipts, school tax receipts. Bring a check with your name and
address on it for direct deposit purposes. Your driver's
license andSocial Security cards for each personbeing
claimed on your taxes alongwith your own.
You alsoneed to bring last year's taxes.
If you purchasedhealth insurance through
theAffordableCareAct, youmust
LeRoyNurserySchoolcelebratedDr.MartinLutherKingJr.The
children in thePre-K3DayClassmadedoves torepresentpeace.
They learned that Dr. Kingwanted everyone to live together in
peace.Thatwas his dreamwhichwas inhis speech.Theyheard
stories and sang songs about it. It helped themunderstandwhy
theyhad theday off of school andwhy it's aholiday.
MartinLutherKingDay
Celebrated