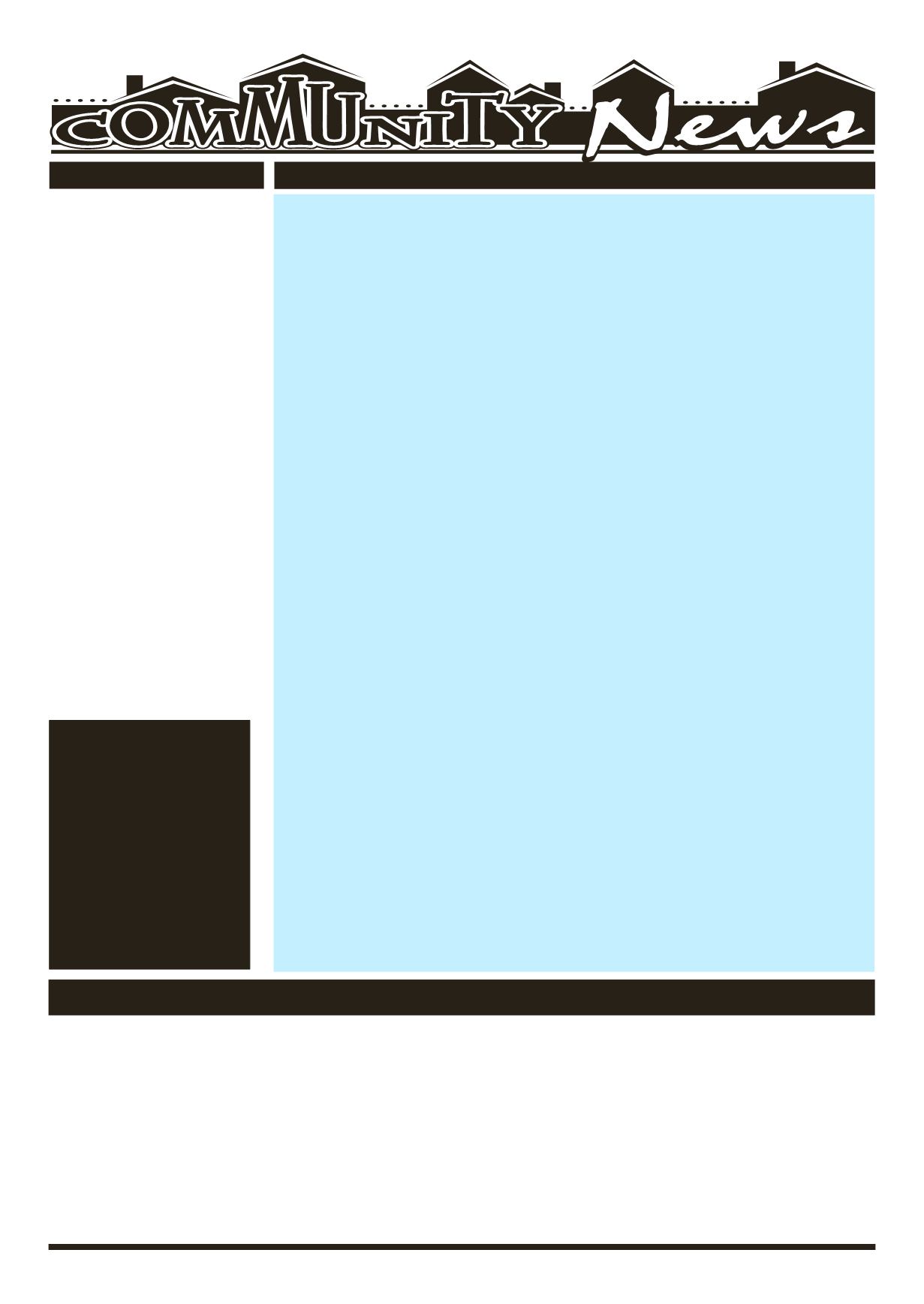 LEROYPENNYSAVER&NEWS -FEBRUARY 1, 2015
Le Roy
Pennysaver
All GeneseeCounty residents, 60andolder, can takepart in thisweek'sactivitiesat theBataviaSenior Center, 2BankSt., Batavia. Formore information, call 343-1611.
(February 1st - February 6th)
WEEKLYEVENTS
OBITUARIES
ncomeTaxPreparationbyAPPOINTMENTONLY
takingplacebetween9:00a.m. to3:00p.m.;
ArthritisExercise
ginat 9:30a.m.; Bridge is set tobeginat 11:30a.m.;
RSVPAdvisoryBoard
scheduled tomeet at 12:30p.m.
Cribbage
is scheduled tobeginat 1:00p.m.
IncomeTaxPreparationbyAPPOINTMENTONLY
takingplacebetween9:00a.m. to3:00p.m.;
QuiltersGroup
Euchregame
is scheduled tobeginat 1:00p.m.
TaiChi
isset tobeginat9:30a.m.with
GentleFitness
Cribbage&Bridge
arescheduled tobeginat1:00
MusicalKeyboardLessons
are scheduled for 2:30p.m.
LineDancingandArtClass
is set tobeginat 10:00a.m.;
Euchre
is set tobeginat 12:00p.m.
SUNDAY, FEBRUARY1
AWANA Program at Penuel Christian Fellowship.
Street. Sundays 12:15 to 1:45 pm. Ages 5-17 broken into groups.
Developing friendships. Having fun. Learning about God. Safe envi-
Konnect Youth Group at Living Waters Church,
LeRoy. Sundays from 6:30 to 8:30 pm for ages 12-18. "Bring Down
all theWalls! Connect with God and Connect with others." Formore
information, check us out online at: livingwatersleroy.org/kon-
MONDAY, FEBRUARY2
TOPS (Take Off Pounds Sensibly)
meets Monday evenings at the
LeRoyPresbyterianChurch, corner of Clay&MainStreets. Doors open
at6:00pmandmeeting is from6:30-7:15pm.Visitorsarealwayswel-
come. Call 585-768-7103 formore information.
Weeklystorytime for two-year-oldsattheWoodwardMemo-
rial Library
onMondays from 10:30-10:50 a.m. beginning January
12 throughMarch9. Childmustbe two-years-oldby thefirst session
andaccompaniedbyanadult.Registration is required. Call768-8300
TUESDAY, FEBRUARY3
Preschool Storytime:
Every Tuesday at 11 am featuring stories,
craft and songs at Pavilion Public Library, 5Woodrow Dr., Pavilion.
LCCP's GRACE'S KITCHEN:
A FREE dinner every Tuesday evening,
5-6:30 pm at the LeRoy UnitedMethodist Church, 10 Trigon Park.
ParkingavailableonTrigonPark& the lots to the left andbackof the
Church. Handicapped Entrance in the back of the Church. Takeout &
deliveryareavailable. Formore info. contact SelbyDavisat 585-738-
Weekly Storytime for three, four and five-year-olds at the
WoodwardMemorial Library
on Tuesdays from 6:30 to 7 p.m.
beginningJanuary13throughMarch3.Childmustbethree-years-old
bythefirstsession. Stories,games,songs!Registration isrequired. Call
768-8300or registeronlineat
WEDNESDAY, FEBRUARY4
PavilionBaptistChurch
youthprograms
wintereveryWednesdayevening.Allcommunitychildrenarewelcome
toattend.AWANA isaprogram foryounger childrenPreschool (4year
old) through6thgrade. It is a fun time of Bible Stories, games Bible
memoryandeven refreshments.WordofLifeprogram is for teens7th
through 12th grade.We are easily located at 10956 S Lake Road in
Pavilion. Call 585-584-3179ext. #12 for anyquestions.
CrockpotCookeryprogramforAdultsattheWoodwardMemo-
rial Library
at 6:30p.m. Joinus this eveningas SusanPresher talks
abouthow topreparevegetables foracrockpot, advances incrockpot
technology,managingcooking time, overnightbreakfastmeals, and
how touse your pot tomake a traditional dish for dinner. Samples
available! Registration is required. Call 768-8300or register online
THURSDAY, FEBRUARY5
GeneseeVeteransSupportNetwork
(GVSN) supports thedevel-
opment ofVeterans focusedAAmeetings everyThursday, 6-7pmat
the First Baptist Church, 306 E. Main St., Batavia. Meetings led by
MikeW.&areopen tonon-veteransaswell.Handicapaccessible. For
additional information call 585-302-0825.
GRACE'S CLOSET: A clothing giveaway program
Le Roy United Methodist Church, 10 Trigon Park, Le Roy, 9:30 am
to 11:30 am every Thursday.We have clothing for all ages. FALL &
WINTER clothingnowbeingput inplace.Weare inneedofWARMER
clothingespeciallycoats, jacketsboots,pajamas. Weneedbeddingof
all kinds especially blankets.We accept donations be dropped off at
thehousenext to the church. Pleaseput all bags INSIDEon theback
porch. NOELECTRONICS, COMPUTERS,DISHES,etc. Anyquestionscall
FRIDAY,FEBRUARY6
Penuel Christian Fellowship,
One Step to Freedom addictions
ministry, a Christ Centered Addictions program, a weeklymeeting
every Friday at 7 pm. Call the Church formore information at 768-
SATURDAY, FEBRUARY7
UnitedMethodist Churchwill be hosting a
Spaghetti Supper
tobenefit theirYouthSummer CampFund. The
supperwillbeheldatthechurch,10TrigonPark from4-7pm. Tickets
will be available at the door. We are handicapped accessible--just
use thebackparking lot andenter throughourhandicappeddoor.
UPCOMINGEVENTS
LCCP's Mommy &Me Playgroup: Every 2nd & 4th Friday,
12:00-1:30, LeRoyPhysicalTherapy (in thebackgym).Anymoms
and their birth-kindergarten childrenarewelcome to comeenjoy
socialization, lunch, coffee, structuredgames& freeplay.
The Februarymeetingof the LeRoyTown& CountryGarden
Club
willmeeton the11that6pmat LeRoyPresbyterianChurch for
aPotluckSupperwithanorganizationalmeeting to follow. Contact
AnnWaltersat737-9481or768-8130 formore information.
AllYouCanEatBreakfast,
WyomingHook
&Ladder,
26MapleStreet,Wyoming,NY, 8am -12:30pm
CommunityCalendar Submissions shouldbe sent to:
BERGEN— Joyce F. Trapp, 61, of Bovee
RoadpassedawaySaturdaymorning (Jan.
24, 2015) at theHildebrandt HospiceCare
Center in Rochester. In lieu of flowers,
memorials are suggested to LifetimeCare
HomeHealthCare&Hospice, 3111Winton
LEROY—Paul Jaquay,74,ofLeRoy/Flor-
ida,diedSundayevening (Jan.25,2015)at
theLeRoyVillageGreenNursingHome.A
complete obituary will appear in The Daily
News. Mr. Jaquay's family is being cared
for by theMichael S.Tomaszewksi Funeral
&CremationChapel, LLC (585) 343-7500.
BYRON—Patricia J. Leaton, 85, of Byron
passed away Monday (Jan. 26, 2015) at
RochesterGeneralHospital.Arrangements
are entrusted to the J. LeonardMcAndrew
FuneralHome,LLC,2BogueAve.,Batavia.
LEROY—JoanneOrlando,65,ofGenesee
Street passedawayunexpectedlyat home
on Tuesday morning (Jan. 27, 2015). In
lieu of flowers, memorial contributions are
suggested to the "Activities Fund" at the
Le Roy Village Green Nursing Home, 10
MunsonSt., LeRoy, NY14482.