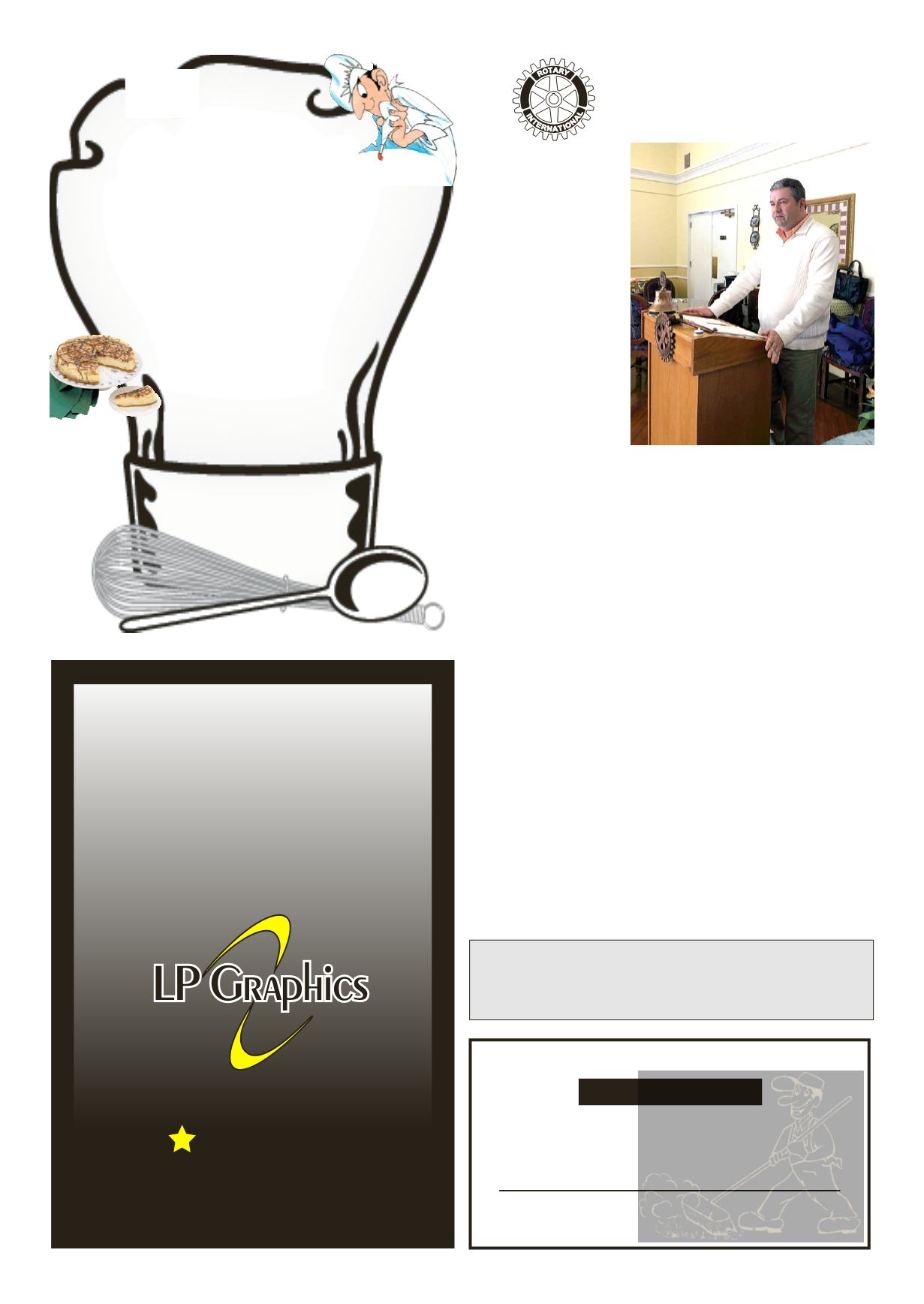 LEROYPENNYSAVER&NEWS -FEBRUARY 1, 2015
SUPPORTYOUR LOCALADVERTISERS!
They help sponsor the local news section of the Le Roy Pennysaver.
THANKS FORYOUR SUPPORT!
LeRotary
Notes
CleaningService
•Carpet &UpholsteryCleaning
•Spot Cleaning&Odor Removal
•Tile&WoodFloor Cleaning&Waxing
•Complete Janitorial Services
Call 768-8300
for information
Dessert
InTheStacks
WoodwardMemorial Library
Friday, Feb. 6th
- 7:00 - 8:30p.m.
Sample desserts from restaurants,
bakeries and caterers!
These are just a few of the delicious treats
to sample:
CrèmePuffs, Chocolate&Peanut Butter
Pies, Chocolate&VanillaCakes,
ChocolateCandies, Cupcakes,
Tickets available
at theLibrary!
$7.00 each - PresaleOnly!
Notes
Upcomingannounce-
ments:
Legion on February 14th from 1
pm-4pm.Light lunch for only$5
andentertainment by theBatavia
SwingBand. President Randy is
still looking for historicalRotary
items; please give any items to
The Rotary Foundation Dis-
trict Dinner has been resched-
uled for Friday, February 13th
The Rotary Leadership In-
stitute is March 21st and the
District Training Assembly is
May 2nd at the Niagara Falls
MissedMeetings:
no andTomMcGinnis bothwere
cited formissedmeetings. Fines:
BobBoyce for leavinghisgiftsat
theCox's home after theChrist-
masParty,RobMurrayforhaving
amailmix-up,MarciaMcKenzie
for the inaccurate time/tempera-
ture clock at FiveStar bank.
Program:
gramwasgivenbyMichaelMes-
Batavia
Daily News
his progression from radio host
and producer, TV producer,
managing editor and online and
digital manager to his current
Daily News
Michael noted how there is a lot
of misunderstanding regarding
the viability of the newspaper
industry. There is a misconcep-
tion that there is little ability for
growth,whenactually theability
to reach people thru print, web,
mobile and video sources allow
them to reach a more diverse
audience. A coupleof goals that
Michael has for the near future
is an online TV station that will
air local events and a bi-weekly
agricultural only newspaper.
Likeus on facebook atRotary
Club of LeRoy or visit our web-
1CHURCHST, • LEROY, NY • lpgraphics.net
WEHANDLEALLASPECTSOFPRINTING...
PROGRAMS
LETTERHEADS
BILLHEADS
FLYERS
BROCHURES
POSTERS
CARBONLESSFORMS
ENVELOPES
RAFFLETICKETS
NEWSLETTERS
RESUMES
TYPESETTING
RUBBERSTAMPS
ENGRAVEDSIGNS
NAMETAGS
COPIES
LAMINATION
COMMUNITYFAX
NEWSANDPICTURES
ADVERTISING
BUSINESSCARDS
HOURS: Monday thruFriday8:00 to 5:00