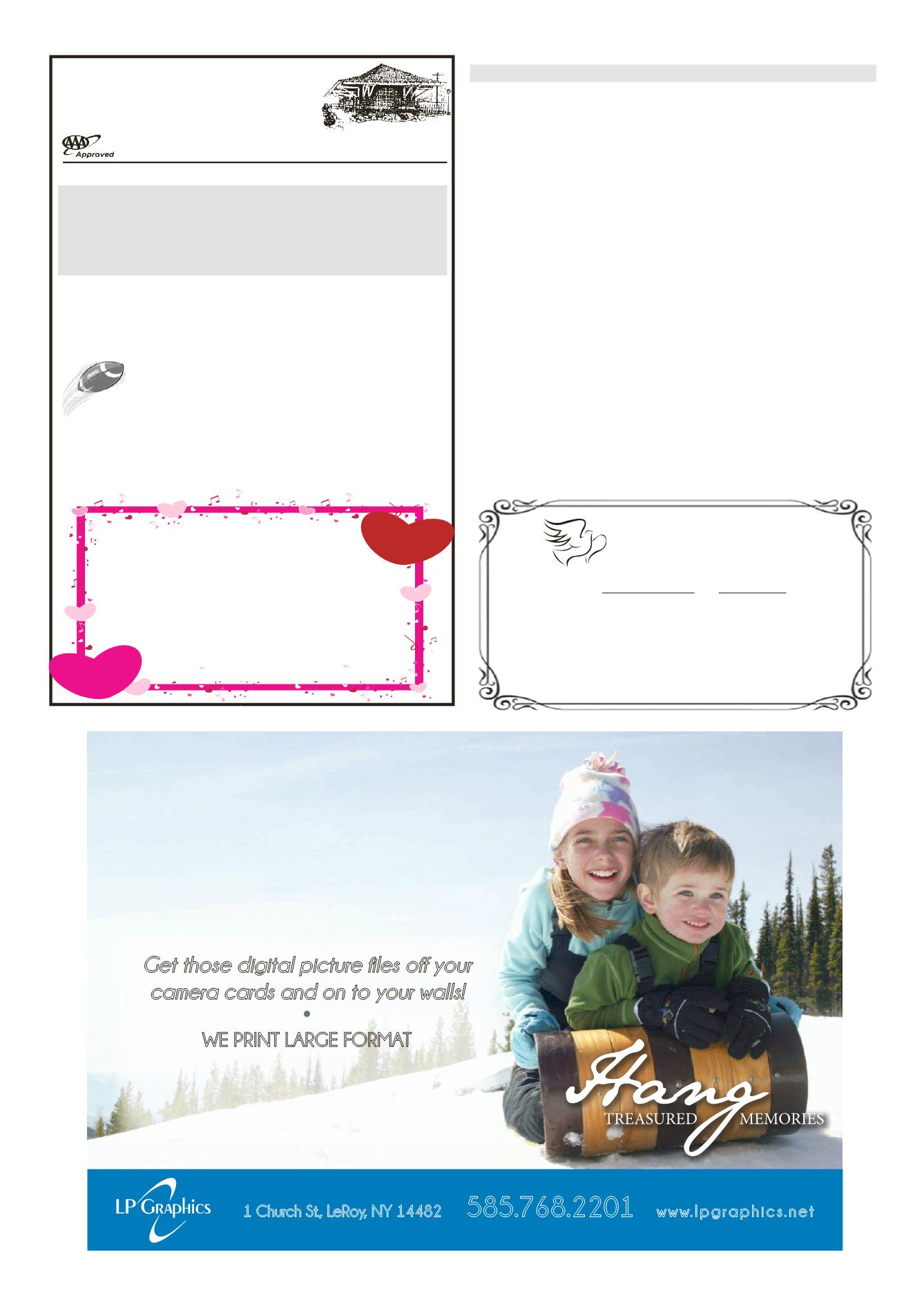 LEROYPENNYSAVER&NEWS -FEBRUARY 1, 2015
D&RDepot
63LakeSt. (Rt. 19), LeRoy• 768-6270
Let'sMeetAt The ...
OpenForBreakfast, Lunch&Dinner - 7DaysAWeek 7am-9pm
Director /Owner
FuneralDirector
F
ALCONE
F
AMILY
Funeral&Cremation Service, Inc.
Director/Owner
"ALOCALFAMILY
CARINGFORLOCALFAMILIES"
As crispas theday
they weremade.
1ChurchSt., LeRoy, NY14482
585.768.2201
raphics.net
Get thosedigital picture files off your
cameracards andon to your walls!
WE PRINT LARGE FORMAT
Our state-of-the-art wide format color
printer allows prints up to42" wide
by any length youdesire!
FEBRUARY
Ourall inclusiveSundayDinner specials
arebaaaack!!
Come to theDepot forhomemade food, servedby
anattentive staff ina relaxedatmosphere.
SUNDAY, FEBRUARY 1st
is one of ourmore popular dinner
Jen's homemadeGLOMKIS&PIEROGIES,
(
WithChickenKluskie soup or salad andmashed potato and a
cinnamon apple pie for dessert)
- $17.99
(This is SuperBowl Sunday -wemay close early
depending on reservations.)
SUNDAY, FEBRUARY 8th –
One ofmy favorite specials -
BEEFSTEW
(WithAmy's homemade baking powder biscuits.
Includedwith your dinnerwill be soup or salad
and lemonmeringue pie.) -
$16.99
THURSDAY - SUNDAY, FEB. 12th-15th
Valentine'sWeekend
awholeweekend to
celebrateValentine'sDay. And theDepot is giving you
a very special 'all weekend -all inclusive dinner',
(aswell as our regularmenu.)OurFilet and Shrimp
Lovers'dinner includes soup or salad; a tender bacon
wrappedFiletMignonwith Shrimp Scampi,
Coconut ShrimpANDDeep fried Shrimp,
potato, beverage& our
DecadentDelight dessert for $26.99.
byGreg "Porp"Rogers,
Mayor
Our sidewalkproject is getting
closer. One of the last thingswe
have to do before we can go to
bid is get someproperty releases
signed. Thereareapproximately
40 releases thatneed tobesigned
beforewe can get final approval
from the DOT. You may be ap-
proached by aVillage employee
asking for your signature for a
wider sidewalk than you have
now. This is a requirement for
the State Grant we received and
for the Federal Disabilities Act.
ThatActmakessure thatdisabled
peoplewill beable topass safely
on the updated sidewalks. If you
are approachedby aVillage em-
ployeeandhavequestionsplease
feel free to call the Village Hall
or consult your attorney. If this
is the case please act quickly so
we can get these signed and out
tobid. Thisworkhas tobe com-
pleted thisyear, so it is important
toallofus thatweget thesedone
ASAP. Thanks for your help and
Soon theBoardwillbeworking
on the upcoming Budget, while
we have had an increase in our
health insurance cost we still
remain optimistic that we can
have little to no increase in the
Wewillkeepyoupostedon the
"It takes less time to do things
right, than it does to explain
Notes From TheMayor's Office