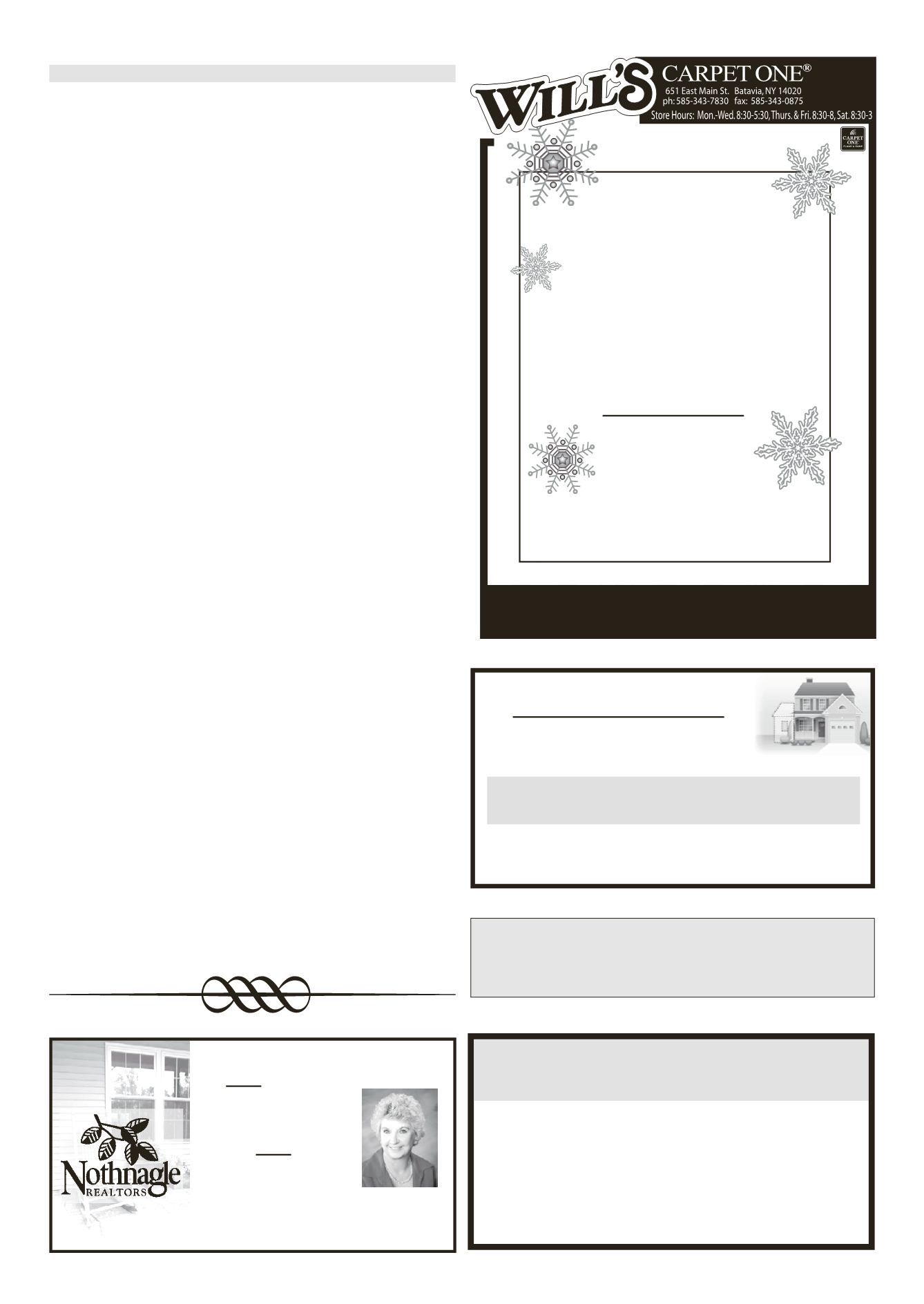 LEROYPENNYSAVER&NEWS - FEBRUARY 1, 2015
TheONE store for your perfect floor.
"CompleteCarpentry Service"
M
ILLER
B
ROTHERS
B
UILDERS
CustomHomes •Remodeling•Additions
Roofing• Siding
DANIEL
MICHAEL
SUPPORTYOUR LOCALADVERTISERS!
They help sponsor the local news section of the Le Roy Pennysaver.
THANKS FORYOUR SUPPORT!
ALLWORKMANSHIP GUARANTEED • INSURED
297-9097 • 768-7737
• InteriorPainting
• Plaster/LathRestoration
•Drywall&Drywall Repair
•TextureRemoval
• Floors Stripped
&Refinished
•OldCeilings&Walls
MadeLikeNew!
MikeDarby'sPatch&Paint
FLOOR
&HOME
Remnants!
Remnants!
Remnants!
LargeSelection ofCarpet Remnants
Small andLargeSizesAvailable.
Remnants6'WideandUnder -25¢sq. ft.
We canmake area rugs to your size.
Binding available orwe can installwall-to-wall.
FREE
Discontinued Carpet Samples
(Limit 6)
Great forDogBeds, Boots orCarMats
Batavia
585-343-6750
NOW is theBEST time
toBUYwith the interest rates
at their lowest!
Don't wait
toBUY -
call
LindaBeaumont
for all your real
estateneeds.
LindaBeaumont
Home (585) 768-6315
LicensedReal Estate
Salesperson
Multi-MillionDollar Producer
byKimCox
Superintendent of Schools
When I indicated tomy friend
the other day that I was tired of
winter, the look I received was
not very reassuring. It is highly
unlikely that Punxsutawney Phil
will even bother to come out to
check for a shadow this year!! I
suggest we all plan for at least 6
moreweeks ofwinterweather.
Oneof the advantages of being
on the school board or a school
administrator is that we receive
"OnBoard"
created and distributed by the
New York State School Boards
Association (NYSSBA). The
New York State School Boards
Association is comprised of
many educators, legal experts
and school board members that
researchand reviewmanycurrent
events in education, both legal
andacademic.Another important
role ofNYSSBA is that of advo-
cate for public schools. In this
time of political controversy in
stategovernment, thevacant seat
of the Commissioner of Educa-
tion, and aGovernor who seem-
inglywants tofix theproblemshe
sees in some public schoolswith
a one-size, fits-all approach, it is
important to have the leadership
of NYSSBA to help us all have
Lynne Lenhardt, president of
NYSSBA, suggests in her com-
mentary in the January 12, 2015
"OnBoard"
need tocontinue topressour leg-
islators tosupportpublicschools.
With the improvement in the
financial footing of the State,
we need to urge the legislators
to restore funding to schools to
allow for the reforms that were
enacted in 2010. These include
eliminating theGap Elimination
Adjustment (GEA), allowing
the Foundation Aid formula to
flow, and providing professional
development opportunities to
help schools implement higher
While the Governor's Bud-
get proposal of January 21st
does show a healthy increase to
state aid, this increase is tied to
some very difficult challenges
and changes to such things as
expansion of charter schools,
mayoral control of city schools,
teacher evaluation, and tenure.
While noonewoulddispute that
things can always be improved
upon, solutions need to be tar-
geted to a specific problem. All
schools can't be painted with
In addition,
theGovernor's withholding of
the 2015-16 State aid runs is
impeding every school's abil-
ity to develop an appropriate
budget or adequately involve
ourcommunities in theprocess.
Theseprojectsmustbereleased
immediately!
I ask you to have your voices
heard. Contact your legislators
and the Governor, and let them
know that our school is doing
great things andwewant tokeep
growing. You can find informa-
tion and addresses onour school
Clickon theDistrict taband look
for Budget Information. Also,
visit the NYSSBA website at:
Thank you for your continued
support of our students and our