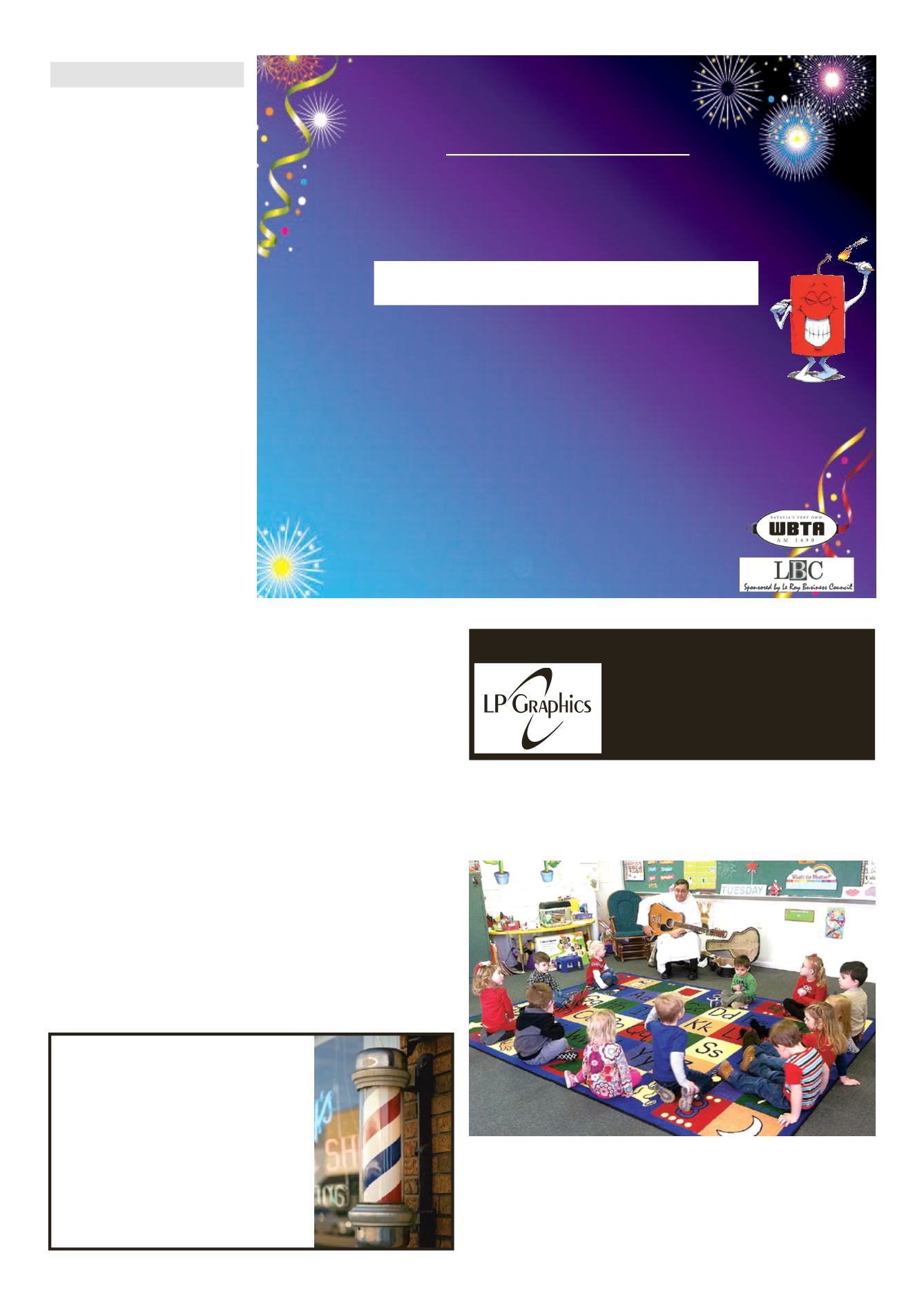 LEROYPENNYSAVER&NEWS -DECEMBER 7, 2014
1ChurchSt., LeRoy, NY14482
585-768-2201
FAX585-768-6334
WeDo
Donationsmaybe sent to:LeRoyBusinessCouncil
POBox 263, LeRoy, NY 14482
Tobenefit fireworks over theOatkaCreek. Presentedby theLeRoyBusinessCouncil.
Drawing:Monday, December 15th
2nd PRIZE
Around theHouse
TomMcGinnis,TheHobbyHorse,
Crocker's,MainSt. Fitness
3rd PRIZE
DineAllDay
Smokin'Eagle, RedOsier, Spirits
4th PRIZE
ForTheLadies
Curve&AvonProducts,Vinage&Vogue,
TheHobbyHorse
5th PRIZE
Snack andShop
Spirits, Pastore'sFicarella's, Subway,
Barrista's@ 58Main
6th PRIZE
Health&Home
FiveStarBank, DurableMedical Equip.
PhotoPrintingServices,TheHobbyHorse
7th PRIZE
ForTheGuys
LeRoyHardware,TomMcGinnis
LeRoyAthleticClub
8th PRIZE
Tailgater Special
LeRoyCountryClub
TopsMkts., R&DOutlet
onTuesdays, in addition to
the regular hours, for the
The Nursery and Pre-K children at Love Bugs Preschool were
pleasantlysurprisedbyavisitfromFatherKen. Hebroughtalong
hisguitarandhelped thechildrensingsomeof their"circle time"
songs. He even taught thema fewof his own songs.What anice
way to start their day! Pictured here are theNursery children
doing a great job listening to their special guest.
AVisit FromFatherKen
byKimM. Cox
Superintendent
LeRoyCentral School
Only20shoppingdays leftuntil
Christmas and 2015 is quickly
approaching.Thishasbeenavery
busy time for theLeRoyCentral
SchoolDistrict.Wewereexcited
tocelebrate thegrandopeningof
thenewelementaryschoolfitness
centermadepossible through the
CarolM.White Physical Educa-
tionProgramgrant.Thispastyear
the Wolcott Street School was
awarded $550,000 to improve
facilities and curriculum for our
students. This state-of-the-art
facilitywill allowour students to
hone their fitness skills and learn
new ways to achieve a healthy
lifestyle. The grant requires that
the facility can only be used by
students and staff at theWolcott
Street School for the first two
years of its operation. After this
two year time frame, it is the
District'splan toopen thefitness
center to the Jr.-Sr. High School
staffandstudents,and thegeneral
public. More information about
It's been an exciting fall for
ourVarsityFootball team and for
Coach BrianMoran. Brian com-
pletes his coaching career with
203wins, 14SectionVTitlesand
a State Championship. While he
excels at the ability to guide our
students,developingathleticskills
and attitudes, Brianhas alsobeen
achampionof recognizingyoung
STUDENT
athletes first. He has always sup-
ported the belief that academics
is the primary goal of school and
that participation in athletics,
while enhancing the learning
environment, does not replace it.
Onbehalf of theLeRoyBoardof
Education and the administrative
team, Iwould toextendmysincere
congratulations to Brian and the
entire team for their success in the
Wewouldalso like to recognize
our fall Cheerleading Squad for
their SectionVClassCChampi-
onship andMs. TessaOcke,who
is inherfirst yearof coaching for
Le Roy! This group of athletes
not only supports other teams,
but excels incompetitionswhich
include engaging choreography,
excitingstunts, anda tonofspirit.
Thankyou somuch for coming
out and voting on Wednesday.
The R.I.T.E. Project passed 356
to139.TheDistrict looksforward
to enhancing the educational en-
vironment for all ofour students.
Your supportof theR.I.T.E.Proj-
ect is greatly appreciated!
December 31, 2014
9pm,Main&Wolcott Streets
Pleasehelp support this event by purchasing a raffle ticket
from anymember of TheLeRoyBusinessCouncil, or look for our
posters at local business to purchase tickets.
There are 8 fabulous prizes donated by local business, and the grand prize is a
Dinner for4onNewYear'sEveat LBGrand
andLimoTransportation toDinner&Fireworks.