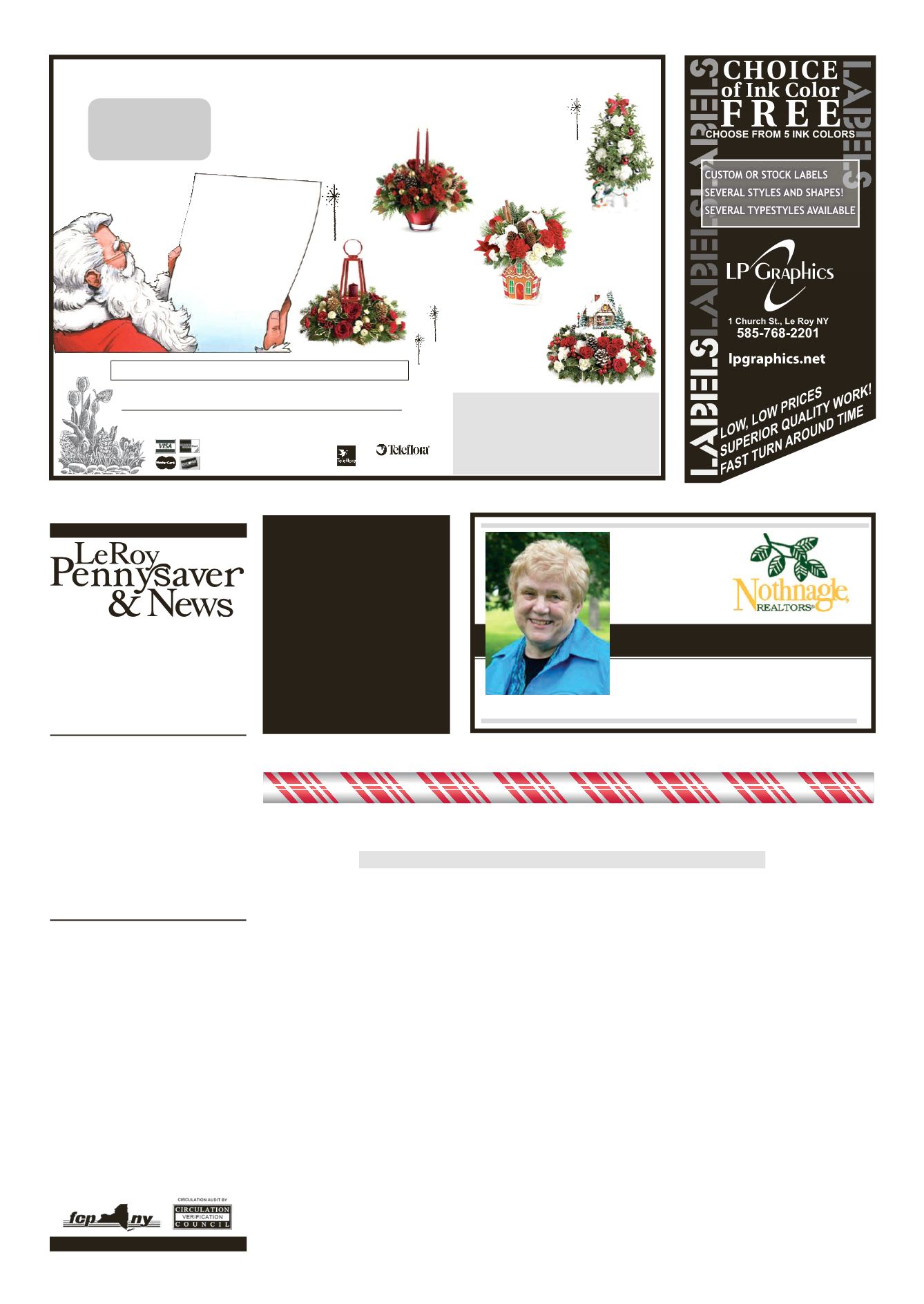 LEROYPENNYSAVER&NEWS -DECEMBER 7, 2014
LeRoy'sBestAdvertisingMedium
The Le Roy Pennysaver will not knowingly accept or
publish advertising which is fraudulent or misleading
in nature. The publisher reserves the right to reject or
cancel anyadvertising.TheLeRoyPennysaverassumes
no financial responsibility for typographical errors in
advertisements, but if at fault, will reprint the portion of
the ad in which the error appears. Style, size of type
and locationof advertisement are left to thediscretionof
the publisher. The opinions expressed in this publication
are not necessarily those of the publisher. We cannot
guarantee the returnof photographs.
CALL
768-2201
NANCYCROCKER
LicensedReal Estate Salesperson
570EastMainStreet •Batavia, NewYork 14020
Cell: 585.314.7982 • Fax 585.343.8502
Multi-MillionDollar
Producer
Lakestreet Florist&Gift Shoppe
WeDeliver To: LEROY, Byron, Bergen, Caledonia,Mumford, Pavilion,Wyoming, Stafford&Batavia
TelefloraWireServiceForFamily&FriendsOut of Town
768-7720
110LakeSt., LeRoy
HOURS:
M-T 9-5:30
F 9-6:00
Sat. 9-4:00
LookatourWEBSITE for lotsof ideas
TRYOURGOURMET
GIFTBASKETS
s Elves Are Ready To Help Make The
Christmas
Centerpieces
Arrangements
CutFlowers
Corsages
Poinsettias
Azaleas •Roses
StuffedAnimals
Balloons
ThankYou for thinkingahead ...
Now taking orders for
ChristmasWreaths
DoorWreaths&WindowSwags
5Merry Choices!
NoNaughty. All Nice.
byGreg "Porp"Rogers
Mayor
The last fewweeks have been
a challenge for the DPWwith a
fullslate thatmanyofusprobably
take for granted. The leaf season
demands somuch time that dec-
orating for theChristmas season
ends up being on a very tight
schedule,with the additionof an
electric panel for the Christmas
tree and throw in a significant
snow event which only compli-
cates matters, but Bob Lathan
and his crew will be up to the
challenge again … keep your
The Kayak Launch Project is
now complete; this will provide
the community the opportunity
access to one of our greatest
Notes From TheMayor's Office
treasures - theOatkaCreek.This
project would not have been
possible without intermunicipal
cooperation. It all started with
Genesee County Department of
Soil andWater, George Squires,
Director and Shelley Stein,
County Legislator who was re-
sponsible forbringing theproject
toLeRoy. TomLichtenthal from
the Town of Batavia did the de-
sign,TimHens,CountyHighway
Superintendent, John Arneth,
Highway Superintendent Town
of LeRoy and Steve Bolton,
Highway Superintendent Town
of Stafford and our own DPW
crew worked together to make
this project happen. This is the
type of cooperation that makes
things happen and should be the
way government is supposed to
work. Washington and Albany
could learn a few things from
Another case of working to-
gether is the Village is joining
the Town web site and should
be up and running thefirst of the
year.TrusteeMikeTucci isspear-
heading thisproject thathasbeen
kickedaround foryears.Thiswill
enable theVillage toput import-
ant information, activities, board
minutes, and agenda's on line.
"The two most powerful war-
riors are patience and time"