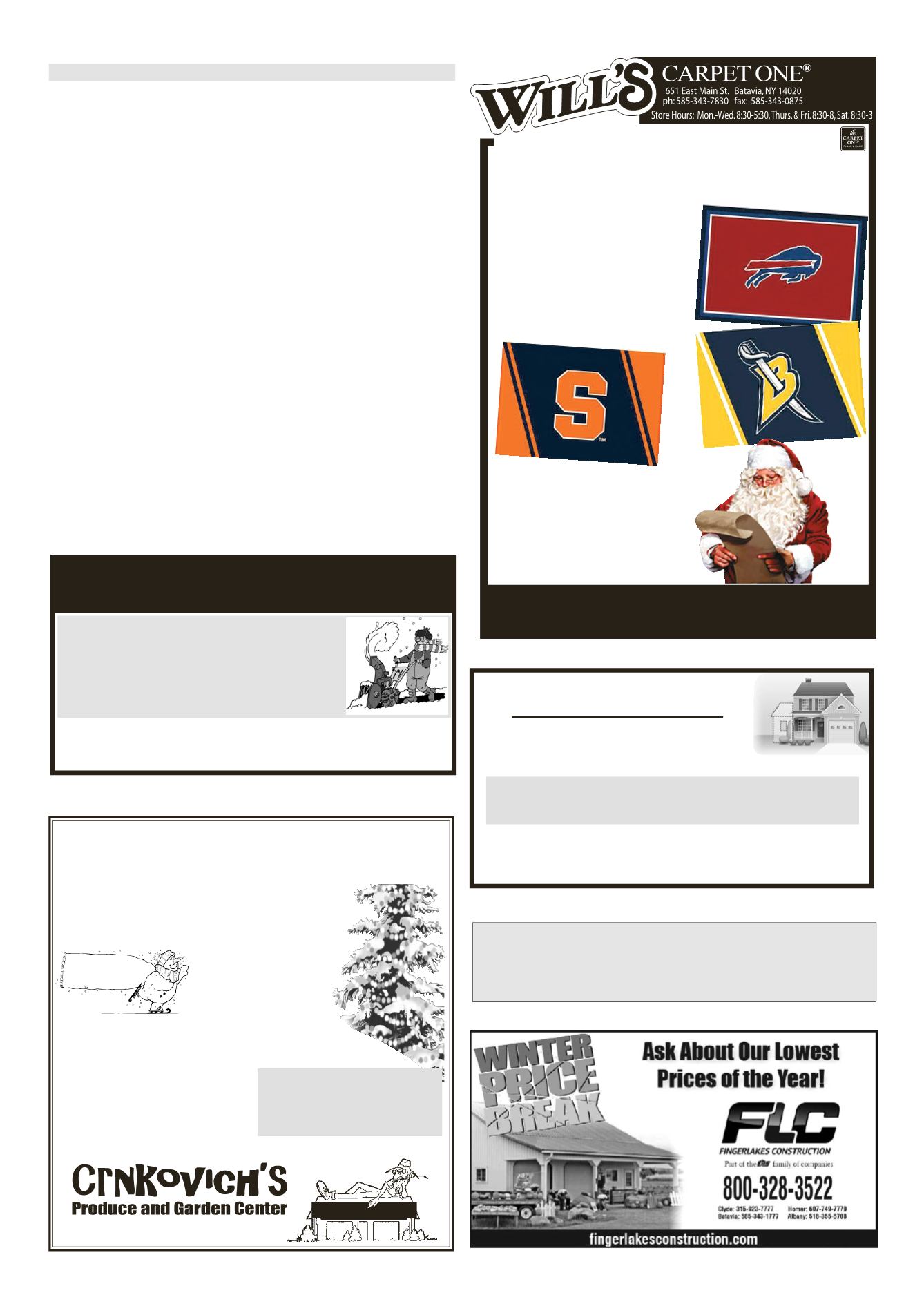 LEROYPENNYSAVER&NEWS -DECEMBER 7, 2014
FLOOR
&HOME
TheONE store for your perfect floor.
NFL •NHL •COLLAGIATE
All TeamsAvailable!
Wehave a large team
selection available.
8041E. MainRd. (Rt. 5) 1MileEast of LeRoy
OpenDaily • 768-7259 • 768-7813
FREEDrilling
FREEBaling
FREELocal Delivery
NOWTAKINGORDERS
ForMade-To-Order
Fruit&Gift Baskets
Large selection of fresh-cut
Christmas Trees
Jams, Jellies, Dressings
MapleSyrup&More!
BalsamFir •DouglasFir
FraserFir •ConcolorFir
LivePottedTrees
Pointsettias
Too!
MadeHereAt TheMarket!
"CompleteCarpentry Service"
M
ILLER
B
ROTHERS
B
UILDERS
CustomHomes •Remodeling•Additions
Roofing• Siding
DANIEL
MICHAEL
SUPPORTYOUR LOCALADVERTISERS!
They help sponsor the local news section of the Le Roy Pennysaver.
THANKS FORYOUR SUPPORT!
• Engine andTransmissionRebuilds
• Lawn andGardenEquipment
•ATV's, Dirt Bikes • Light Equipment
• PickUp andDeliveryAvailable
• Snowblowers • Snowmobiles •Generators
Hours: Tues.-Fri. 10 am to 4 pm, Sat. 10 am to 2 pm
8525Rt. 237, Stafford, NY
AROUNDTOWN
byStephenR. Barbeau
Supervisor,Town ofLeRoy
(585)768-6910 x 231
Given various meeting sched-
ules for December, it might be
beneficial for me to write two
shorter columns rather than my
Similar to the longstanding
issueofwater in thesouthwestern
part of Town, natural gas service
to a section of the northwestern
part of Town has also been an
issue brought to the Town's at-
tention for many years. I hope
to bring this to resolution for
these folks as well. In doing
so, we have finally received
confirmation that RG&E will
provide information at a Public
Meeting onMonday, December
15, 6:00 pm, at the Town Hall
(court room). Residents of West
BergenRoadfromLakeSt.Rd. to
Randall Rd., QuinlanRoad from
West Bergen to house number
be interested in having natural
gas service should attend this
meeting. Please understand that
service may not end up being
available to that entire area I just
mentioned, but you will learn
about what may be possible and
Aswithwater, theTownBoard
will not play a decision-making
role. This will be between the
residentsand, in thiscase,RG&E.
However, theBoard ispleased to
be able to facilitate the informa-
tion process and bring the issue
SantaRugs