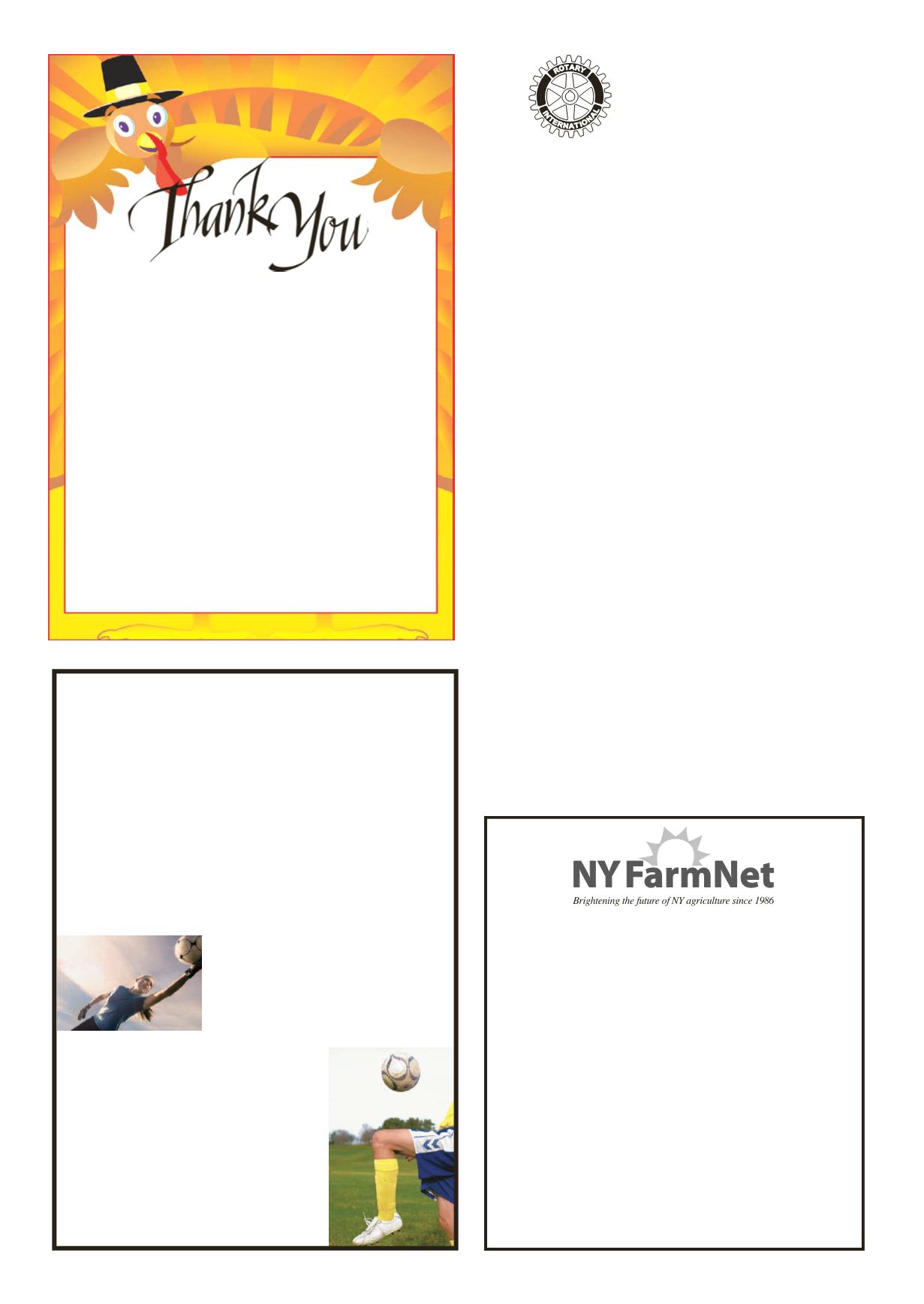 LEROYPENNYSAVER&NEWS -DECEMBER 7, 2014
LeRotary
Notes
ATwoDaySeminaronFarmBusinessTransfers
WhoWillManage
YourFarmTomorrow?
KeynoteSpeaker: DannyKlinefelter,Ph.D
PlatinumSponsors:
FarmCreditEast&NYAgandMarkets
January13-14,2015
DoubletreeHotel,EastSyracuse,NY
RegisterToday!
$85
Includesallmaterialsandmeals
Sponsorshipsareavailable!
Notes for 10/29/14
The day before Thanksgiving
did not prevent attendance at
Wednesday's meeting and Pres-
ident Randy Rang the bell to
welcomeallRotariansandguests.
Actually, just one guest enjoyed
our meeting with us as Chris
Biviano proudly introduced his
son JulianBiviano to the group.
We took time for a few an-
nouncements including our up-
coming Cookie Auction on De-
cember10th,ourvisit fromSanta
in a few weeks and Christmas
Caroling on theDecember 14th.
We're also pleased to announce
aValentine'sDayTeaandDance
for Senior Citizens on February
PresidentRandy thenwelcomed
back those Rotarians that have
been absent recently including
ChrisBivianowhowas away for
2weeks, andwewere all happy
toseeEricFix,TracyFord,Lynne
Freeman, Christine Gephart,
Torrey and TomMcGinnis join
us again after oneweek away (I
thinkwe canblame the snow for
Our fining session started with
a recognition of Chris Biviano's
3rd Anniversary as a Rotarian.
Not tobeoutdone,Anil Sawhney
was fined for his tremendous 29
years as aRotarian. BobSullivan
couldn't escape being fined de-
spite his angelic reputation and
was levied and fined for each of
his "wings". TomCox was fined
for coming out of retirement
AGAIN! KimCox paid for each
mentionofhernameon the recent
Channel 13 broadcast during
our snow storm. TomMcGinnis
is a proud new grandfather to a
healthy baby girl and gladly paid
a fine for the new addition to the
family. Finally, Scott McCumis-
key paid a fine for a party favor
"FlySwatter"hepurchasedduring
a recentwedding reception.
In the spirit of the season,
President Randy went around
the room and askedRotarians to
sharewhatweweregiving thanks
for thisyear.All ofus seem tobe
thankful forour families, friends,
good health and the wonderful
communityweareproud toserve
After a wonderful lunch and
somegood laughs,PresidentRandy
closed and adjourned themeeting.
LikeusonFacebookat "Rotary
ClubofLeRoy" tokeepupwith
pictures, events and more great
ways we continue to Light up
Themembersof theLeRoyFireDepartmentAuxiliary
would like toTHANK the following for their
donations in support of ourAnnual TurkeyRaffle.
JohnMillerMC
SaveALot
Tops FriendlyMarket
LeRoyMoose FamilyCenter
NajanK.Das,MD
MedEx
CameronFuneralHome
JohnRiderReal Estate
LeRoyFederal CreditUnion
CarolinaEastern-Crocker
Lapp Insulator
Carl&SusanMcQuillen
Falcone FuneralHome
RichardPrinzi
Rider'sGarage
OatkaChiropractic
McDonald's
SlicePizzaCo.
LPGraphics
Smokin'Eagle
TransformationSalon
RedOsier LandmarkRest.
LeRoyHardware
TheRidge
LeRoyHistorical Society
BataviaLegal Printing
LeRoyPhysical Therapy
Kelly'sCuts
Spirits
Mooney's SportsBar&Grill
Pully's FarmMarket
Dave SalwayPlumbing
Northwoods Sportsman'sClub
LeRoyYouthSoccerAssociation "LYSA"
Summer2015Registration Information
2ndYear Running ...
(space is limited)
FORDETAILED INFORMATIONREGARDING
REGISTRATION andLYSA'S 2015
SOCCERPROGRAM, GOTOOURWEBSITEAT:
ONLINEREGISTRATION ISOPEN
WALK-INREGISTRATION:
Wed., Jan. 14, 2015
(to be confirmed)
WHERE: LeRoyJr./Sr.
HighSchool Cafeteria
TIME: 6p.m. to 8p.m.
You can register and/or pay online or in
person. Regardless of how you plan to
register, please go to our website and
read the registration informationcarefully
and thoroughlybeforeentering theonline
registrationsystemorcoming toourwalk-
in registration. Thank you!!!
QUESTIONS?
ContactAmyRichardson at: