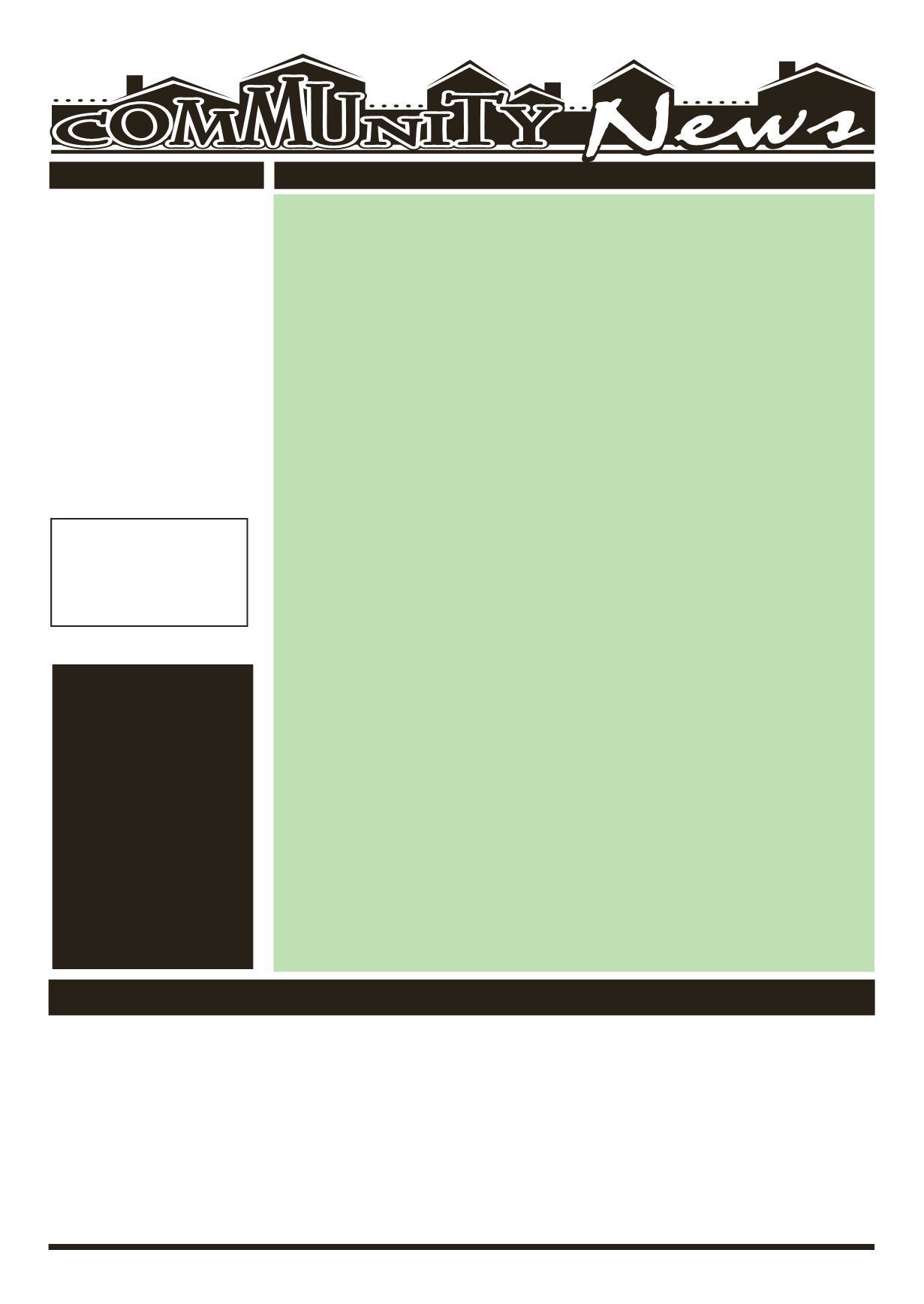 LEROYPENNYSAVER&NEWS -DECEMBER 7, 2014
Le Roy
Pennysaver
All GeneseeCounty residents, 60andolder, can takepart in thisweek'sactivitiesat theBataviaSenior Center, 2BankSt., Batavia. Formore information, call 343-1611.
(December 8 -December 12)
WEEKLYEVENTS
OBITUARIES
ArthritisExercise
is scheduled tobeginat 9:30a.m.;
Bridge
is set tobeginat 11:30a.m.
Alzheimer'sAssociationMeeting
is scheduled to takeplaceat8:30a.m.;
Cribbage
is scheduled tobeginat1:00p.m.
OmbudsmanMeeting
is scheduled tomeetat9:00a.m.;
Quilters
are scheduled tomeetat9:00a.m.;
Euchregame
scheduled tobeginat 1:00p.m.
Tai Chi is
scheduled to take place at 9:30 a.m. followed by
Gentle Fitness
to take place at 10:30 a.m.;
Cribbage and
Bridge
areset tobeginat1:00p.m.;
GeneseeSeniorFoundationMeeting
isset to takeplaceat1:00p.m.;
MusicalKey-
boardingLesson
LegalAppointments
are scheduled to takeplaceallday
BYAPPOINTMENTONLY;ArtClassandLineDancing
Euchre
is set tobeginat 12:00p.m.
SUNDAY,DECEMBER7
AWANA Program at Penuel Christian Fellowship.
Street. Sundays 12:15 to 1:45 pm. Ages 5-17 broken into groups.
Developing friendships. Having fun. Learning about God. Safe envi-
Konnect Youth Group at Living Waters Church,
LeRoy. Sundays from 6:30 to 8:30 pm for ages 12-18. "Bring Down
all theWalls! Connect with God and Connect with others." Formore
information, check us out online at: livingwatersleroy.org/kon-
BreakfastwithSantaatMcDonald's
For tickets please call 768-7700 or purchase at McDonald's that
morning. Don't forget your camera! All proceeds to benefit the
childrenof LeRoyNurserySchool.
MONDAY,DECEMBER8
TOPS (Take Off Pounds Sensibly)
meets Monday evenings at the
LeRoyPresbyterianChurch, corner of Clay&MainStreets. Doors open
at6:00pmandmeeting is from6:30-7:15pm.Visitorsarealwayswel-
come. Call 585-768-7103 formore information.
TUESDAY,DECEMBER9
Preschool Storytime:
Every Tuesday at 11 am featuring stories,
craft and songs at Pavilion Public Library, 5Woodrow Dr., Pavilion.
LCCP's GRACE'S KITCHEN:
A FREE dinner every Tuesday evening,
5-6:30 pm at the LeRoy UnitedMethodist Church, 10 Trigon Park.
ParkingavailableonTrigonPark& the lots to the left andbackof the
Church. Handicapped Entrance in the back of the Church. Takeout &
deliveryareavailable. Formore info. contact SelbyDavisat 585-738-
WEDNESDAY,DECEMBER10
PavilionBaptistChurch
youthprograms
wintereveryWednesdayevening.Allcommunitychildrenarewelcome
toattend.AWANA isaprogram foryoungerchildrenPre-school (4year
old) through6thgrade. It is a fun time of Bible Stories, games Bible
memoryandeven refreshments.WordofLifeprogram is for teens7th
through 12th grade.We are easily located at 10956 S Lake Road in
Pavilion. Call 585-584-3179ext. #12 for anyquestions.
TheWoodwardMemorial Library Board of Trustees
THURSDAY,DECEMBER11
GeneseeVeterans SupportNetwork
(GVSN) supports thedevel-
opment ofVeterans focusedAAmeetings everyThursday, 6-7pm at
the First Baptist Church, 306 E. Main St., Batavia. Meetings led by
MikeW.&areopen tonon-veteransaswell.Handicapaccessible. For
additional information call 585-302-0825.
Town of LeRoy Board Meeting
- 7 pm t the Town Hall Board
GRACE'S CLOSET:
A clothing giveaway program
Le Roy United Methodist Church, 10 Trigon Park, Le Roy, 9:30 am
to 11:30 am every Thursday.We have clothing for all ages. FALL &
WINTER clothingnowbeingput inplace.Weare inneedofWARMER
clothingespeciallycoats, jacketsboots,pajamas. Weneedbeddingof
all kinds especially blankets.We accept donations be dropped off at
thehousenext to the church. Pleaseput all bags INSIDEon theback
porch. NOELECTRONICS, COMPUTERS,DISHES,etc. Anyquestionscall
FRIDAY,DECEMBER12
Penuel Christian Fellowship,
One Step to Freedom addictions
ministry, a Christ Centered Addictions program, a weeklymeeting
every Friday at 7 pm. Call the Church formore information at 768-
AnOld-TimeRadioChristmas
tobenefitSt.Mark'sChurch,
day, December 12, 7:00-8:30pm, Saturday, December 13, 2:00-
3:30 pm., 58Main St., LeRoy. Formore information contact: Jim
SATURDAY,DECEMBER13
BreakfastWithSanta,9:00-10:30am,FirstBaptistChurch
MainSt.,LeRoy,NY.ComeenjoyaFREEBREAKFAST,withyourfamily&
visitwithSanta!Asmallgiftwillbegiven toeachchild inattendance.
Thebreakfastmenuwill include: scrambled eggs, pancakes, donuts,
coffee, tea, juice andmilk. Reservations may be made by calling
768-8958. Please leave your name and the number of adults and
thenumberof childrenattending.SponsoredbyFirstBaptistChurch.
UPCOMINGEVENTS
LCCP's Mommy &Me Playgroup: Every 2nd & 4th Friday,
12:00-1:30, LeRoyPhysicalTherapy (in thebackgym).Anymoms
and their birth-kindergarten childrenarewelcome to comeenjoy
socialization, lunch, coffee, structuredgames& freeplay.
Veterans Only Social Club -
Genesee Veterans Support Network
announces a newmeeting location at Scooter's Family Restaurant,
3711West Main Street Road, Batavia, NY - for the once a month
VeteransOnlySocial Club.Meetings areheld the secondSaturdayof
eachmonth from7:00 to8:30PM.Veterans of all eras are invited to
attend. GVSN is locatedat 3837WestMainStreet Road, Batavia, NY.
Formore information, contactGVSN,POBox541,Batavia,NY14021-
CommunityCalendar Submissions shouldbe sent to:
STAFFORD— JosephineMarieEllingham,
78, of Stafford passed away peacefully on
Wednesday (Nov. 26, 2014) at her home. In
lieu of flowers memorials may be made to
Homecare & Hospice, 29 Liberty St., Suite
6, Batavia, NY 14020; or St. Jude,
LEROY—LorettaJ.Savoypassedawayon
Nov. 29, 2014, at age 75. In lieu of flowers,
memorials may be made to the American
CancerSociety, 1120SGoodmanSt,Roch-
CALEDONIA—SallyMargaret ''Sally''Flynn
passed away peacefully Tuesday (Dec. 2,
2014) at the Le Roy Village Green. Memo-
rial contributions to St. Columba Church or
PatrickPlaceHospice, 99MainSt., POBox
73, Scottsville, NY14546.
Don't waste precious time