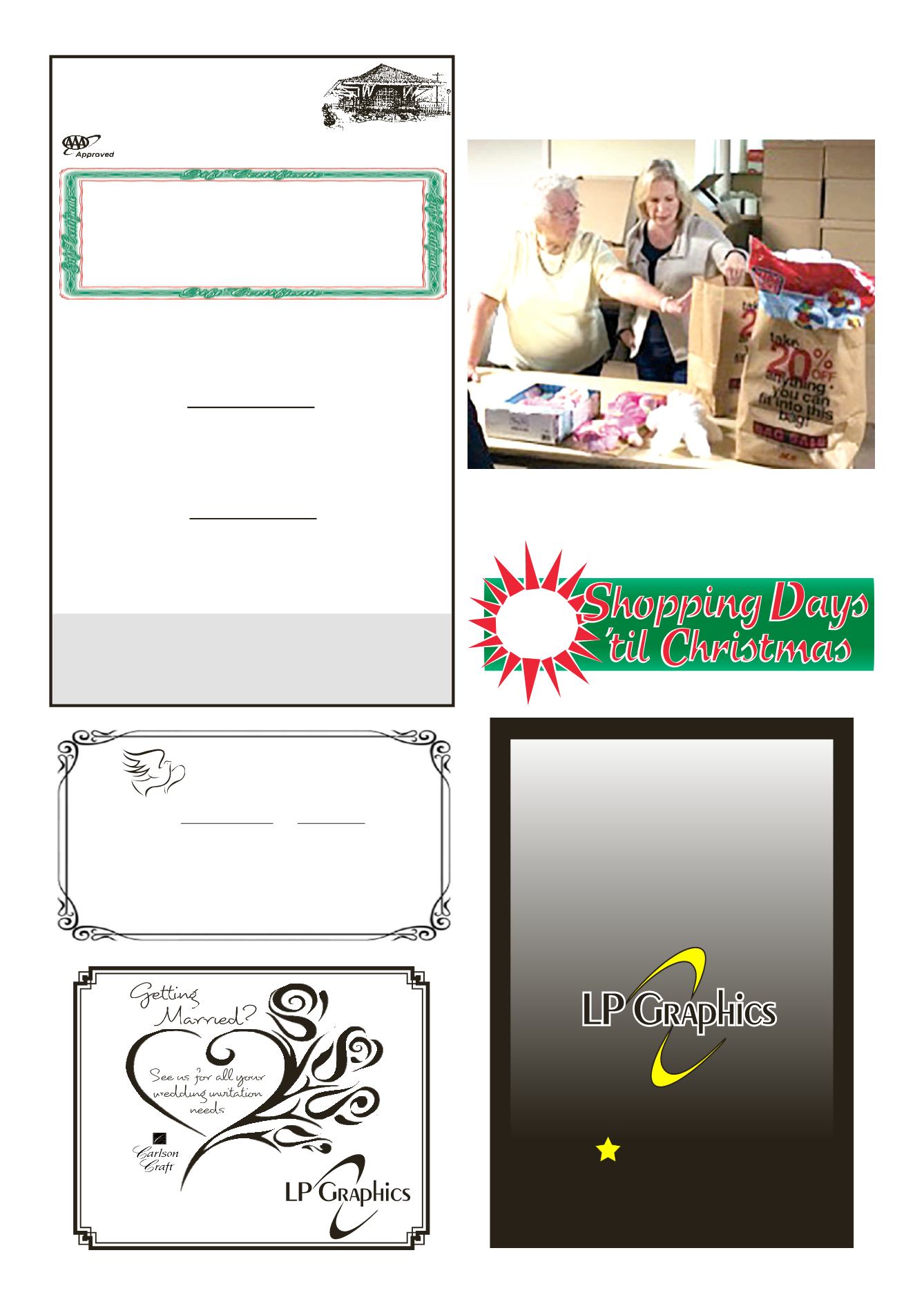 LEROYPENNYSAVER&NEWS -DECEMBER 7, 2014
D&RDepot
63LakeSt. (Rt. 19), LeRoy• 768-6270
Let'sMeetAt The ...
OpenForBreakfast, Lunch&Dinner - 7DaysAWeek 7am-9pm
Director /Owner
FuneralDirector
F
ALCONE
F
AMILY
Funeral&Cremation Service, Inc.
Director/Owner
"ALOCALFAMILY
CARINGFORLOCALFAMILIES"
Sunday, December 7th –We'reTraveling toAustralia
Meat has always been a large part of theAustralian diet.
Butmost fruits& vegetables grow in abundance too.
Carrot, Apple&RaisinSalad, HomemadeAustralianMeat Pie
Dessertwill be the deliciousKavlovaCake - $16.99
Sunday, December 14th –Argentina,HereWeCome!
Beef is the national dish. With huge cattle ranches;
a gaucho is a known symbol of individualism.
Startwith aRoastedBeet Salad, then enjoyChurrasco conChi-
michurri (grilled skirt steak) and dulce de batata (a jammade from
sweet potatoes) for dessert - $17.99
Sunday, December 21st –France is ournext stop.
TheFrench have always been proud of their sophisticated
Blanquette deVeau (a thick veal stew)with homemadeFrench
Onion soup and a delicious cream puff for dessert - $17.99
We'reOpen for theHolidays –
ReservationsAreStronglyRecommended
ChristmasEve
–Breakfast (till 11am), Lunch&Dinner – 7am-8pm
NewYear'sEve
- Breakfast (till 11am), Lunch&Dinner – 7am-9pm
NewYear'sDay
–Breakfast (9 am till noon), Lunch&Dinner – 9am-7pm
D&RDepotGift Certificates
make a perfect gift!
They're one sizefits all, always the right color
andnever go out of style.
Order them on line atDandRDepot.com or stop by theDepot!
Judy Ridley showed Senator Kirsten Gillibrand The Le Roy
Pantry andHelp Fund Christmas Project. Senator Gillibrand
wrapped gifts and visitedwithmembers of thepantry.
SenatorGillibrand
VisitsLeRoyPantry
18
1CHURCHST, • LEROY, NY • lpgraphics.net
WEHANDLEALLASPECTSOFPRINTING...
PROGRAMS
LETTERHEADS
BILLHEADS
FLYERS
BROCHURES
POSTERS
CARBONLESSFORMS
ENVELOPES
RAFFLETICKETS
NEWSLETTERS
RESUMES
TYPESETTING
RUBBERSTAMPS
ENGRAVEDSIGNS
NAMETAGS
COPIES
LAMINATION
COMMUNITYFAX
NEWSANDPICTURES
ADVERTISING
BUSINESSCARDS
HOURS: Monday thruFriday 8:00 to 5:00