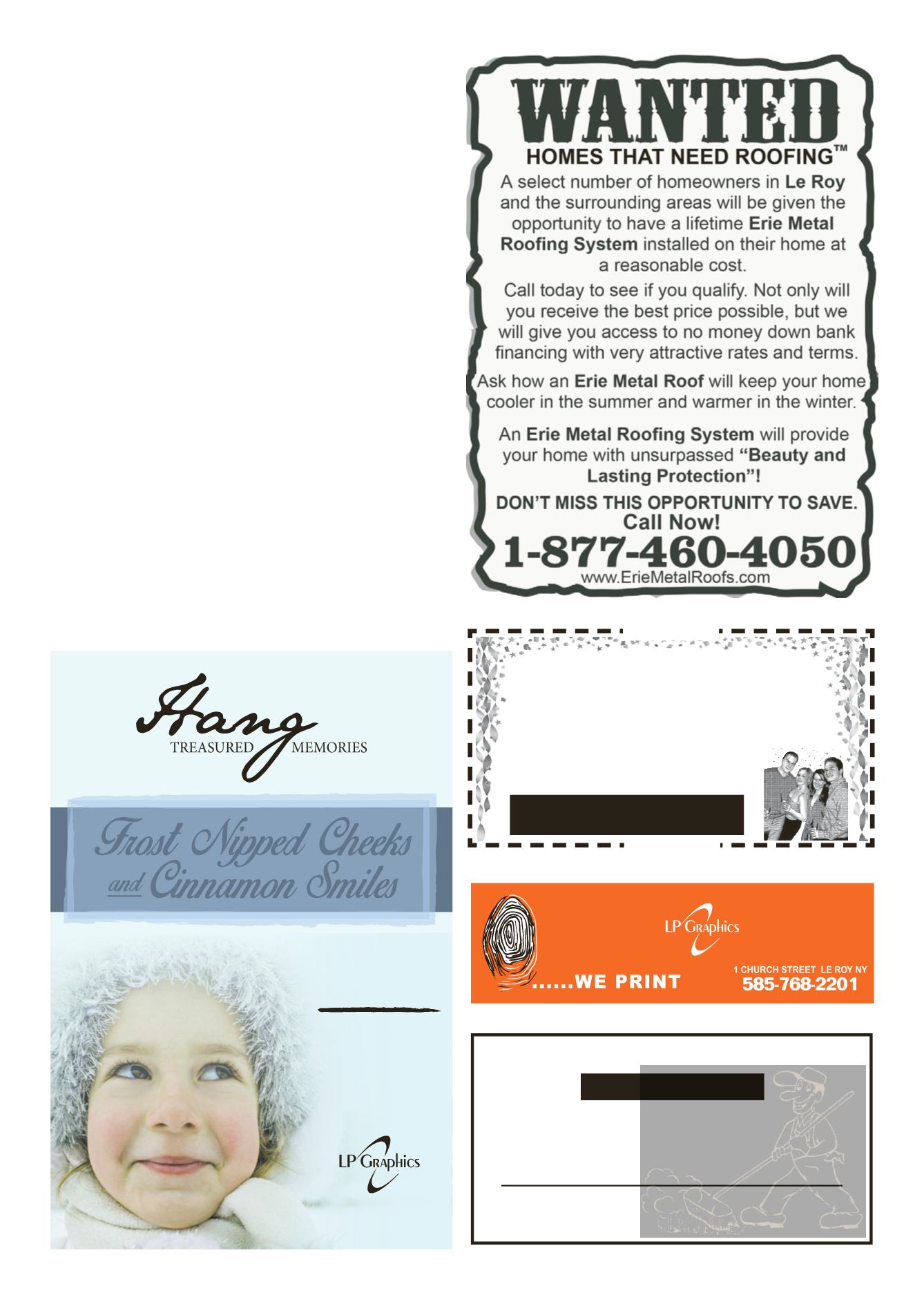 LEROYPENNYSAVER&NEWS -DECEMBER 7, 2014
American Legion
Post 576
585-768-2090
CLIP&SAVE
CLIP&SAVE
Inside - 2RoomsAvailable
Outside - LargePavilion
CleaningService
•Carpet &UpholsteryCleaning
•Spot Cleaning&Odor Removal
•Tile&WoodFloor Cleaning&Waxing
•Complete Janitorial Services
Minutes 12-1-2014
President Bob Bennett called the
meeting toorderat5:37pmatLBGrand.
There was a motion by Randy Vink to
acceptNovember'sMinutes,2ndbyBill
Kettle, motion carried. Erica Spezzano
presented the financial report for the
group.Therewas amotionby JerryMc-
Cullough toaccept theTreasure'sReport,
secondedbyRandyVink,motioncarried.
Therewasnocorrespondence to review.
Thereweremanymemberannounce-
ments. Martha Bailey announced the
YWCAwillbehavingseveral fund-rais-
ers including aCookieDoughSale, and
December 11th at Tully's in Batavia.
Also,WBTAwillbehaving thereREAL-
LYBIGRadioAuctiononDecember6th.
JerryMcCullough announced RYAN is
nowofferingHomeEnergyAudits. Jack
HempflingannouncedTheLivingWaters
ChurchChristmasEveServicewillbeat
6 pm. TomMcGinnis announced Santa
will be at Oatka Fish & Game on De-
cember 21st, andAdamMiller Toys on
December13th.Winterfest isDecember
6th inLeRoy.TheSantaParadewill start
at 1 pm and theTreeLightingwill be at
6 pm. Therewill bemany activities for
JimNeilson gave an update on First
Night. Raffle tickets are now available
through any LBCMember. This raffle
is imperative to the continuation of the
First Night Fireworks show. Please
help support this event. TomMcGinnis
made a motion that we spend $100.00
on advertising for the event, Bill Kettle
2nd, and themotion passed. The Raffle
drawing for First Night will be held on
December15thatLBGrandat 5:30pm.
SamVagg&Bob Bennett to follow up
Jack Hempfling gave an update on
thewebsite.Thingsareprogressing, and
Jack is awaiting somepictures toput on
Wehave lostourLeRoyPolice repre-
sentative to retirement, soBill Kettle is
going tocontact thePoliceDepartment to
see ifwe canget another representative.
DavePaddockgaveanupdateonTown
happenings. RG&E ismeetingwith resi-
dentsofWestBergenRoadonDecember
15th todiscussongoing issues.Davealso
stated thatwearestillplanningonhaving
a community educational forum some-
time inearlyMarch regarding theLeRoy
Ambulance. Also, Jerry McCullough
asked if we could have a rep from the
ZoningBoardatBusinessCouncil. Dave
Paddockwill invite a representative.
Bill Kettle gave an update on the
Village. The Village hopes to have a
President Bob Bennett then com-
mended the group on all the positive
things we all contribute to the com-
munity. Between the family, friendly
events, (Easter Egg Hunt, First Night,
andHalloweenParade) andcommunity
education forums, (repavingMainStreet,
development of Interchange, etc), The
LeRoyBusinessCouncil is a huge asset
Thenextmeetingwillbeat theMoose
on January 5th at 5:30 pm.
Motion to adjourn by Jim Neilson,
2ndbyFrankDavis,motion carried.
LBCMinutes
WE PRINT
LARGE FORMAT
1Church St., LeRoy, NY14482
585.768.2201
lpgraphics.net