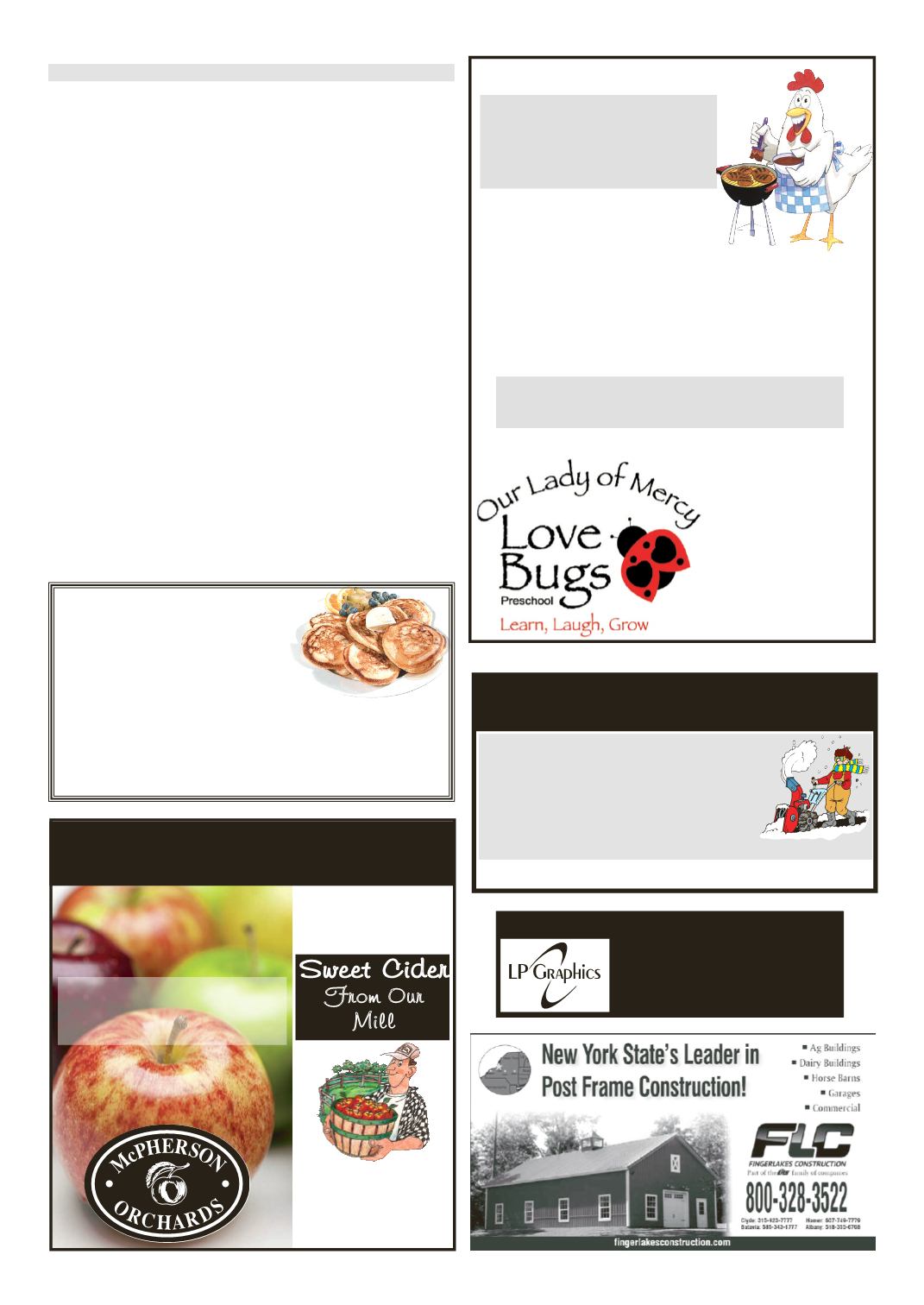 LEROYPENNYSAVER&NEWS -OCTOBER 26, 2014
1ChurchSt., LeRoy, NY14482
585-768-2201
FAX585-768-6334
WeDo
• Engine andTransmissionRebuilds
• Lawn andGardenEquipment
•ATV's, Dirt Bikes • Light Equipment
• PickUp andDeliveryAvailable
• Snowblowers • Snowmobiles •Generators
ElectionNight
Drive-Thru
ChickenBBQ
Tuesday,Nov. 4th
4:30 to6:30pm
LadyofMercyParishCenter
44LakeStreet - LeRoy
Pleasemake checkspayable toOurLadyofMercy
INCLUDES ... Smokin' Eagle1/2BBQChicken
WithMacaroni Salad, SaltPotatoes&Roll
LoveBugsPreschool
Familyor call
OurLadyofMercy
ParishCenter
at 585-768-6543
byGreg"PorpRogers,Mayor
A congratulation toCoachMo-
ranonhis200thVictoryand to the
OatkanKnight'sonanundefeated
season. Theirwork isnot doneas
they take onWay-Co in the first
Halloweenwill gooff as sched-
uled this year on Friday evening
the 31st. The Business Council
willbehosting theirannualParade
startingat 6:00pmat theBankSt.
parking lot, (behind the Bank of
Castile).Cider anddonutswill be
servedat theFireDepartmentHall
immediately following theparade.
ThefirstAnnual Fall forLeRoy
will be held on November 7th
from 6 to 8:30 pm. Featuring 15
Main Street businesses. These
participants will be featuring an
OpenHousewithdemonstrations
and talks; watch for more details
Pennysaver
contact JimDeLoozeat768-2402.
TheVillagehas appointed Jack
Hempfling to thePlanningBoard.
Notes From TheMayor's Office
Thank you to Jack for stepping
up tofill this crucial position.We
would also like to express our
appreciation toJerryMcCullough
forservingon thePlanningBoard
so diligently formany years. Job
no
on Village streets from 2 am to
6 am; this will be effective until
April 1st. Another sign winter is
around thecorner is leafpickup is
in full swingnow;BobLathanand
hiscreware trying toget aheadof
the game. Leaves are to be raked
to the terrace. Please DO NOT
bag leaves for this pickup. If you
could keep the leaves on the ter-
raceandoutof thestreet, itwould
help keep storm drains clear and
eliminate future problems.
Please try to shop LeRoy and
"The best remedy for anger is
OatkaTrail
OPENDAILY
9am to6pm
BakeryOpenOnWeekends
Pies&FryCakes!
Pumpkins
WinterSquash
ManyVarieties
OfApples
ElectionNight
PancakeSupper
November4th
atStaffordFireHall,4-7pm.
SponsoredbyLeRoy-Pavilion-StaffordKiwanis;
all proceeds benefit local youth.