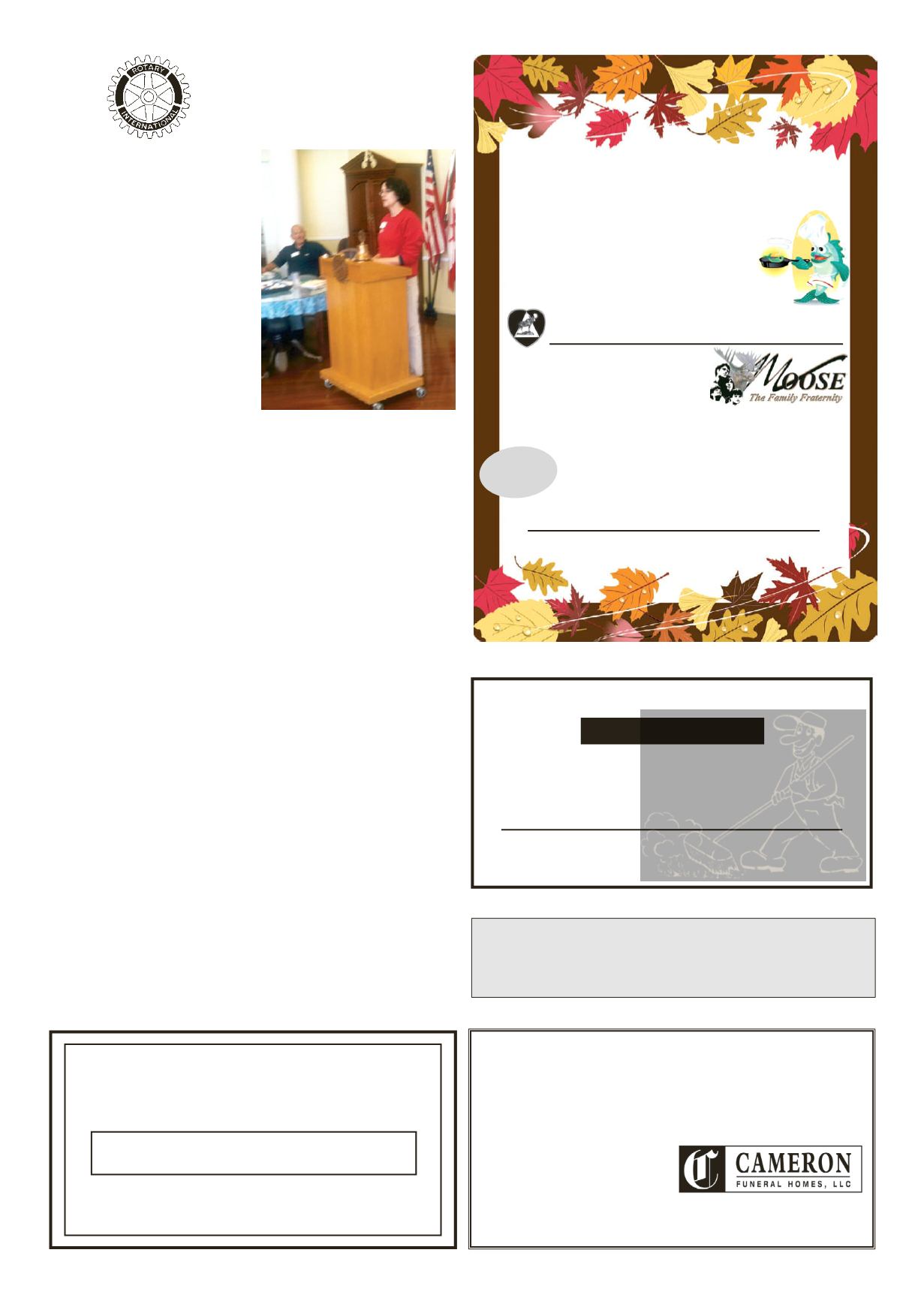 LEROYPENNYSAVER&NEWS -OCTOBER 26, 2014
SUPPORTYOUR LOCALADVERTISERS!
They help sponsor the local news section of the Le Roy Pennysaver.
THANKS FORYOUR SUPPORT!
HelpingFamiliesCelebrateaLifeLived
"Our FamilyServingYours Since 1907"
Trusted•Honest •Proven
Cameron, Brady&Steuber
FuneralHome
111Wolcott Street
LeRoy,NY14482
(585) 768-6800 •
Likeus onFacebook
LeRotary
Notes
FISH FRY
LeRoyWomenOf TheMoose, Chapter 370
21BankSt., LeRoy •768-6170
OpenTo
ThePublic
Sunday, November 16th
1:00 to 4:00pm
Raffles •Door Prizes • Bake Sale • FoodAvailable
5:00 to 8:00pm
NewMenu Items&Weekly Specials!
ForMembers andQualifyingGuests
Full Menuand SaladBar Available!
Plumbing • Heating
Installation&Repair Service
For All Residential &Commercial Work
CleaningService
•Carpet &UpholsteryCleaning
•Spot Cleaning&Odor Removal
•Tile&WoodFloor Cleaning&Waxing
•Complete Janitorial Services
President RandyVink brought
the meeting to order on a day
that welcomed three wonderful
LeRoy High School seniors as
our guests: Elisabeth Skillman,
Amber Salway and Margaret
King. It is always amazingwhat
these students areaccomplishing
in a day and what their future
After the Pledge and the Four-
Way-Test (Is it the truth? Is it fair
to all concerned? Will it build
goodwill and better friendships?
Is itbeneficial toall concerned?),
missed meetings were declared.
Chris Biviano, Tracy Ford, and
Scott McCumiskey all reported
somewhat legitimatemisses.
Fining at today's meetingwas
as follows. Chris Biviano was
fined for a new bowling mile-
stone: a 101 average without
bumpers. Way togoChris!! Lau-
renHumphreywasfinedforbeing
Rotary's"MultimediaMarketing
Mogul". TomMcGinniswasgiv-
en a picture of Santa Claus who
he reportedspeakingwithyester-
day about President Randy. Tom
was fined for his close personal
relationship with Santa. Tamara
Torreywasfined for her fantastic
meetingmakeup. Shewas given
a picture of herself leaning on a
RotaryClubsign inPennsylvania.
Finally, Mary Margaret Ripley
was fined for a new car and for
in a much more orderly fashion
this week. Rotarians are a busy
involved group. Martha Bailey
reminded us of the Appliance
Raffle and encouraged all to sell
their ticketsandvolunteer tohelp
on the day of. Tamara Torrey
reported that the plans for the
Spaghetti Dinner on November
4th are going well. Tickets and
postersareavailable fromTamara
andyouareable tosignuponline
tohelp. Randyasked for sugges-
tions for another location for the
RotaryDisplay that isnow in the
Town Hall. Kim Cox reported
that the Interact Fall Festival is
Sunday from 1:00-4:30. Tom
Cox requested notification of all
announcementsby12:00onTues-
days andhewill include themon
Randy Vink introduced our
guest speaker for the day who
was fellowRotarianMaryMar-
garet Ripley. Mary Margaret
spoke about her recent move
from her own bakery business
to managing the Bakery at the
Shur-Fine in Caledonia. Mary
Margaretwasgenerousenough to
bring in samplesof thedelicious,
wonderful bread available there.
Shespokeenthusiastically about
thenew linesofbread thebakery
Another enlightening meet-
ing was brought to a close by
President Randy. Don't forget
to "Like" us on Facebook at
"RotaryClubof LeRoy" and see
all thewonderful thingsourClub