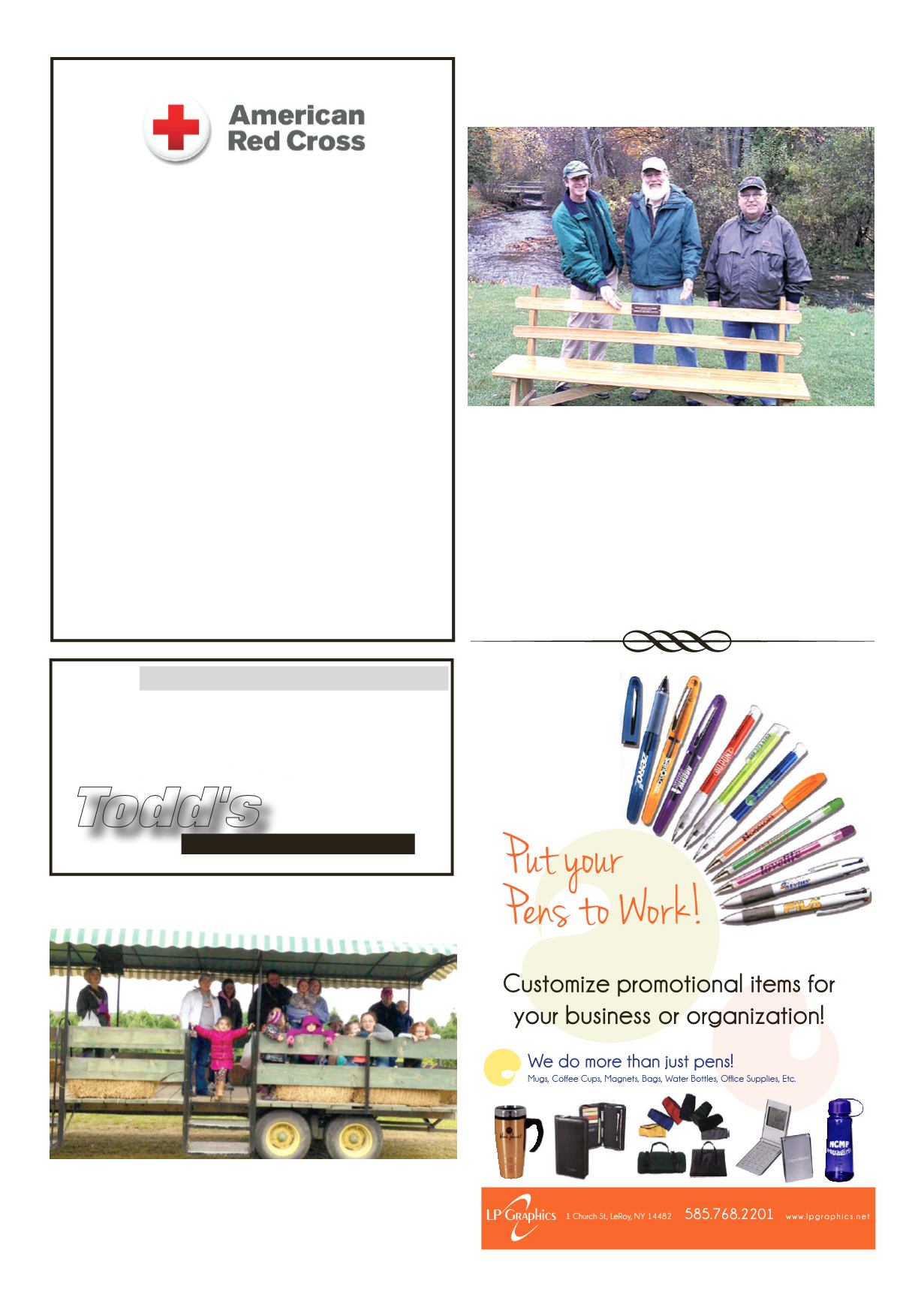 LEROYPENNYSAVER&NEWS -OCTOBER 26, 2014
What todoWhenDisaster Strikes
In partnership with New York State, the American Red
Cross isofferingFREECitizenPreparednessCorps training
sessions to thepublicentitledPrepare,Respond,Recover:
What to doWhenDisaster Strikes.
NewYorkState isatahigh risk forman-made, technological
and natural disasters. Governor AndrewCuomo's Citizen
Preparedness Corps training program provides residents
with the knowledge and tools to prepare for emergencies
and disasters, respond accordingly, and recover to pre-di-
saster conditions as quickly as possible.
A trainedRedCross representativewill conductanapproxi-
mately two-hoursessionof theCitizenPreparednessCorps
trainingprogram,whichprovidesacomprehensiveoverview
onhow toprepare for, respond to, and recover fromnatural
First PresbyterianChurch
Wednesday, Nov. 5, 2014,
7:00pm
CitizenPreparednessCorpsTraining
Sunshine Nursery School's Pre-K class had a fun filled day at
Stokoe Farms. They took a wagon ride into a pumpkin patch,
fed a variety of animals, played on a giant slide, climbed to the
top of a straw fort and jumped on an enormous bounce pillow!
Lunchwith sunshine friendswas thebest part of all!!
PumpkinsForPre-K
NewHomes •Additions •Garages •PoleBarns
ToddCarli • Phone 703-0964
Todd's
Decks •Windows •Doors
Kitchens •Baths
CeramicTile
Basement Finishing
CustomShelves/Built-Ins
Siding •Remodeling
Roofing • SnowPlowing
FULLY INSURED
donated aparkbench to theSeth
GreenFishHatchery. Thebench
has been placed in the Hatchery
DisabledVeterans area so veter-
ans can sit on it and fish or just
enjoy nature and the stream.
The Seth Green Fish Hatch-
(L-R)AlanMack (SethGreenHatcheryManager&FishCul-
turist)alongwithCarl&Larry (representatives from theOatka
Fish andGameClub).
ery was the first hatchery in the
United States and celebrated its
150 Anniversary this year. A
number ofOatka Fish andGame
Members volunteered and were
instrumental in helping with the
ParkBenchDonatedToThe
SethGreenFishHatchery